Rene Cruz's Strawberry Shortcake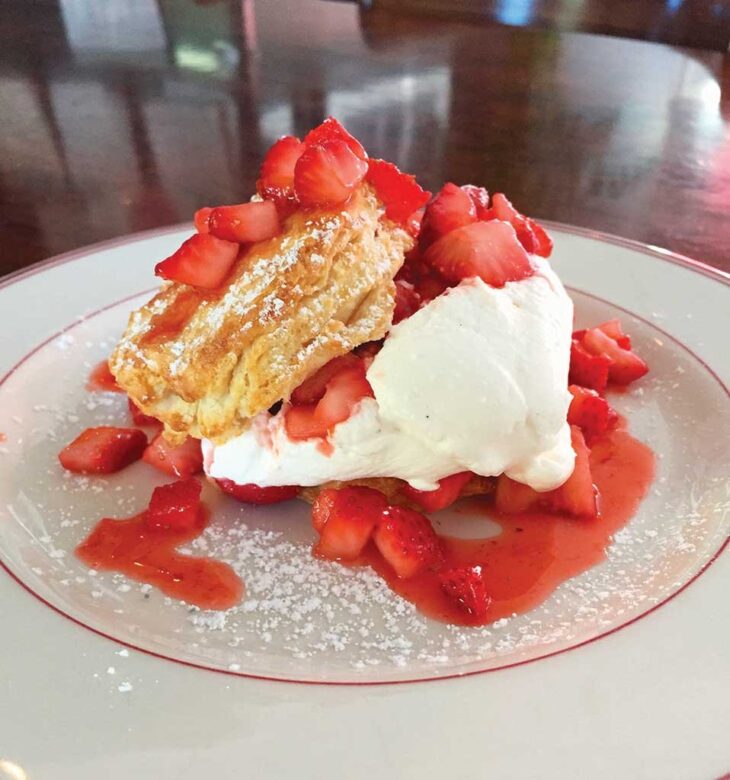 2lbs 8 ounces all-purpose flour
2 oz sugar
¾ oz salt
2 ½ oz baking powder
14 oz butter, cold and cubed
10 oz buttermilk
For the strawberries and cream:
2 pints of cleaned strawberries
1/2 cup sugar (sweeter if you want)
1 vanilla bean or 1 tablespoon vanilla extract
1 cup heavy whipping cream
1 teaspoon vanilla extract
1 1/2 tablespoons sugar (more or less if you want)
Note: Flour, Salt, Sugar and Baking Powder should be left in a refrigerator or freezer to get the ingredients cold—this will help create the perfect biscuit.
For the biscuits: In a standing KitchenAid, place all chilled, dry ingredients and mix with paddle on low speed; add cubed butter, very cold, until slightly larger than a pea-sized shape. Slowly add cold buttermilk until dough begins to form. If the dough needs a bit of help, take it out and form it on a lightly floured work surface; you can add more cream if needed at this stage. Once the dough is formed, press it out in a large circle and fold it in half on itself. Cover the dough and let rest for 15 minutes. After 15 minutes, roll the dough to your preferred thickness – I suggest 3/4″ thick. Cut with ring cutter and lay on a baking sheet, with the biscuits laid out right next to each other touching, as this helps the biscuit rise during baking. Freezing the biscuits before baking will result in even a better product. To bake, brush with cream and place in an oven at 375F for 15-20 minutes or until biscuits are golden brown.
For the topping: Wash and clean strawberries. Cut into small quarters, add sugar and vanilla, and let them marinate in their own natural juices. Use heavy whipping cream, add sugar and vanilla to taste, and whip until nice and soft. Take half of the fresh biscuit and a spoonful of strawberries and cream, and top with the other half of the biscuit and more strawberries and powdered sugar.