Steven Cruz's Ceviche with Passion Fruit Jalapeno Vinaigrette (6 Servings)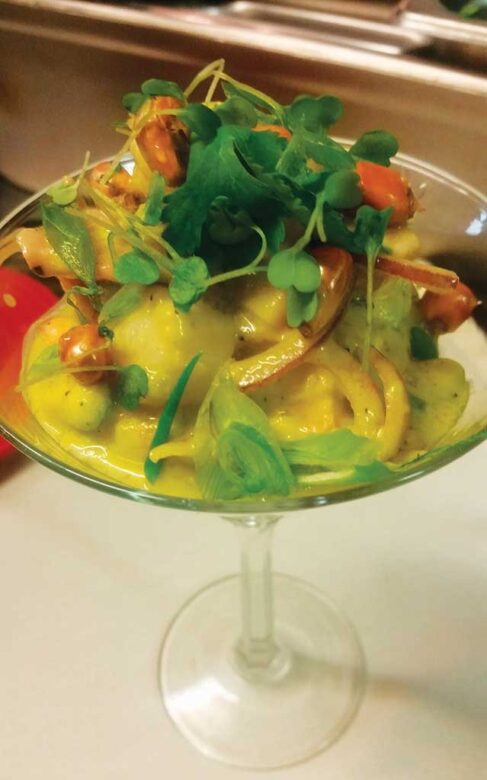 1 cup passion fruit puree (unsweetened)
1/3 cup dice mangos
1 ½ tablespoon dice jalapeno
2 tablespoon agave
1 tablespoon cilantro
¼ cup fresh lime juice
1 teasppon white pepper
1 teaspoon salt
½ olive oil
1 med size overturn Dice avocado (Not to ripen)
¼ cup sliced red onions
¼ cup dice cherry tomatoes
2 tablespoon each serving crispy maiz (corn)
seafood:
½ cup calamari rings
½ cup Rock shrimp
½ cup sliced ½ inch corvina fish
½ cup bay scallops small-med size
½ cup med size dice octopus
1 cup mussels with shells or just the mussel meat
Poached raw seafood in simmering water with white peppercorn, bayleaf, fennel seeds, mustard seeds, celery seeds for 5-8mins. After poaching place seafood in an ice bath to chill. Combine all the other ingredients except for avocado, red onions, cherry tomatoes, and maiz. Mix in blender until smooth and toss with the poached chilled seafood in a stainless bowl. Marinate for 2 hours. Before serving, toss in avocado, tomatoes, and red onions. Serve in a chilled glass bowl or martini glass and garnish with crispy maiz.