Elise Wiggins' Maple and Fig Lamb Ribs with Goat Cheese and Walnut Dust (serves five)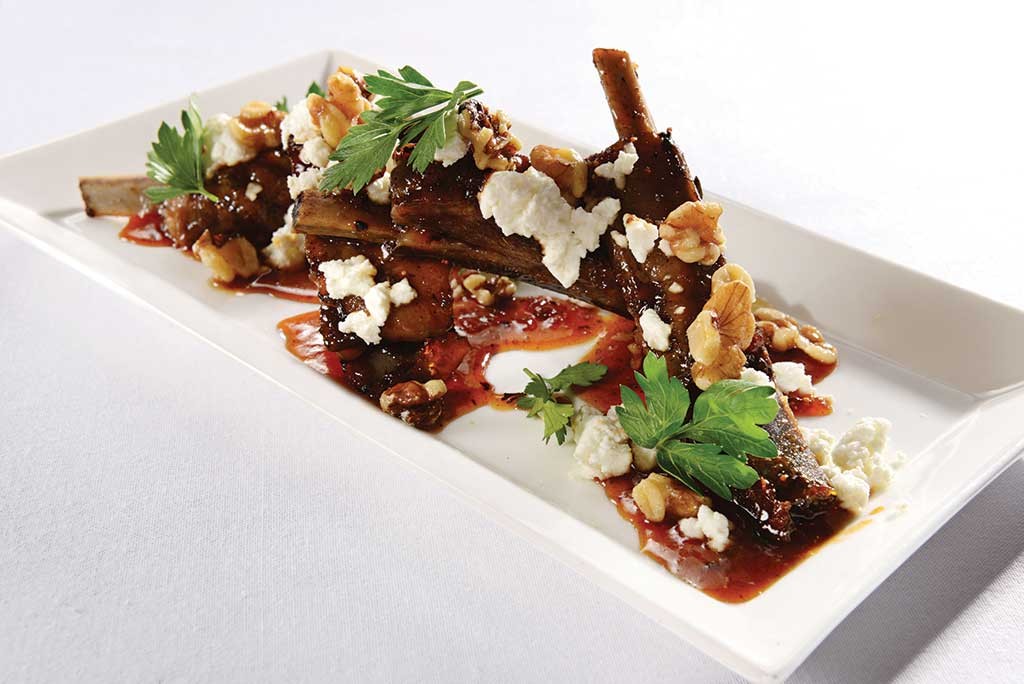 For ribs:
1/4 cup vegetable oil
2 garlic cloves, minced
4 tablespoons finely chopped rosemary
2 tablespoons fennel pollen
1 teaspoon black pepper
1 teaspoon cayenne
2 1/2 teaspoons salt
2 half racks
1/2 cup Fig preserves
1/4 cup Champagne Vinegar
1/4cup of Maple Syrup
10oz Young Goat Cheese
4oz Finely chopped roasted walnuts
5 tablespoons of roughly chopped Italian parsley
Marinate and cook ribs: Stir together oil, garlic, spices in a small bowl. Remove membrane from the lamb ribs. Pat lamb dry and rub with spice mixture. Transfer lamb to a large sealable plastic bag and seal, pressing out excess air. Marinate lamb, chilled, at least 8 hours.
Bring lamb to room temperature, about 1 hour. Put oven rack in middle position and preheat oven to 350°F. Transfer lamb to a 17- by 12-inch heavy shallow baking pan and cover pan tightly with foil, then bake 1 1/4 hours. Meanwhile, stir together fig preserves, maple syrup and vinegar, and remaining 1/2 teaspoon cayenne and 1/2 teaspoon salt in a 1-quart heavy saucepan and bring to a simmer, stirring occasionally. Discard foil from lamb and carefully pour off and discard fat from pan. Allow to cool. Cut rack into rib servings. Brush lamb with some of marmalade glaze and roast, basting every 10 minutes (use all of glaze) and turning racks over every 20 minutes, until browned and tender and hot. To serve, stack 4 bones on top of each other, scoop a quenelle of goat cheese dip in walnut dust and plate beside the ribs. Garnish ribs with sprinkle of walnuts and roughly chopped parsley.