When I told big-city Aussies in Sydney and Melbourne that I was about to travel on the Ghan, their eyes nearly always lit up. "Oh you're so lucky, I've always wanted to do that!" several gushed. "You'll love it," one guy beamed. "My parents did it last year and are still raving about it." Just one unenlightened young urbanite didn't seem to get it, scrunching his face to ask, "Why?"
Why, sir? Because how often does one get the chance to take a luxury train across an entire continent, right through its breathtakingly beautiful heart? To visit extremely remote and often downright bizarre locations in the outback, without having to worry about driving for days, and potentially crashing into a camel or a kangaroo? To have all of your excursions and meals perfectly pre-arranged, so all you need to do is show up and enjoy them? And all of this while following in the hallowed heelsteps of the girls from The Adventures of Priscilla, Queen of the Desert? Why indeed.
On my first visit to Australia 15 years earlier, like most newcomers I'd kept strictly to the country's east side, which it's only natural, since that's where Sydney, Melbourne, and the Great Barrier Reef (Oz's three main draws for outsiders) can all be found. But this time, I yearned to see a deeper Australia, and there's no better, quicker, or more convenient way to do that than aboard the Ghan.
It may look like it should rhyme with "on," but Ghan actually rhymes with "can"—it's an abbreviation of Afghan Express, the rail route's original name, so-called for the Afghani and Pakastani camel drivers who helped explore Australia's remote interiors more than 150 years ago. Launched in 1929, the Ghan's first steam-engine train carried 100 passengers (and mail and fresh fruit) from Adelaide in the south to thenextremely isolated Alice Springs at the very center of the country.
Heavy rains used to wash out entire sections of the Ghan's track fairly regularly, and legend has it that the train was once stranded mid-desert for two weeks, forcing the conductor to shoot wild goats to feed his passengers.
In 1980, track was finally laid out along a better and far less floodable route, and in 2004 the line was extended all the way north from Alice Springs to Darwin, something the Ghan's original creators had always intended.
Naturally, the Ghan train travels the 1850mile Adelaide-to-Darwin route in both directions, northward from Adelaide and southward from Darwin. I opted for the latter route, and the full four-day/three-night experience launched in 2015 by Great Southern Rail as the Ghan Expedition (www.greatsouthernrail.com.au).
After an action-packed week in Sydney and Melbourne, I hopped a four-and-ahalf-hour flight to Darwin, smack in the middle of the country's northern coast, and quite unlike any other Australian town. Facing the Timor Sea and far closer to Indonesia than it is to Sydney or Melbourne, steamy Darwin is the only major Australian urban area with a tropical climate. With about 146,000 people, it's the capital of Australia's Northern Territory, and the gateway for exploring the massive and culturally rich Kakadu National Park (www.parksaustralia.gov.au/kakadu).
Darwin's also the site of some fascinating World War II history that's well known to Australians, but less so to Americans. In February 1942, Darwin was attacked by the very same Japanese air fleet that had attacked Pearl Harbor just two months earlier, killing 243 people and causing major destruction throughout the city. In 2012, on the 70th anniversary of the bombing, The Darwin Military Museum (3454 Alec Fong Lim Drive, East Point. +61-8-89819702. www.darwinmilitarymuseum.com.au) opened, offering an engaging look at Darwin's critical regional role in the war.
Wandering Darwin's downtown may not be the most exciting thing you'll ever do, but if you've just come from Sydney or Melbourne, it makes for a nice decompressing segue from big-city life to the wonderfully laid back vibe you'll be surrounded by on your journey into the outback over the next few days. For Americans, it may also be the first time you have the chance to meet Aboriginal Australians who make up about 10% of the modern population of Darwin, which was originally home to the Larrakia people.
Boarding the Ghan train at Darwin Rail Station is not unlike boarding a river cruise on a very, very long boat. Two classes of Ghan service are offered. By far the most popular is the deluxe Gold Service, which includes a private cabin, daily excursions, and all meals and beverages. The ultra-luxe Platinum Service features larger cabins, in-cabin breakfasts and refreshments, and access to the exclusive Platinum Club. (Until 2016, there was also a steerage-equivalent Red Service, which offered seats only, but let's face it, no matter how comfy the seat, no one wants to be without a bed for three nights.)
As passengers board, the train's cheery young staff personally guides everyone to their cabins and gives the basic lay of the land about amenities, meals, and excursions. Like on a river cruise, the Ghan Expedition's travelers skew a bit older; for many Australians, the Ghan is a once-in-a-lifetime experience that they've dreamt of for years. A majority of the passengers are married Australian couples, but I met fellow travelers from all over the world, and in all sorts of relationship configurations: sisters from New Zealand, newlyweds from Scotland, and best friends from Brazil. A fair number of widows were also aboard my train, much to the delight of a saucy 90-year-old widower who openly flirted with as many as he could.
As the train begins to roll, cityscapes quickly turn to countryside. A few hours into the journey (just after lunch) comes the first stop, in the little town of Katherine. From here, you'll depart on your pick from five excursion options—mine was a short river cruise of nearby Nitmiluk Gorge, offered by Nitmiluk Tours (www.nitmiluktours.com.au). This spectacular ancient sandstone canyon was long known as Katherine Gorge. It's now co-named Nitmiluk, meaning "cicada place" in the language of the local Jawoyn people, who were given back ownership of the land in 1989.
Just like on a cruise, as a Ghan passenger you're free to keep to yourself as much as you wish, but interacting with your fellow travelers really enriches the experience, especially when you're able to hear others' impressions of their day's excursion, which may or may not be the same as yours.
Sharing stories is easy over the Ghan's excellent three-course dinners, with Australian delicacies like barramundi, grilled kangaroo fillet, and superb Australian wines and beers.
Rise early on day two, and you'll be treated to the special thrill of watching the sun come up over the remote Australian outback. You're now in what's known as the Red Centre, the burnt-orangehued desert landscape at the very heart of the continent. Just after breakfast, the train pulls into Alice Springs, which, for a small town of under 25,000 people, offers a surprising number of great activities for visitors. Not least of these for the diehard Priscilla fan is Lasseters Hotel Casino (93 Barrett Drive. +61-889507777. www.lasseters.com.au), the gals' final destination on their befrocked cross-outback bus journey.
Instead, I opted for a much more timeless destination: Uluru (www.parksaustralia.gov.au/uluru). Also known as Ayers Rock, this huge and iconic orange-red sandstone monolith juts dramatically 1,142 feet out of the flat desert, rendering it extremely sacred to local Aboriginal peoples, and powerfully alluring to visitors from across the planet (about a quarter of a million every year). It's also an UNESCO World Heritage Site.
Uluru is a five-and-a-half-hour drive from the Alice Springs train station, but thanks to the magic of air travel, the Ghan is able to offer a day trip to Uluru as a premium excursion via a 50-minute fixed-wing flight. The view approaching Uluru from above is beyond spectacular, and something I'll never forget. What's more, flying offers a look at the lesserknown but also super-impressive domed rock formation Kata Tjuta (also called the Olgas), 16 miles to the west of Uluru.
Once our little plane landed, our visit at Uluru may have been fairly rushed, but it was absolutely unforgettable. As we circled it by car and took an up-close walking tour, our excited guide managed to cram in loads of info about this amazing site. He told us that it began forming geologically a ridiculous 500 million years ago (270 million years before the arrival of dinosaurs); that it's nearly six miles around at its base; that Aboriginal people have lived nearby for some 30,000 years; and that some of their rock art on the face of Uluru dates back millennia.
Back in Alice Springs after that extra-special excursion, the Ghan's agenda still had another delight in store for our evening: a delicious bar-becue under the stars at Telegraph Station, the town's historic birthplace. After sunset, the outback sky filled with a glorious blanket of stars, and we were treated to an astronomy lesson, which was especially fascinating for those of us coming from the Northern Hemisphere where the constellational layout is completely different. A band then took the stage and performed a stream of Australian classics, including "Waltzing Matilda," the country's unofficial anthem, which naturally set the wine-infused Aussie crowd to singing and dancing. Nationalism needn't always be scary.
After such a unique Thursday, Friday's Ghan experience couldn't have been more different—and frankly, bizarre. In the morning, the train slowed to a stop at what the staff called Manguri station, but what anyone else with eyes called the middle of nowhere in the desert where we caught our awaiting coaches for the wacky Coober Pedy.
Even from far outside of town, it's clear there's nothing remotely typical about Coober Pedy. Conical mounds of rubble literally fill its horizon, the byproduct of unbridled opal mining, the very reason for Coober Pedy's existence. In this far-flung and not-very-humanfriendly corner of the planet, opals were discovered a hundred years ago, and the opal rush has continued ever since, drawing a hodgepodge of hardy fortune-seekers from around the world.
Most bizarrely of all, about half of Coober Pedy's 3,500 or so residents live underground, in homes that have been burrowed into the earth to avoid the oppressive heat of the local summer. Nearly everything that can be done in Coober Pedy can be done beneath its surface. There are subterranean restaurants, bars, churches, and even an underground motel. Aptly, the name Coober Pedy comes from the local Arabana language, kupa piti means "white man in a hole."
Coober Pedy, you may remember, is also where the Priscilla girls got into a pub brawl with homophobes after their bus broke down in the middle of the outback. It could still be risky these days to don drag and hit on the Coober locals, but even remote attitudes have come a long way since the '90s in Australia, which as a nation just voted to legalize marriage equality.
Great Southern Rail is now capitalizing on Priscilla's enduring success along another of its routes, the Indian Pacific (www.greatsouthernrail.com.au/trains/the-indianpacific), which crosses the country horizontally from Perth in the west to Sydney in the east. During a stop at the old silver mining town of Broken Hill,where the Priscilla girls sauntered through the center of town in full regalia, and stayed at the Palace Hotel, Indian Pacific passengers can choose an excursion called The Main Drag, which includes a drag show at the very same Palace.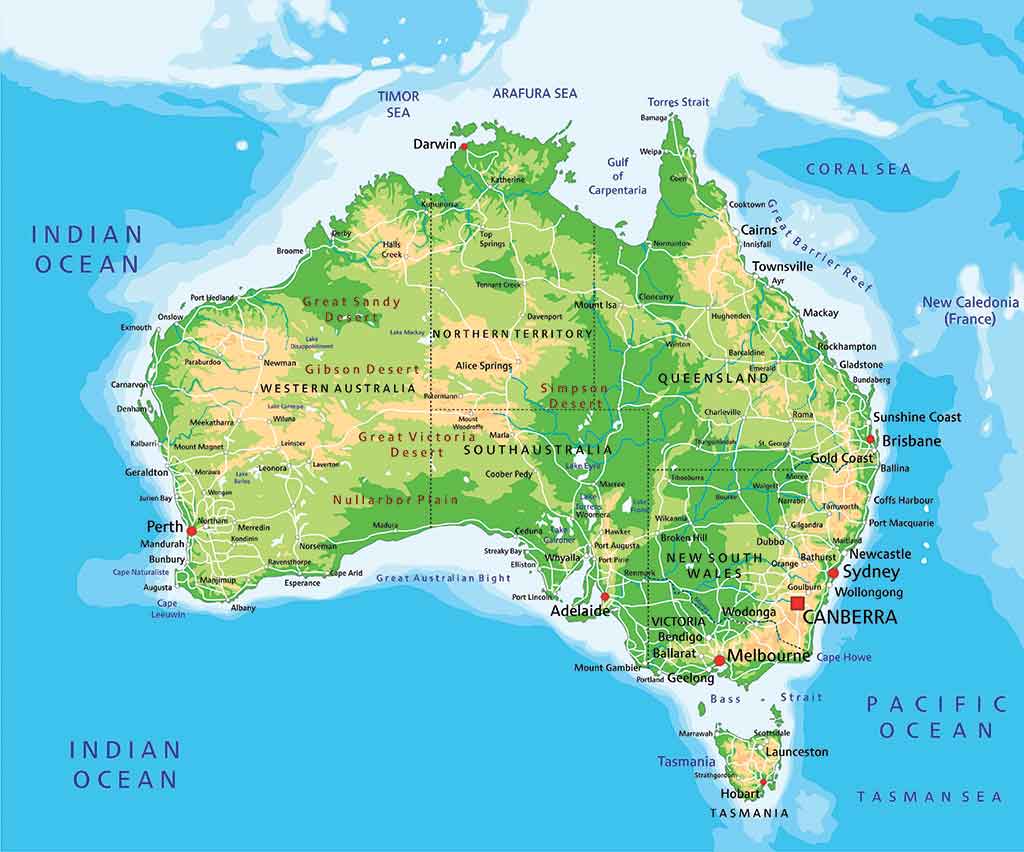 Fittingly enough, our final Ghan excursion stop after Coober Pedy was the place where the Priscilla bus broke down: The Breakaways, with its truly stunning outback vistas. And en route, we got a look at another only-in-Oz oddity: a stretch of the so-called Dog Fence, built in the 1880s to keep wild dingoes away from the sheep of southern Queensland. Just under six feet tall and mostly made of mesh, it's still the longest fence in the world, stretching nearly 3,500 miles.
When I woke up in my cabin the next morning, I realized that the scenery beyond my window was starting to look "normal" again, and that my voyage into the Australian outback was sadly drawing to a close. As the Ghan pulled into the urbane southern coastal city of Adelaide, I honestly couldn't believe that it was all over so quickly. I'd loved every minute, and yet it only left me wanting more. You can best believe that for my next trip Down Under, I'm already eyeing a ride on the Indian Pacific.