Did you know that swimwear for men once consisted of a skirt or with a skirt effect in the early 20th century to show modesty? The other alternative for men was to wear a wool one-piece armless suit with knee-length pants. In the early 1920s, men's swimwear consisted of wearing a flannel vest over a union suit with the arms cut off and wool slacks also cut off at the knee for beachwear. A man going "topless" was still a no-no, but the "convertible suit" was invented so that the top could be removed if one dared to show his chest. The late 1920s into the very early 30s came the men's topper that started a real shift in men's swimwear. The belted, wool suit allowed for one to go bare-chested. The deeply scooped top was attached to the front of the trunks by another new invention, the zipper. The back of the suit featured an arrangement of straps to secure the top. This allowed the top to be removed simply by unzipping it. Still, this led to many arrests of lots of men for "indecent exposure." As history shows, it was not a modesty/vanity issue. The real concern was how is one supposed to swim with a one-piece, wool suit on…even if it is cropped at the knees? When wet, these suits weighed up to ten pounds. It's hard to believe today that men once had to fight for the right to bare their chests on public beaches. Even today, women can only go topless at certain beaches in the USA; talk about a double standard for the sexes in America!
In 1936, the controversy of the men's topless movement was so strong that guys going bare-chested in Atlantic City, NJ were completely banned. Finally in 1937, men had the right to show their nipples on public beaches, which, if you think about it, is so strange. For much of human history, recreational swimming was done naked up until the 20th century. Even high school and college swim teams trained in the nude. As a boisterous competitive swimmer in high school, I so would have appreciated that!
By the time 1940 rolled around in the USA, the trunks and high-waisted briefs became popular mainstays. Around this time, body building and the male physique started to explode on the scene, and men's swimwear took on an athletic, fitted silhouette to show off the body-conscious craze.
During the 1950s, men's swim and leisurewear went in a new direction. Matching Hawaii-style print trunks with matching shirts were perfect for pool parties and barbecues. Then, in the 1960s, new fabrics like Lycra, and style influences such as the bikini, started to hit the ach/pool scene. Through the 1970's and 80s, more of an athletic influence took over. The return of the body-building craze in America encouraged the popularity of the tiny briefs that were in high-demand for men's swimwear.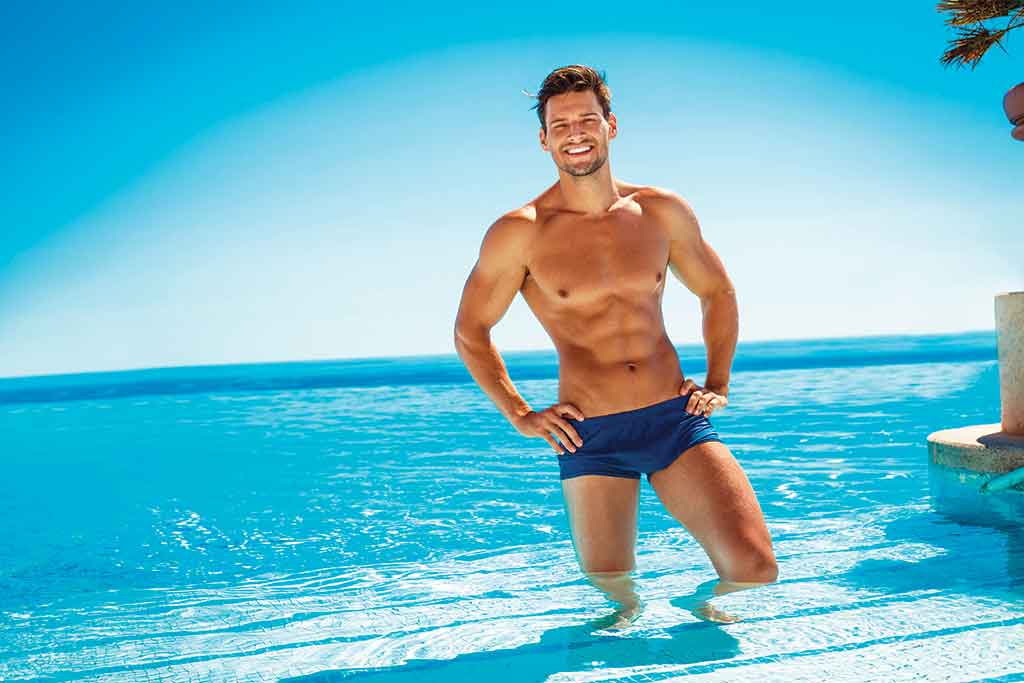 The 1990s and 2000s gave way to more of an international influence. The Italian Speedo was very popular in gay America by then. The Brazilian sunga bikini, with its sexy silhouette hit, the beach scene in a big way. Designers of the day were shaping what men wore at beaches and pools—even male thong bikinis made their debut during this period.
For nearly 20 years in the USA, swimwear for men stayed basically the same, and included only about three styles, with board shorts being the most popular for a long while. Now, men dress for the beach/pool not only for how they look, but also for how they feel. Today, it's all about style and comfort. The trick is to find a well-fitting swimsuit that shows off your body's best assets.
For the tight-body hotties out there, you can usually wear whatever you want, because we want to see your rockin' hard bodies. Athletic and muscular types look great in most styles, just be sure to get a suit that fits well. Too tight or too loose, and any swim suit can really alter a muscular body's shape. For instance, if you have muscular legs, stay away from long board shorts since they can make your legs look stubby and packed in like sausage. Short board shorts, swim briefs (Speedo), and squarecut swim trunks look best on you. Only if you have that perfect muscular or "bubble-butt" should one wear a thong.
Now for those thick and juicy boys, you know the type: some muscle definition, thicker arms, broader waists, firm legs, and built like a linebacker. Short board shorts (long board shorts if you're tall) and square-cut swim trunks look really attractive on me (I mean, on this body type). Stay away from elastic-top banding that may dig into your softer belly. Drawstring is the way to go. Keep your prints on the small side. Sometimes I wear lace-up football shorts—give those a try too.
For the tall-and-lean body type, long board shorts seem to be made just for you. This cut of a swimsuit balances out your body in the most attractive way. Just be sure that the length goes just slightly past your knees. Have fun with crazy colors and if your skin is pale, try to get some sun, before you show off your neat and trim body. Be sure you get a suit that stays up when you get out of the water. My lean and long friends tell me that this is their numberone issue with swimsuits. Can you believe they have the audacity to complain that they're so lean that a size 30 swim trunk won't stay up when wet? The nerve!
For the shorter guys, stay away from long board shorts that seem to make you appear even shorter. Stay clear of short board shorts too that may make you appear to be thicker. Square-cut swim trunks really look great on a shorter guy. Short, skinnier guys look best with fitted trunks. Fitted trunks have less material that would otherwise hang off of you, especially when wet.
Fabulous guys with a little extra here and there look best with swim trunks that are cut just slightly above the knee. This helps create a visual balance between your stomach and your legs. Avoid short shorts or swimwear that go past the knees. These will only accentuate your belly. Never wear a too-tight swim trunk. Invest in great quality fabrics and swimsuits that are tailored to your size. These days, the sophisticated selections in swim wear for bigger bodies are truly wonderful. Go for darker colors and smaller prints to help streamline your silhouette. Elastic waistbands are best for mobility with this body type just as long as it fits snuggly without digging into the body. A dark vneck tee, and not a tank top, helps complement you, but please take it off if you enter the water. Nothing says "I'm uncomfortable with my own body" more than a guy with a T-shirt in the water.
No matter your body type, and no matter what swimwear you choose, nothing is more attractive than a guy who's confident about the way he looks. A friendly and fun disposition is the sexiest thing anyone can wear.