Years ago I had a colleague from Manchester, England with the greatest accent I have ever heard. Her words flowed like lilting waves of melody with vowel variations that made her elocution, quite literally, music to my ears. I savored her every utterance and tried to ask her open-ended questions, later comparing her pronunciations with the lyrical diction of musical legend and Manchester native Morrissey.
So when I finally make it to this city at the center of Lancashire County, I am more than ready to relish mellifluous conversation and dive into this famously fun town.
I begin my explorations with the basics, thanks to a highly informative, LGBT-centric walking tour with Andrew Derbyshire of Tour Manchester (www.tourmanchester.co.uk).
As the United Kingdom's tenth-most populous city with around a half-million resident "Mancunians," the City of Manchester claims a lot a history that's greatly influenced our modern world. An expert in his home city, Andrew wastes no time in exposing its roots, starting with the name. Once upon a time in the landmarked neighborhood known today as Castlefield, the Romans built the 1st-century fort called Mamucium ("ma-moo-ki-um"). Translation: "breast-shaped hill." (This city is growing more interesting by the minute.)
We continue our walk through this storied metropolis that is so brilliantly compact it feels almost like a group of neighboring villages. Every corner we turn offers remarkable architecture that dates back various centuries. For example, the medieval times brought the construction of the brooding, Gothic Manchester Cathedral (www.manchestercathedral.org), whose renovations never diminished its marvelous stained glass and elaborate stonework.
Still more great architecture exists thanks to commercial heydays. On my walking tour, I learn how Manchester's canals made it a trade hub, and Andrew explains that textiles and weaving were its specialties as far back at the early 16th century. By the time of the Industrial Revolution, the city was manufacturing full-throttle in several arenas, contributing to everything from steam railways, to the first modern computer, and even the dawn of vegetarianism (a foreign concept in the 1800s).
As an aside, Andrew notes the recurring theme of worker bees around the city and on its Coat of Arms, a shout out to the city's industrious nature.
For history lovers, the city's fascinating stories are told in its abundant museums. For example, at the Museum of Science and Industry (Liverpool Road, Castlefield. Tel: 0161-832- 2244. www.mosi.org.uk), I see the very first stored-program computer. Built in 1948, it was nicknamed "Baby" by its inventor, and gay martyr, Alan Turing, who studied at the University of Manchester and whose memorial bronze statue sits in Sackville Park.
At the nearby People's History Museum (Left Bank, Spinningfields. Tel: 0161-838-9190. www.phm.org.uk), I feel the full effect of Britain's labor movement and its struggle to win a fair wage and political power. Diving even deeper into the past, the Manchester Museum (University of Manchester, Oxford Road. Tel: 0161-275-2648. www.museum.manchester.ac.uk) displays one of the largest collections of Egyptian artifacts in the UK, along with ancient currency and major natural-history collections.
Along our walking tour, Andrew points out embedded sidewalk markers of the Out in the Past Heritage Trail (www.outinthepast.org.uk/timeline/trail) charting more than 200 sites related to LGBT history. Inside the massive iconic neo-Gothic landmark in Albert Square that is Manchester Town Hall (Tel: 0161-827-7661. www.manchester.gov.uk/townhall), I learn that Margaret Roff was the first out homosexual mayor elected in the UK.
By afternoon, it's obviously time for tea. So we visit Proper Tea (at Manchester Cathedral, Cathedral Yard. Tel: 161-832-3220. www.properteadeveloper.com) and I choose a deliciously delicate imperial Earl Grey from the lengthy loose-leaf menu to accompany our "traditional afternoon tea" assortment of pastries and sandwiches. The place feels like the modern version of old-English tea time: cute, stylish servers delivering tiered dessert stands to our tables, with digital timers to perfectly steep high-end tea, and Manc accents buzzing all 'round.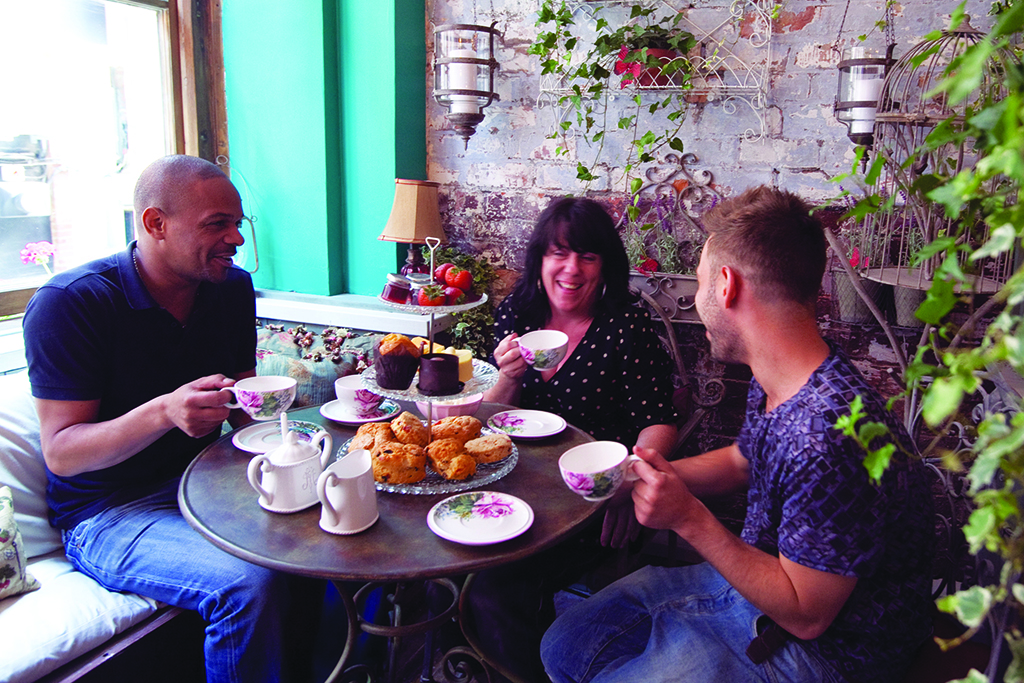 I head back to my hotel, the Doubletree (One Piccadilly Place, 1 Auburn St. Tel: 0161-242-1000. www.placeshilton.com/manchester-piccadilly), a high rise that contrasts with the local history as a sleek accommodation with lovely views and modern amenities. Its central location is unbeatable, with the Piccadilly Station and Gardens minutes away, and a short jaunt to the happening Northern Quarter, where the cool kids shop, eat, and carouse.
Perhaps more importantly, the hotel is basically across the street from where the Gay Village begins. I remember years ago watching the original British Queer as Folk and feeling skeptical that Manchester's queer scene could be as lively as the show depicted. I was wrong.
Along Canal Street (aligned with Rochdale Canal), I behold one of the most active gay strips I've ever encountered. This former cotton-trade artery is today the anchor of a fabulous Gay Village filled with all manner of watering holes and eateries. Chic among them is Velvet (2 Canal St. Tel: 0161-236-9003. www.velvetmanchester.com), the gay-welcoming boutique hotel, restaurant, and plush cocktail lounge.
But Canal is just one side of a bona-fide, bustling gayborhood. I'm grateful that during my visit I'm aided by the fine company of one Adam "Byonce" Lowe, a local writer and performer (drag and otherwise), who seems to know nearly everyone in town. He also knows all the clubs and parties, and I'm glad to have him as my Manc weekend escort, whether to keep me out of trouble. or help me find some.
Strolling the narrow, thumping lanes of Richmond, Bloom, and other streets with Adam reveal too many gay bars to count, including two lesbian bars: flirty Vanilla (39-41 Richmond St. Tel: 0161-288-2727. www.vanillagirls.co.uk), and Coyotes (14 Chorlton St. Tel: 0161-236-4007. www.coyotesbar.co.uk).
As we wander, Adam tells me how Manchester Pride (www.manchesterpride.com) takes over the Village each August, and how 2015 marked the 25th anniversary of an already super-festive celebration. The city becomes a rainbow-streaked assortment of all things LGBT. That includes the "Big Weekend" parties, raucous Pride Parade, and a blowout concert series. But it's not all play-time. The annual George House Trust (www.ght.org.uk) Candlelight Vigil serves as the weekend's spiritual, reflective gathering, with Pride-goers pausing to remember those lost to complications for AIDS, and remembering that the fight continues.
Superbia (www.superbia.org.uk) is the cultural program that's now a bigger and better version of the community-arts series formerly known as Pride Fringe. Using the Latin term for "pride," "Superbia" befits this year-round program of queer events that span exhibits, readings, theater, and social outings. Many of the events are free to attend and independently organized, and are even more abundant during Pride season.
Adam takes me to one of his favorite spots, neighborhood hangout The Molly House (26 Richmond St. Tel: 0161-237-9329. www.themollyhouse.com), a two-story pub filled with cuties chatting and fondling their pints.
We continue our crawl to New York New York (94 Bloom St. Tel: 0161-236-6556. www.newyorknewyorkmcr.com), a lively spot that's part pub and part club, complete with drag shows and dancing. A girl has to sleep some time, so I call it a night in preparation for a full Saturday's worth of exploration.
The next day, I begin with a walk through the Northern Quarter, where I catch up on my window shopping and find out just how serious Mancunians take their weekend drinking, as boisterous, tipsy men and women take smoke breaks outside various pubs. (FYI: it's only 10 A.M.)
I follow Adam's advice to check out the singular Afflecks (52 Church St. Tel: 0161-839-0718. www.afflecks.com), a three-story emporium of funky shops selling everything from Smiths posters to platform wedges to local art. One could wander all day in this cool district, but I head back toward the Village for a break at the Tim Burton–esque Richmond Tea Rooms (15 Richmond St. Tel: 161-237-9667. www.richmondtearooms.com).
Now that I'm well caffeinated, I tune into Gaydio (www.gaydio.co.uk) as I walk through the university area. A successful non-profit since 2006, Gaydio is known as "the beat of Gay UK." In Manchester it's found at 88.4 FM, and it streams live to listeners around the world through its website. Fans love its mainly dance-music programming, and occasional talk-radio sessions with the likes of Prime Minister David Cameron, John Cameron Mitchell, and other great interviewees.
Down Oxford Road, I stop by the bizarre building that is Contact (Oxford Rd. Tel: 0161-274-0600. www.contactmcr.com), Manchester's daring multi-disciplinary arts organization. The multi-level structure somehow resembles a mega microchip, housing an auditorium, cabaret spaces, café, and studios. It hosts international LGBT artists all year, and puts on "Queer Contact" for February's LGBT history month—ten days of spoken word, comedy, dance parties, and more, including the occasional opera.
Contact is a great option in this famous theater town. There also are more established theaters, many of them listed with their current performances at www.ManchesterTheatres.com. These include the exemplary Royal Palace Theater (St. Ann's Square. Tel: 0161-833-9833. www.royalexchange.co.uk), which hosts in-the-round plays in a unique, freestanding steel pod built within the atrium of the Classical-style Royal Exchange building.
I follow the advice of several locals and head farther down Oxford Road to the Whitworth Art Gallery (University of Manchester, Oxford Rd. Tel: 0161-275-7450. www.whitworth.manchester.ac.uk), where I view an enthralling collection of mainly 20th-century art from around the world. Its gorgeous red-brick and terra-cotta 1908 building was recently renovated, and its exhibition spaces showcase notable collections of watercolors, sculptures, textiles and more.
Manchester also has an impressive Chinatown (www.manchesterchinatown.org.uk) with loads of tempting Asian fare, but Adam and I head for dinner at one of the biggest and most popular Chinese restaurants, Yang Sing (34 Princess St. Tel: 0161-236-2200. www.yang-sing.com). Delicious dim sum and several Cantonese dishes abound, and we quickly fill up in preparation for a Saturday night on the town.
Adam first takes me by the fun Poptastic party at Alter Ego (105 Princess St. Tel: 161-236-9266), where we pick up a few of his pals somewhere through the smoke-machine haze. Our party hopping continues around the corner at Cruz 101 (101 Princess St. Tel: 0161-950-0101. www.cruz101.com), home to the Aftershock party and an appearance by local drag goddess Anna Phylactic. (You may recognize her from the mural painted on the side of The Molly House.) I continue my crash course in Mancunian revelry, painting the town until the wee hours until I finally give in and weave myself back to my hotel.
Then I learn a very important part of a typically festive British weekend. After the parties dwindle and the sun rises, we pull ourselves back together and pursue the almighty Sunday roast. In lieu of mum's kitchen, locals head to one of several chop houses in town. So I rendezvous with Adam for a filling hangover meal at Sam's Chop House (Back Pool Fold. Tel: 0161-834-3210. www.samschophouse.com), where I sample locally farmed beef roast with red-wine gravy, Yorkshire pudding, and goose-fat roast potatoes and veggies. But at Sam's, it's more about the atmosphere: the circa-1872 U-shaped bar, the classic ales on draught, the chophouse fare made to absorb and comfort. They're all part of the tradition, along with a hair-of-the-dog pint.
As we head outside into the brightness of another day, I sense that this is the first of many visits to Manchester, a city that needs no superlatives to express its greatness. Because like all the worthwhile corners of the world, Manchester says it all in its everyday accent.