KNOWN AS "THE AMBASSADOR OF THE
Great American Songbook," there is perhaps no greater advocate for this timeless music collection than Michael Feinstein. At five years old, Feinstein shocked both his parents as well as himself by playing piano by ear, and there was no looking back as he became increasingly obsessed with the works of Johnny Mercer, Harold Arlen, Burton Lane, and dozens more. By 20, Feinstein left his hometown of Columbus, Ohio and moved to Los Angeles, where shortly thereafter he was introduced to Ira Gershwin, for whom he worked for six years. This mentorship has been the foundation for Feinstein's expansive, 30-year career in the music industry, during which time he has garnered two Emmy Awards and five Grammy nominations.
Currently, New York City is welcoming his return as one of the city's most popular night- club venues is renamed Feinstein's/54 Below (www.54below.com).
"Beloved and respected by his audiences and musical artists around the world, Michael Feinstein is a fantastic performer and synony- mous with great entertainment," says 54 Below Proprietor Steve Baruch. "My partners, Tom Viertel, Richard Frankel and I are honored to begin this exciting new collaboration with Michael adding additional vision and creative energy to 54 Below."
As part of the new partnership, Feinstein will appear at the venue December 20-30, then he launches his winter/spring tour schedule that includes Naples, Florida, with the Naples Philharmonic (February 19 and 20); Palm Desert, California (March 12 and 13); and a return to New York City's Jazz at Lincoln Center (April 13 and 14), along with plenty of other performanc- es in between. We caught up with him prior to his reoccurring gig at Feinstein's at the Nikko in San Francisco to chat about the American Songbook, his charitable organization, and the music industry's evolution.
How do you define The American Songbook?
It's ever–evolving. To me, there are songs that have transcended the time in which they were written: the works of Billy Joel, Carol King, etc., are as significant and important as Richard Richards and Hoagy Carmichael. We won't know until 20 years after a song is written if it will last or not.
Do you think the way we listen to music has changed?
Now we think of a song with a single performance, in the glory days, different people recorded a single song a hundred times. Technology is wonderful, but it has also created pitfalls. Most people listen to music as compressed audio files versus a stereo sys- tem. Program notes and liner notes—it was all part of it.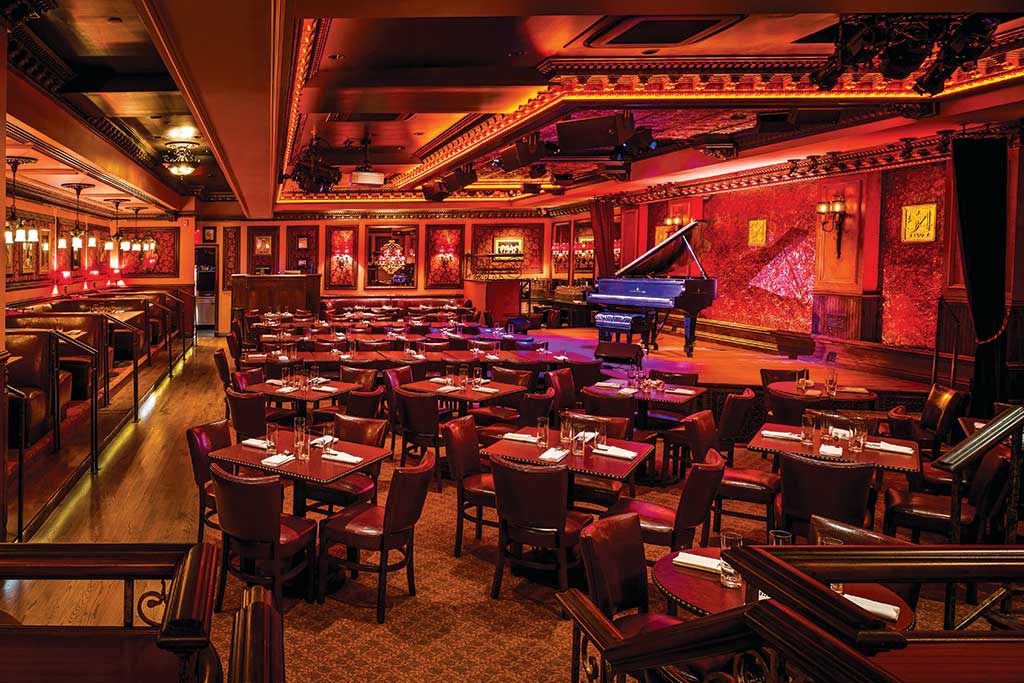 You've played spectacular venues around the world, what was the appeal in establishing a long-term relationship with 54 Below?
One of the great things about working in a nightclub is that it refers to a smaller physical space, but what goes on in that space could be anything. It's as wide-ranging as anything that exists in the arts. The thing that attracts me as a performer is the connection with the audience. It's up close and live. It's not filtered. There's very little technology and no auto-tuning. It is real and of the moment. I'm thrilled to partner with 54 Below and keep this kind of entertainment alive. I don't do it for the money. I'm lucky at this point in my career to be able to pick and choose what I want to do.
One of the most important things is my work with the Great American Songbook Foundation, which includes an annual competition for high school students. Thousands of kids across the country participate, and I'll be presenting some of them at Feinstein's/54Below this December. The foundation is part of the Center for the Performing Arts, where I serve as artistic director. We were looking for a location to establish the foundation and the most attractive offer came from Carmel, Indiana, where the mayor and the community offered staff, office space, and state-of-the-art storage facilities for the collection that made it possible for my organization to kick-start. It's there because the community supports it.