If you want to know what makes Provincetown, Massachusetts such a special place to visit, ask a local—and that's just what we did.
Join us as we explore this beautiful and exciting location with three unique individuals who live, work, play, and create here. Provincetown is filled with many wonderful things just waiting to be experienced and enjoyed. From unique local businesses to art galleries, museums, theaters, scenic tours, farm to fork restaurants, and spectacular adventures in nature, Provincetown is one of America's foremost LGBTQ+ destinations.
CHARLES DANIELS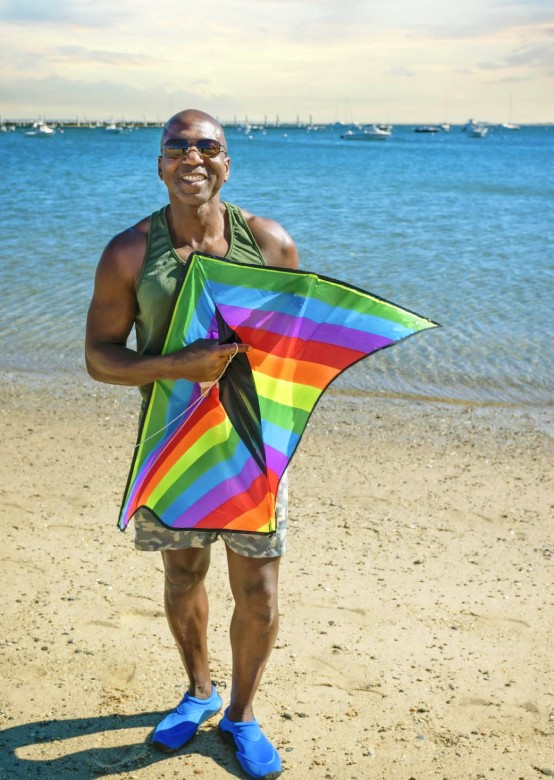 Born in Barbados, Charles Daniels is a proud Canadian citizen who has lived year-round in Ptown for about 10 years. Like most "townies," he wears different hats depending on the time of day. Mornings and weekends, he's a fitness instructor, teaching boot camp and spin classes at Mussel Beach. During the evenings, he manages Spindler's Restaurant. When he's not doing either of those, he is a personal trainer, helping people of all ages stay fit and reach their individual fitness goals.
How long have you been living in Provincetown, and what influenced your decision to move here?
I've been in Provincetown for 10 years. I moved here for a relationship, but I stayed because of the wonderful people I met once I got here. I visited Ptown on vacation for many years before moving here, I always enjoyed how open and accepting Ptown is to people from all walks of life.
What are your favorite places to go for a cocktail and or dinner?
Spindler's, because of our amazing chef, Eduardo Rios, is number one on my list.  But that's work for me, so I have several other favorites: Liz's Café, Victor's Restaurant, Mac's Seafood, Fanizzi's, and The Red Inn.
What cultural attractions or events are a must see for visitors
There is nothing more spectacular than watching the sunset from Herring Cove in the middle of summer. And everyone needs to come to the Carnival parade in August at least once. It's Provincetown at its best and its weirdest.
A friend is coming to Provincetown for the first time. Please describe the perfect weekend.
Day One: Start with my spin or boot camp class at Mussel Beach, walk over to Liz's Café for breakfast served by the delightful Chuck or adorable Ryan, then ride your bike over to the beach, either Herring Cove or Race Point. Of course, you'll need to grab a sandwich first at either Relish, Angel Food, or Farland. After the day at the beach, pedal home, relax for about 32 minutes, before heading to Tea Dance at The Boatslip, followed by dinner, followed by a night out either dancing or maybe for a drag, burlesque, or comedy show at the Crown & Anchor. End the night with pizza at Spiritus.  Day Two: Stay in bed all day because Day One was too exhausting.
What are the best places to truly enjoy the natural beauty of the area?
Art's Dune Tours is an amazing way to see the natural beauty of the Outer Cape, or just take a walk through town down Commercial Street to get a sense of the beauty and history of the town. You can also climb up the 252 foot granite Pilgrim Monument for a panoramic view of Provincetown.
What is your favorite time of the year in Provincetown and why?
I love September when the weather starts to cool down and the town starts to quiet down just enough for locals to catch their breath from a very busy summer.
What locally made products would you have visitors bring home.
Liz Lovati's coconut cake from Angel Foods, and locally made art from one of the many galleries 
Please finish the sentence: don't leave Provincetown without…?
Taking a stroll through town and enjoying the beaches, the art, and the culture. And make sure to meet some of the business owners and locals who help make this town the special place that it is.