It's a hot and humid summer night in St. Petersburg, Florida and flood lights are streaming down hard upon Tropicana Field where the Tampa Bay Rays are about to face the San Francisco Giants. Every last ticket has been sold for this home game (a first for the Rays), and thousands are slipping into black T-shirts bearing the team's signature burst. It's a night of excitement here in sunny St. Pete, but also one of somber reflection. This is no ordinary baseball game.
Less than one week prior, a 29-year-old gunman rushed into Pulse Nightclub in Orlando (just 105 miles away) and massacred 49 people while wounding 53 others. As a nation grieved, the Rays sprung into action by creating an impromptu Pride Night to benefit the victims and families of the shooting. It included a tribute to the victims, the singing of the national anthem by LGBT choral group Una Voce, a showcasing of the Pride flag on the field, and tens of thousands of fans donning free shirts that read "We Are Orlando" in rainbow colors. It was incredible.
But this is only one reason to love St. Pete, a quirky sun-drenched metropolis whose cultural attractions, stately downtown and LGBT friendliness are often overshadowed by other Florida cities. Some facts about Pinellas County: It is Florida's second smallest county, but home to nearly one million people and by far the densest in the state. It boasts 35 miles of sandy beaches and a total of 588 miles of coast- line. It is the birthplace of both Wikipedia and Hooters and its mid-June Pride celebration is the largest in the Sunshine State. In short, it's an interesting place.
I begin my weekend by cruising the Pinellas Byway away from the city and toward my hotel in sunny St. Pete Beach. The tollbooth attendant greets me with a fist bump (an auspicious beginning), and soon I am checking in at the Kimpton Hotel Zamora (3701 Gulf Blvd., St. Pete Beach Tel: 888-809-1588. www.thehotelzamora.com), a Gulf-facing Mediterranean-style resort adorned with dramatic white archways, curvy balcony rails, and gangly palm trees standing guard on all sides. I am checked in by a slender young man and his senior counterpart. I believe both are gay and were handpicked just for my arrival. I enjoy their banter as they check me in (and check me out, if you know what I mean).
The steamy tropical heat this morning feels like a hot, wet face towel (the kind I'm told they give out on first class flights) so I duck into the Dalí Museum (1 Dali Blvd., Tel: 727-823- 3767. www.thedali.org) for air-conditioned relief. Part of a sprawling bay-front campus that also includes the Mahaffey Theater (401 1st Street South, Tel: 727-892-5767. www.themahaffery.com), the Dalí is easily the most important cultural attraction in the city and the largest collection of his work outside Europe. At member services I'm greeted by Eddy, a friendly gent wearing bedazzled sunglasses and a black backwards golf cap who points me in the direction of a sweet, elderly woman with more wrinkles than a shar pei. She hands me an audio guide and says, "take the stairs young man." (Only in Florida do I still qualify as young.)
The museum is compact and manageable and the best way to approach it is through a self-guided audio tour which illustrates excellent works like "Portrait of my Dead Brother," "The Hallucinogenic Toreador," and "The Discovery of America by Christopher Columbus," while also bringing to life the struggles, loves, and familial tensions of the surrealist master. Do not miss it.
The Dalí Museum is not alone in entertaining visitors. I visit numerous downtown attractions including the fantastic gourmet food hall Locale Market (179 2nd Ave. North, Tel: 727-527-6300. www.localegourmetmarket.com), which includes a bakery, coffee shop, grill, cheese and charcuterie retailer, gelateria, and top-floor eatery Farmtable Kitchen by San Francisco super-chef Michael Mina. There is also the opulent Chihuly Collection at the Morean Arts Center (719 Central Ave., Tel: 727-822-7872. www.moreanartscenter.org), where I spend hours staring at the stunning collection of glass masterpieces by world- renowned artist Dave Chihuly. Another must-see is the Sunken Gardens (1825 4th St North, Tel: 727-551-3102. www.sunkengardens.org), a four-acre botanical backyard smack in the middle of downtown that at one point was going to become a nudist colony and which every December hosts the Red & Green Party for the LGBT community.
Many of these attractions are clustered around or nearish to the Grand Central District, a thriving shopping street that has wisely kept out chain stores in favor of block upon block of indie boutiques, hair salons, tattoo parlors, and funky eateries.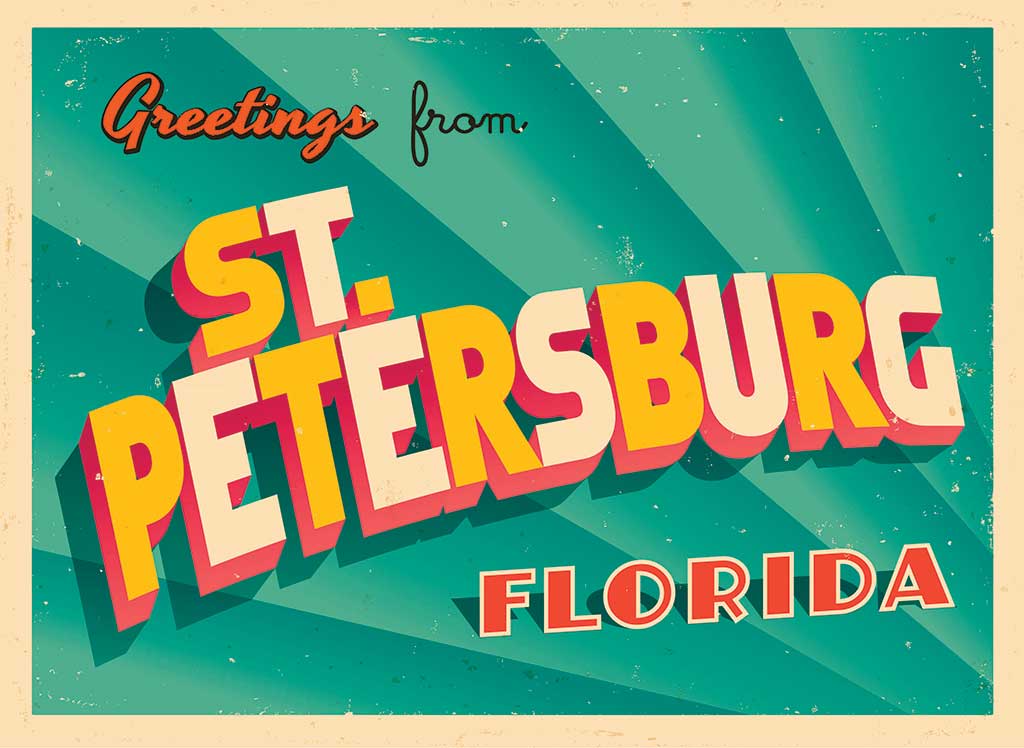 At lunch, I check out Z Grille (104 2nd St. South, Tel: 727-822-9600), a hip downtown restaurant rocking some serious skate-culture mojo including a bar crafted of skateboard wheels, 12 hanging skateboards that artfully depict "The Last Sup- per," and, my favorite of all, a mural whose intricate pattern also appears as a tattoo on the chef/owner's own body. The menu is an eclectic variety: think soup and sandwich combos or an Asian-influenced kale and spinach salad at lunchtime, but also unexpected treats like their self-proclaimed "famous" deviled eggs or a rack of ribs soaked in a Dr. Pepper sauce.
High above the city, at least by St. Pete standards, is the Canopy, an elegant rooftop deck at the Birchwood (340 Beach Dr. NE., Tel: 727-896-1080) where I head late in the afternoon and mingle alongside pretty women in sundresses and chiseled men in khakis while the sun begins its westward descent. The Birch- wood is a an 18-room boutique hotel housed in a 1924 Spanish Mission–style building that is listed in the National Registry of Historic Places. The hotel sits so close to Tampa Bay that from a supine position on one of the deck's cabanas you could probably chuck a penny into the air and hear it hit the water. Elsewhere within view is the Vinoy Park Hotel (501 5th Ave. NE., Tel: 727-894-1000. www.marriott.com), a landmark lodging painted the same color as the ubiquitous flamingo and noted for its LGBT friendliness.
St. Petersburg is still emerging as a culinary destination and the Mill (200 Central Ave., Tel: 727-317-3930. www.themilldtsp.com) is one of several places foodies whisper about breathlessly when dis- cussing the best places to eat in the city. The cocktails arrive at the table fast and furiously, and because we order our food as a group I'm at a loss to remember each dish. I'm pretty sure we tried the artfully presented watermelon bruschetta and certainly we shared the crispy goat cheese gnocchi—right? Did I end up going with the hay smoked and seared diver scallops for my main or the pork tomahawk? It's all a delicious blur.