KIND SOAP COMPANY
Webster Groves, Missouri
The winning milk and honey oatmeal bath from Kind Soap Company (20 Allen Ave., Webster Groves, MO. Tel: 314-942-2024. www.kindsoap.com) is like breakfast in a bathtub: open this luscious powder (it even comes in a jar that looks like an old-fashioned milk bottle) and the aromas of honey, oats, and milk drift out. Pour ½ cup into your bath, and you can almost feel your skin moistening as you soak. With the oats ground fine and the milk and honey powdered, it's the perfect texture to soothe dry skin, and baking soda completes the skincare "breakfast"! I also love their Goat's Milk toner and cleansing milk, Blackcurrant soap (enhanced with ground vanilla bean powder), and Pumpkin facial peel, which features not only the eponymous fruit but all kinds of chef-worthy ingredients: extracts of sugar cane, orange peel, lemon peel, cranberry, and rosemary, along with powdered ginger, allspice, nutmeg, and cinnamon. For my bacon-loving friend Lucy: Beer/Bacon Fat soap and lip balm made in cooperation with The Block Butcher Shop and Restaurant across the street. If you're in the St. Louis area, stop into their store in the suburb of Webster Groves or a local boutique (you can always order more online). Donations from each purchase go to Autism Speaks, and reinforces their mission statement to: "Be KIND to your skin, KIND to the earth, and KIND to each other." That's a pretty hefty trio, and one well worth supporting. It helps that their stuff is amazing!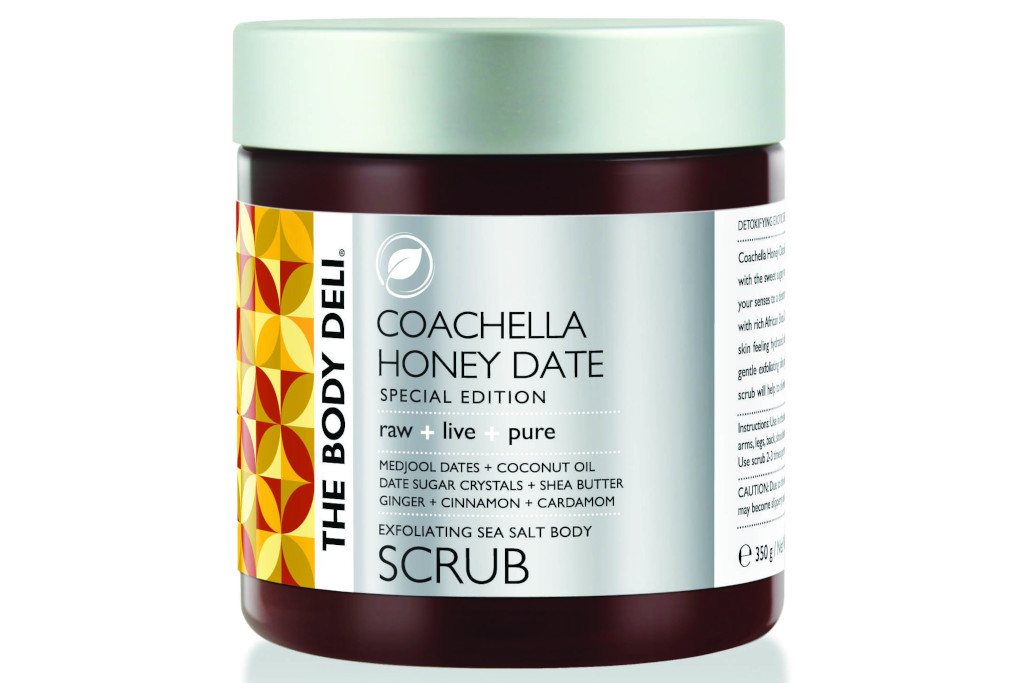 THE BODY DELI
Palm Desert, California
It was actually the Coachella honey date scrub from The Body Deli (73-560 El Paseo, Palm Desert, CA. Tel: 760-340-3731. www.thebodydeli.com) that got me thinking about this column, and isn't the company's name what this column is all about? Made with medjool dates grown nearby in Coachella Valley, this fabulous scrub also contains brown sugar, date sugar, and a wide range of extracts, oils, and spices, so you might sense the ginger, cardamom, or cinnamon upfront, followed by thyme or rosemary. It's the perfect combination of exfoliating and soothing, with the antioxidant qualities of the dates giving it an added benefit. It's my favorite of the scrubs, though you can't go wrong with Chocolate Truffle, Citron/Vanilla, or Moroccan Mint. Almond Milk cleanser is rich and nourishing, with almond oil, sprouted barley protein, oat flour and a variety of herbs, while Sprouted Mineral Greens Shampoo will indulge your hair with juices of wheatgrass, oat grass, kale, spinach, and much more. Stop in their store on tony El Paseo in the Heart of Palm Desert, buy it in about a million places in the Palm Springs/Palm Desert area, or shop online. The variety of offerings is staggering, but just be sure to include that date scrub!
SACHER BOUTIQUE SPA
Vienna, Austria
When a spa is located in the hotel that brought the one and only Sachertorte to the world, it's only to be expected that some of the treatments will involve chocolate. In fact, the "Time to Chocolate" line at the Sacher Hotel's Boutique Spa (Philharmonikerstrasse 4, Vienna, Austria. Tel: +43-1-51-456-1352. www.sacher.com) uses the same cocoa beans used to glaze the renowned torte, and trust me, it's perfect not only for dessert but on your skin! It's a must-do experience, whether you get a simple Taste of Chocolate (a "dessert duo" consisting of a deep cleansing massage and chocolate body mask) or indulge in a Symphony of Chocolate (with chocolate wrap, massage, and body mask). Be sure to stop on your way out to pick up a quartet of chocolate sensations that contains a shampoo/shower gel in addition to the body care products, all packaged beautifully, Sacher-style, for the perfect gift (if only to yourself). While you can get this gift package by contacting the spa (sacherspa@ sacher.com), I really suggest you head there once Austria opens back up to American visitors, and try the complete experience before bringing home some sinfully rich amazements that will keep your skin as silky smooth as…well, as chocolate. Just keep telling yourself: "I deserve it."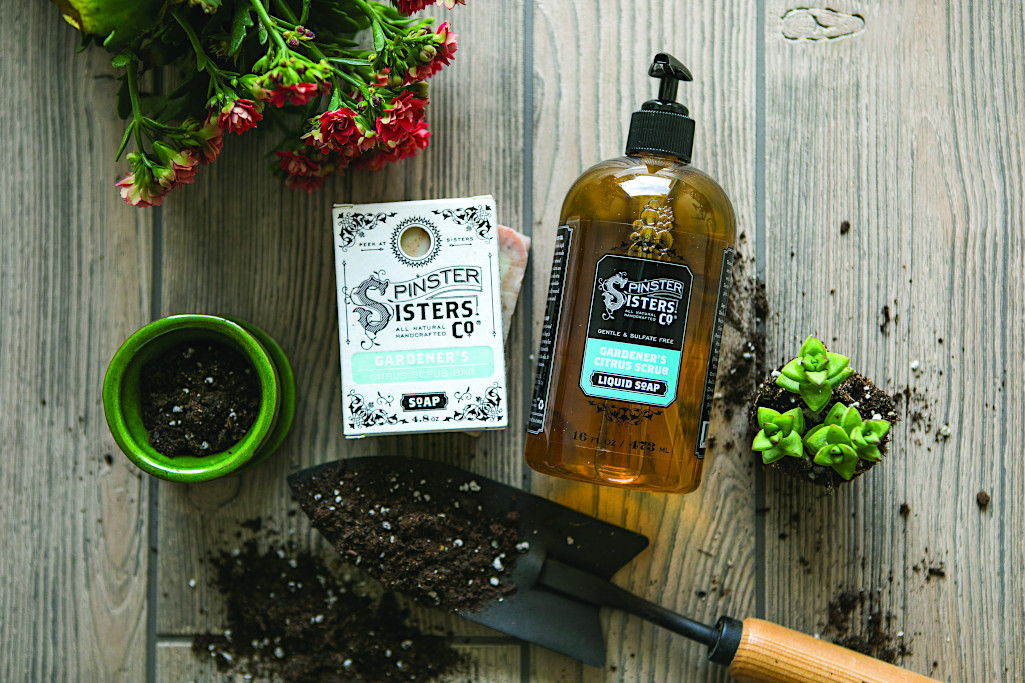 SPINSTER SISTERS CO.
Golden, Colorado
I'm a dedicated gardener, and I know how dirty your hands can get when you're out tending your crops. Luckily, Spinster Sisters Co. (1116 Washington Ave., Golden CO. Tel: 844-774- 6783. www.spinstersistersco.com) has come to the rescue with Gardener's Citrus Scrub soaps, both solid and liquid. Each contain olive and coconut oils, and scents derived from lemon, lime, grapefruit, and orange. The bar soap has the added scrubbing power of oatmeal (and a gorgeous swirly design). Proprietor Kelly Perkins notes, "Most of what we use can be found in your kitchen cupboard," and even if you aren't a gardener (or drinker), you'll love the Raspberry Wit scrub, made with its eponymous beer from Terrain Brewing Company, or body butters like Rosemary/Mint, Lemongrass/Sage, or Pomegranate/ Lime. Another unique product: the "Muscle Rub," which uses cayenne and habanero peppers, along with oils of ginger, marjoram, rosemary, and sage. Stop in their storefront in Golden, a lovely town just outside Denver, or check their website for other locations (or online purchases). Perkins sums up perfectly the appeal of using food products for skin care: "I don't like to look at a label and have to go to Google to see what it is. That makes me think it's not something I want to put on my body. I want to be able to say, olive oil, I know what that is!" Could she describe any more succinctly what's so great about the Sisters, and, in fact, why I wrote this column to start with?