Venice itself is a living, breathing, historical phenomenon. Every time I travel there I have to blink several times to make sure I'm not on a Hollywood movie set.
One can try to describe Venice, but honestly it deserves to be experienced in person to be understood, to be felt, and to be appreciated. The city itself is a living, breathing, historical phenomenon. Every time I travel there I have to blink several times to make sure I'm not on a Hollywood movie set.
I've experienced this floating city made up of 118 islands during all times of the year, but by far my favorite is October through April, the off-season. Why would you consider fall, winter, or early spring in Venice? It's less crowded, less expensive, less lines for museums and events, less heat, and no mosquitoes! It's also much easier to get restaurant reservations and tickets to shows and recitals.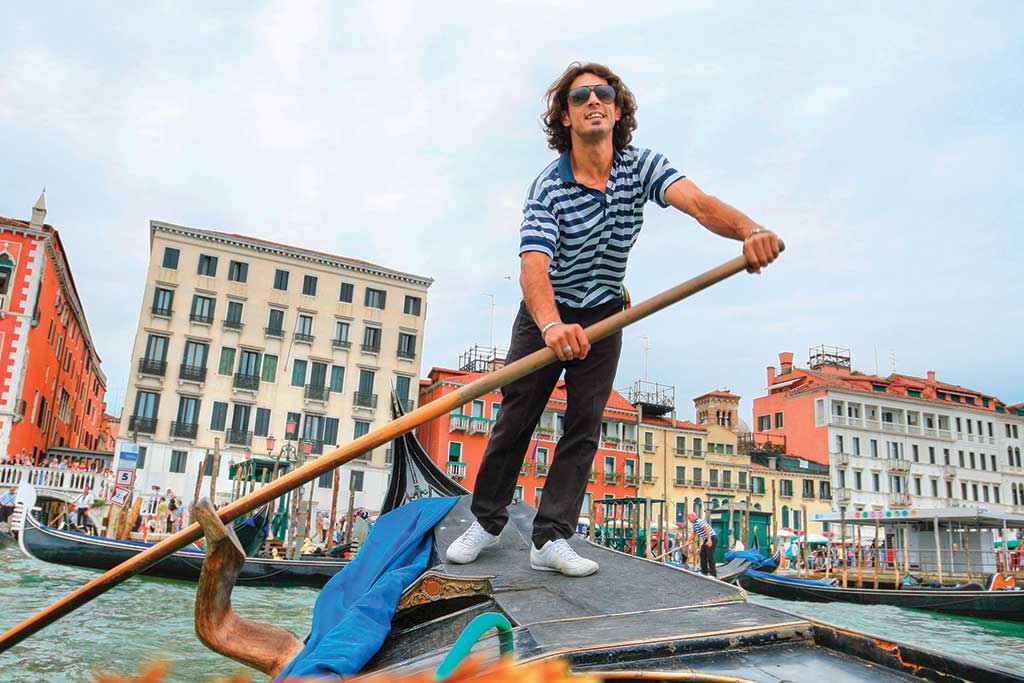 My love affair with Venice off-season wasn't intentional, it happened quite accidentally. I made several trips in the fall and winter traveling to Venice, with my friend Bud, to do research for a new novel I am writing, Acqua Alta. The title in Italian means "high water" and refers to the annual flooding of the city that occurs commonly between September and February. I was hoping there would be an aqua alta while I visited, but that's like going to Iceland and hoping to see the Northern Lights. It doesn't always happen. And if it didn't, that was okay, because I also wanted to explore the city to scout out locations that would appear in the book.
When I fly into Marco Polo Airport I hire a water taxi to get to wherever I'm staying. You can certainly ride the vaporetto, which is Venice's waterbus. It's inexpensive, but they can be very crowded, and with luggage it can actually be quite anxiety producing. Usually, overnight flights from the United States arrive during Venice's morning rush hour. So I spend a little more money and hire a "shared" or a "private" water taxi online through Venice Link.
When you touch down at the airport there is a person waiting for you, and they'll walk you to your boat. Note: As of 2017, the entrance to the new "moving walkways" that whisk you to the water taxis is on the second floor of the airport. Prior to this, it was a long walk along a pathway downstairs next to the parking lot.
Entering Venice via water taxi is so exciting and the boats are the beautiful wood-paneled type you see in the movies. Think The Tourist with Angelina Jolie and Johnny Depp. Actually, don't. It's a terrible film. The movie you should watch is Summertime with Katharine Hepburn.
Directed by David Lean in 1955, the story is a bit silly, but everything is shot on location and Venice still looks gloriously the same today.
On the first of these off-season trips, I had packed for cold, damp days and nights, but to my surprise it was warm and sunny. Happy for the beautiful weather, I was a bit worried that we may not have an acqua alta this particular season. Bud and I booked a room at the Hotel Bucintoro located along the San Marco Water Basin. Bucintoros were the elaborate barges that would carry the Doges along the waterways, and appropriately the theme of the hotel was ship-like.
This four-star hotel is beautiful and I highly recommend it, but the subsequent trips I've made to Venice since that one, I've stayed in rental apartments. I don't think I could go back to the hotels now.
I have used Airbnb and Homeaway. The reason I mention both is that I fell in love with an apartment online on one of the sites, and I checked and found the exact same home during the same time period for less on the other site! So do your homework, it could pay off. My trips to Venice are usually seven or more days long, so renting an apartment can cost dramatically less than booking a hotel room. Yes, hotels have concierges who can answer any questions, suggest local restaurants, and supply you with extra towels if need be, but so have all of the homeowners that I have rented from. Plus, these apartments are often located deep in the residential areas, which give you a sense of being a part of the community, but you're still close to the tourist attractions. Two times my homes had amazing terraces, three bedrooms, and two baths and were still less expensive than a hotel.
If you're a foodie and wine lover like I am, I suggest you experience Urban Adventures Cicchetti and Wine Tour. On average, you visit five different taverns, each offering food and wine. If this is your first time to Venice, do this toward the beginning of your trip. It offers you a great understanding of how and what to order at these taverns that the locals enjoy, which otherwise can be very intimidating. Plus you can revisit on your own the cantinas that you really liked on the tour.
We met up with Francesca Marucci, our tour guide, and eight other people, some all the way from Australia. She was smart, charming, and entertaining, and took us to five different Bacari wine bars serving excellent red and white wines and melt-in-your-mouth cicchetti: Italy's version of tapas.
These establishments are where the Venetians hang out and Francesca shared plenty of history and interesting anecdotes about Venice and its people. We visited Cantina Do Spade, Cantina Do Mori, All'Arco, and Osteria Alla Ciurma. My favorite, however, was the last, Osteria Al Sacro e Profano. Also a "sitdown" restaurant, it's run by a brother and sister team and embodies the true spirit of a Venetian osteria. Here we had a choice of wines: a refosco (red) or soave (white). The cicchetti were artichoke patè with soppressa, a pumpkin mousse with salted and cured ham, and fried sea bass balls. Also offered was a sweet wine called malvasia and cookies from Burano. What an incredible evening and a great way to meet new friends from all over the world. This food and wine crawl will change your whole perspective of Venice.
Another huge plus if you're visiting in the fall is that you get to experience the Venice Biennale. This year marks the 57th biennale celebrating international art presented by over 88 countries worldwide.
Next year, they will honor architecture (they alternate back and forth each year). There are often exhibits peppered throughout the city (many free of charge), so keep an eye out for them or grab a map at the main exhibition area.
One cannot travel to Venice and not visit the famed Peggy Guggenheim Collection. Every trip to Venice, I make my pilgrimage to Peggy's.
As we approached the Accademia Bridge to cross the Grand Canal to get there, it was Bud who noticed the breathtakingly beautiful Palazzo Cavalli and a banner announcing an exhibit of Bertil Vallien's Murano glass. But this isn't your momma's Murano glass, nor is this your average palazzo. As we entered, a young man leaving passed us saying, "You won't be disappointed." And we weren't! Plus, we were the only people walking from room to room in this sumptuous palace full of the most imaginative and surreal glasswork I've ever seen. And exhibits by other artists are continually changing at the Cavalli.
We rushed to Peggy's as the sun was setting and Venetian lights were beginning to twinkle along the Grand Canal. We strolled from room to room gawking at the awe-inspiring artwork and sculpture in her Palazzo Venier dei Leioni, an 18th-century palace, which was her home until her death in 1979. Almost about to close, we virtually had the museum to ourselves, which is pretty much unheard of.
Peggy Guggenheim not only collected stunning artwork by Alexander Calder, Jackson Pollack, Max Ernst, and many others, but she was also lovers with several of them, not to mention novelist and play-wright, Samuel Beckett. She actually married Max Ernst, but that lasted less than four years.
After soaking up as much art and culture as I could, I went out to the garden courtyard and sat on a stone chair to muster my strength to walk back toward our apartment. I pulled out my iPad and looked up Ms. Guggenheim and read that the one passion she had late in life was to make sure that she and her beloved Lhasa Apsos could be buried in her garden. It's against Venetian law to be buried in Venice, one must be interred on the island of San Michelle, but Peggy said she'd donate her palace and priceless artwork to the city if she could be buried with her dogs in her garden. She did, and they were.
If you know you'll be visiting several museums, purchase the Venezia Unica Card. You can gain entrance to museums and cultural events while skipping the long lines, and you can even use it for water taxis. Visiting their website will explain all it has to offer. You can create what you want to do and see, in advance, and buy it online with discounts.