As we reach the Pucará, I probably just imagine it but I could swear Coya's toothy mouth has formed into a grin. (I find out later that there are some llamas in a yard at the Pucará, which might be the main cause of his excitement.) I say goodbye as he heads back to the caravan, and explore the Pulcará, one of a series of fortresses lining the cliffs of the Quebrada and the only one open to the public. This city/fortress was a major defense for the indigenous people of the area, first against other tribes and then against the Spanish. Stone walls mark the spot where there were once dwellings, and a plaza where animals were sacrificed to the gods. Covering sixteen acres, this was once a city of 2500 inhabitants, and the reconstruction of the city is surrounded by a scene of majestic mountain beauty that I already feel a little redundant describing.
Wait, though: more amazements are in store. Another drive, over dirt roads that curve endlessly upwards among gold/green/gray dusky hills, leads us to an overlook where the amazing Ornocal appears before us, a mountain that looks like a series of interlocking diamonds, colored every hue imaginable, looking for all the world like a piece of vibrant cloth stretched over a craggy frame. It's one of the most beautiful places in Jujuy, and well worth the exasperating drive to get there. And down into the lovely little town of Humahuaca, the eponymous village of the gorge that bears its name, with its pretty central square bordered by adobe buildings: a sweet white adobe church, a gorgeous little bell tower. Murals brighten the walls, and wheeled carts hold baskets of ceramics. It's peaceful here, and sweet, with local residents strolling through the square or leaning against the walls chatting. While there are plenty of souvenirs available, it doesn't feel as purely touristic as a town like Purmamarca. There's a local life here, and from everything I can see it's a nice one.
SALTA: WINE AND WONDERS
Could I stay in Jujuy forever? I think you know the answer to that one already! But wait, I still have to take you to Salta, a province which envelops Jujuy to the south and east like a protective blanket. In a drive of about an hour past fields of sugar cane and tobacco, we arrive in San Lorenzo, a lovely village outside the city of Salta, and home to Argentina's only gay hotel, Azarenko, a six-room boutique hotel where the rooms are named after such icons as Edith Piaf, Marilyn Monroe, and Judy Garland. Relax in the lounge by the fireplace (note the wonderful collection of antique typewriters). Sit on the breezy patio by the pool. Enjoy great food as you sit back and look out over "your" flower-filled home, and imagine yourself among the Salta elite who dwell in the leafy town of San Lorenzo, just ten minutes' drive from the city but a world of refinement apart from the bustle. Open since last June (with its official debut in November), Azarenko's importance in the area has been vast: with its opening, the province of Salta has actually created an entire department devoted to gay tourism. Of note: Azarenko has begun hosting gay weddings, which of course are legal in Argentina.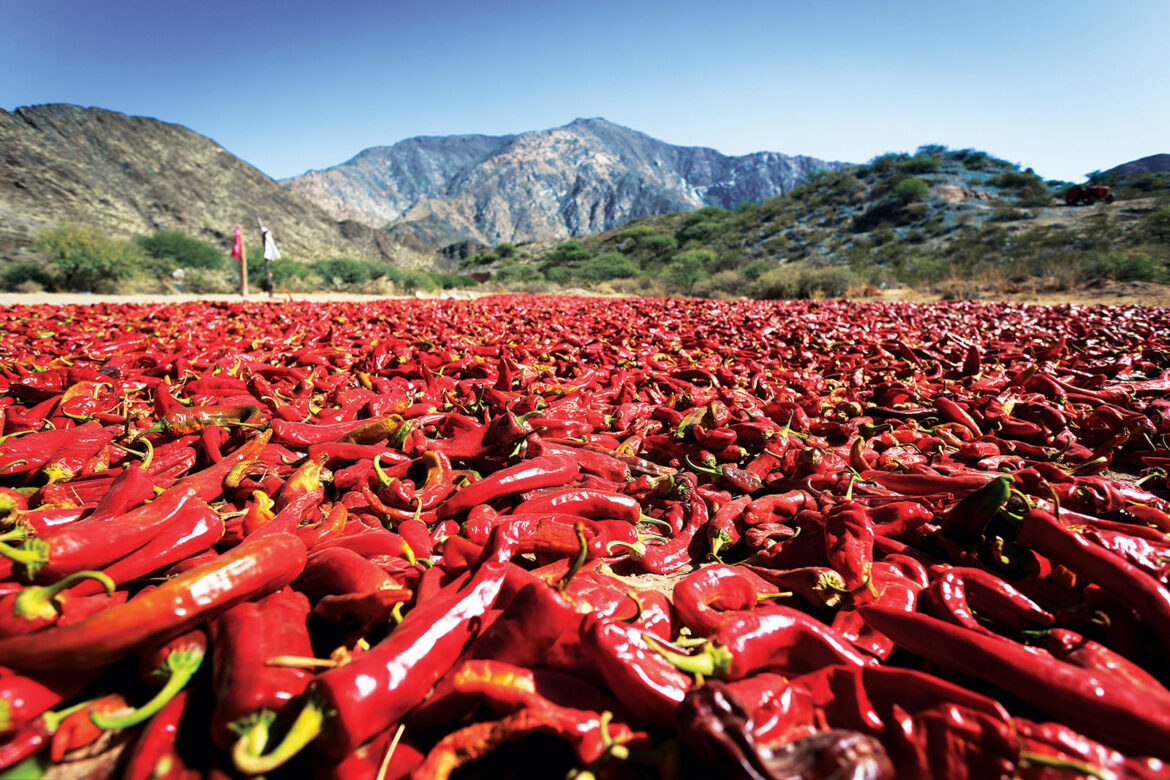 There are appealing small hotels scattered across San Lorenzo. I love Don Numas, a beautiful boutique "posada," or inn. There's a nice spa here, where you can have treatments from reflexology to mud therapy to hot stone massage. Rooms are large and beautifully decorated, with private balconies among the trees. Breakfasts are impossibly indulgent, and a long narrow patio overlooks two swimming pools set among flowers and trees. It's country living at its best, and the gracious owner (damn if she doesn't look like Lainie Kazan!) makes this one of the most welcoming spots on earth. The same could be said of Antigua Sala, one of the first suburban houses of old Salta, with simple and comfortable rooms beautifully decorated with local fabrics and amazingly high ceilings. The furniture reflects the house's origins, with a combination of French pieces and Argentine crafts.
San Lorenzo is a unique location, one with many activities to offer. Trekking and birdwatching hereare prime, as the village sits on the edge of the Yungas, Argentina's rain forest. There's also river rafting if you're feeling more adventurous.
As for me, though (no rest for the wicked), I head with my group the next day to Cafayate, at the heart of Salta's wine country. It's several hours drive through scrub-covered red hillsides, mountains towering in the distance. As we drive, we ascend right into the mountains, which grow closer and closer until suddenly we're right in the middle of them. We stop at the Garganta del Diablo (Devil's Throat) a natural amphitheater surrounded by jagged swirls of rock. Twice a year an orchestra comes in from Salta to give a performance in this remarkable outdoor locale, carved by nature in the midst of the colorful panoramas. Nearby, the Mirador Tres Cruces gives an overlook of this astounding scenery: jagged red cliffs, the river bed below beginning to fill with water, its white rock bleached by the sun. Here and there a lonely tree sits defiantly on the hillside. I look one way and see the river stretching out below, surrounded by these most amazingly-hued formations. I look the other and spiky mountains are looming above. You can't help but feel dwarfed by the incalculable enormity of the scenery.
After this spectacular desolation, I love the luxury of the area's nicest hotel: Patios de Cafayate, a series of low, white adobe buildings arranged around a series of courtyards, their tile roofs a deep terracotta. The grounds are immaculately kept and stretch out to the mountains that are visible from the entire property. Rooms are large and done in colonial style, with terracotta tile floors scattered with rugs, beds with cast iron headboards, and large pieces of indigenous art on the walls. They look out to courtyards with mosaic fountains and fragrant jasmine, or green lawn and towering trees (and an indolent llama lying in the shade of a spreading branch). It's right up there with the best, and a perfect base for exploring the wine country.
It's a beautiful area. At Piattelli Vineyards, we sip Torrontés (a pale white wine made from Argentina's indigenous grapes) on the patio, and the floral bouquet and complex taste of the wine are enhanced by the cliffs and valleys, spread out for our delectation. It's as if a Tuscan villa had been transplanted to Argentina, and after you've toured the winery, stop for lunch overlooking the incredible vistas. Your quinoa timbale or smoked salmon ravioli will, or course, be accompanied by a bottle of the Torrontés or one of their deeply-flavored reds, like a Malbec so dark it's almost black. Getting a taste for wine? Explore for yourself along routes 40 and 68, the "ruta del vino" that brings you to wineries large and small—mainly small-in this highest altitude wine region in the world, where the wines are luscious, and the scenery even more so.
While the area offers a lot in the way of natural attractions and postcard-perfect scenery, its main attraction is wine. You'll see this nowhere as clearly as in Cafayate's Wine Museum (Museo del Vid y el Vino), a beautifully-laid out series of exhibits, with good English signage describing the natural conditions that make the region so good for winemaking, from soil to weather conditions. If it seems dryer than the local Malbec, think again, for there's a poetic, Argentinian spirit that runs through this appealing museum. "My Cafayatean land, he who drinks your wine will gain dreams and lose sorrows…" reads one sign. Another proclaims Cafayete "the land where sun lives," and it's the best description of this area that I've seen.
We end our visit in the city of Salta, the vibrant capital of the region, with about 600,000 inhabitants. I love strolling around the main square, ringed by cafes, with one side taken up by the impressive cathedral. I visit the Museum of High Altitude Archaeology, where the centerpiece is the group of mummified children's bodies they found on a 22,000-foot mountain in the province. Less macabre finds include a wide variety of vessels, textiles, feathered headdresses, and ritual figures.
Salta is a sophisticated and appealing town, and I could sit all day in Aniceto, a cool little coffee bar with an urbane feeling. It's located on Calle Balcarce, the epicenter of Salta café and nightlife. Stroll down Balcarce in the evening. Music plays in café after café, as young people flood the street with activity and buzz. Stop in Café del Tiempo for a nice dinner among the various rooms crammed to the gills with record covers, soccer balls, fans, photos, and about a thousand candles. It's fun, funky, and gay-friendly to the max. The later you go, the more alive Balcarce will be, and you might want to check out such GLBT-friendly spots as Wasabi, a combination sushi bar and lounge, or Uno, with a variety of live entertainment and parties (nice terrace too).
Neither of Salta's officially gay spots is super-convenient: the dance club La City, which draws a mixed-age (tilting young) crowd to its hilltop perch above the city, or Doctor Jekyll, a smaller place south of the cathedral, where locals and tourists mix in a congenial atmosphere (note: I've heard rumors it might be closing, and phone number/website are impossible to find, so ask at your hotel before setting out). So you might want to while the night away on Balcarce, heading in and out of friendly nightspots, perching at an outdoor table for a glass of wine amid the bustle, and reveling in the lively atmosphere of the most vibrant street in the region.
My favorite dinner in town, though, is at La Casona del Molino, where a folkloric show travels room to room throughout the many little chambers of this old house. The food here is mainly grilled meat, including some of the most tender and perfectly-seasoned steak you'll ever eat. While the description might make it sound touristy, it's actually very popular with Salteños, and as the evening wears on the place, empty at 8 P.M., begins to fill up. At about 10 P.M. two musicians take their seats at a table in the corner, a bottle of beer in front of them and a sheet of music on the table. The younger man holds his guitar high, like a piece of precious crystal, while the older one sits almost motionless, his eyes cast down at the table. Suddenly he seems to awaken, opens his mouth, and he has a voice so overwhelmingly sweet it could make you cry. Soon all talk has stopped, and everyone is focused on him and his amazing young guitarist. The crowd claps in rhythm to a lively song. The waiter brings me a torta salteña, a local cake that's layer upon layer of teeth-gritting sweetness. The guitar strikes up a dulcet chord that's sweeter even than the torta, and the room is filled with longing, memory, and joy. "Desde el norte traigo en el alma, la alegre zamba que canto aquí," intones the singer, "From the north I take in my heart, the happy samba I sing here…"