Caught between the surreally glistening white, jagged mountains, and blue sky strafed clean by the blazing sun, it's the kind of place where no one questions this behavior.
ARGENTINA'S JUJUY AND SALTA PROVINCES
When considering a trip to Argentina, most people think of Buenos Aires. Or perhaps they know the pampas, or the wine-producing region of Mendoza. Well, I'm here to tell you there's a real treat awaiting you in the country's far north—the Jujuy and Salta regions took me completely by surprise with their immense beauty. Jujuy, up near the Bolivian and Chilean borders, and Salta, which wraps around Jujuy to its south and east, are everything you'd ask for in a trip to the Argentine countryside—gay-friendly and heart-stoppingly gorgeous. Think of the most beautiful place you've ever been. Double that, and you get Jujuy and Salta.
JUJUY: IN THE REALM OF IMPOSSIBLE BEAUTY
I start in the Jujuy region, on the edge of the Andes in Argentina's northwest and a two-hour flight from Buenos Aires. Here you're in the realm of impossibly gorgeous landscapes of craggy, multi-hued mountains, stately cacti, roads that wind up the cerros (hills) at such an angle you look back down and can't believe you've actually driven that road. Villages of brown, red, and gold adobe houses hold hotels that are really just an excuse to look from your room to the amazing scenery.
With my group of friends, I start in the big city, San Salvador de Jujuy, a town of 300,000. While there are just two gay bars, both on the outskirts, and one very gay-friendly spot in town, the region is very welcoming. Says regional representative Monserrat Brusotti: "There has never been an incident of anti-gay violence in Jujuy." We check into, of all places, the Howard Johnson hotel, which is actually really nice, with comfortable rooms overlooking the entire valley in which the city sits.
The perfect dinner to start your Jujuy experience is at Viracocha, where the food is a great example of the local cuisine. Choose starters from goat cheese/quinoa crepes to empanadas of meat, chicken, or cheese. The regional cuisine here is fascinating and includes locro, a thick and savory stew of corn, beans, squash, and meat; Milanesa, cutlets made with llama or quesillo, a local goat cheese; and Picantes, spicy chicken, beef, or llama and that come with the local corn, potatoes, and lima beans. Do wash it down with a local red wine such as Punta Corral's cabarnet/malbec/syrah mix, which I'm still kicking myself for not loading up on, as it's considerably more expensive at home.
Another great choice for dinner is Lola M, a bastion of chic since 2006, with a creative cuisine and high-design atmosphere. Enter this sleek black-and-white spot, with large photos providing the only splash of color. As you look at such scenes as the famous Venetian carnival, you get your first hint of the menu delights, which indeed tilt towards the Italian/Mediterranean, from a variety of risottos to the smoked salmon-filled ravioli. The whole world is represented here, though, and you might choose teriyaki chicken or the very local salad of quinoa, corn, and beans. Whether you go Argentine or travel the world, Lola M does it in style.
Caffeine? People love their coffee-drinking in Jujuy, starting at Bonafide and continuing on to several others that lie along the block. The purpose here is twofold: see, and be seen. If right people aren't see or being seen at Bonafide that night, you just move on to one of the many other cafes. With pictures of coffee beans and steaming mugs on the wall, and the wide open space packed cheek-by jowl with customers, it's clearly a place for people-watching and caffeine sipping! Down the street, tiny Havanna is at the opposite end of the spectrum, being more the spot for a quick infusion. While there are a few rows of seats, the emphasis here is the product—deep, rich coffee (and those wonderful little bonbons don't hurt either). Or head to the main square in town (or just about any little street) and you're sure to find your own favorite.
If you're in the mood for dancing, head to a hill above town to dance at Living, a cavernous gay (or at least gay-popular) disco that draws a primarily younger crowd. Or drive fifteen minutes to Open World, a bit out of the center but fun if you're up for a late-night (weekend only) jaunt. I'd suggest staying right in town and walking to gay-friendly Vieja Violeta, the city's most fabulous bar. Walls are covered with hats, fans, dolls, clocks, lanterns, kewpies, and record album covers. It's spectacularly overstuffed, and amazingly fun. The owner's best friend is gay, and she tells us he and his friends love to come dance on the small dance floor. In its five years it has become so successful that she's expanding it into the house next door.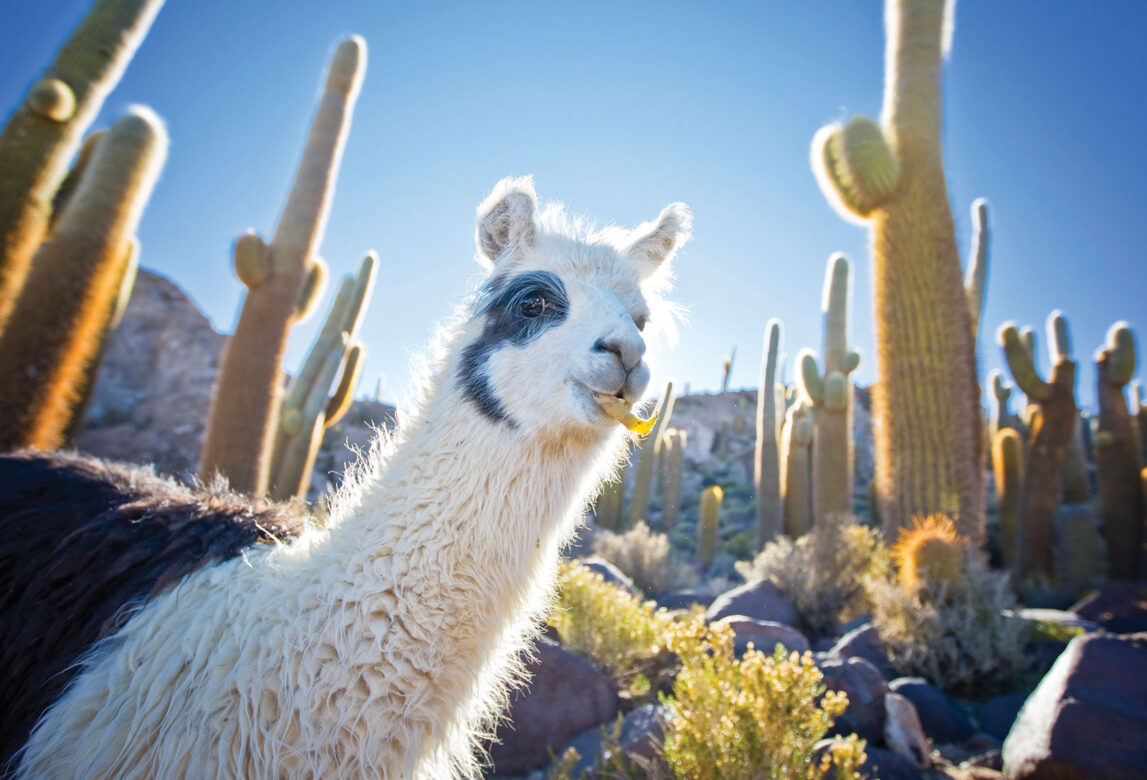 Don't stay out too late, though, because we have some exploring to do, and the real attraction here is the countryside.
The next day we head out from San Salvador through agricultural land where they grow everything from quinoa and the local ("Andean") potatoes to peaches and apples. As we drive on through the Quebrada de Humahuaca, a UNESCO world heritage-designated canyon, I marvel at the isolation – what must it be like, I wonder, to live in a place so far from absolutely everything? Clouds hang over the hills, pircas (stone walls) dot the landscape, cows graze in pastures that are a surprisingly vibrant green in contrast to the jagged cathedrals of rock that loom behind them. It's an unforgiving and uncompromising beauty, a splendor that's made all the much more spectacular by its very desolation.
The most amazingly-located lunch in the history of lunches is catered by the folks at Lola M as we visit the Salinas Grandes, a high Andean plateau covered with otherworldly salt flats that have the look of a snowy Arctic scene, with expanses of white under a deep blue sky. Rectangular pools of water cut through the flats, the clouds reflected three-dimensionally. Suddenly, my friend Merryn plops herself down on the flats, lying on her back and gazing up at the endless sky. Caught between the surreally glistening white, jagged mountains, and blue sky strafed clean by the blazing sun, it's the kind of place where no one questions this behavior. (Note: The adventurous traveler can drive through this astounding landscape, and every little village has a tourist office that can help guide. It's not easy driving, though, and I'd suggesting contacting local tour operator Norterama, who will provide a driver/guide so you can spend all your effort enjoying the wonders that surround you. )
Everywhere you go, charming little villages dot the stunning landscape. Purmamarca, for instance, is totally devoted to tourism but still retains its authenticity. Adobe buildings line up along dusty streets, the mountains—including the gorgeously hued Cerro de los Siete Colores—towering behind. For a perfect view of the colorful hills, take the Circuito de Los Colorados at the edge of town. It's a ten-minute walk that climbs slightly to a vista spot that will show you the meaning of the word "breathtaking."
Back in the village, make your way among the tables that surround the main square with a wealth of offerings: blankets, capes, musical instruments, ceramic cups, metal tea-sippers, jewelry, vibrant cotton pants, and sweaters. If it's South American and you can buy it, it's probably here. My friends make fun of me for how much I buy, but you know what? At these prices, I should buy ten times as much.
We stay at Hotel La Comarca, whose simple rooms overlook the jagged mountains, which surround you with a majestic backdrop. Rooms with comfy beds, bamboo/adobe ceilings, and deep brown walls are kept simple so as not to detract from the main attraction: the view. Another great possibility is Los Colorados, right along the circuito, where the landscape is even closer to you, and the hotel itself, with its large and homey rooms, has the feeling of being built right into the crimson and auburn rock faces.
My favorite hotel in the area, however, is Hotel Huacalera, located in the blink-and-you-miss-it village of Huacalera and probably the most upscale in the region. The lobby is vibrant with benches adorned with rainbow pastel cushions beneath wild folkloric chandeliers. Rooms are huge and adorned with crafts, and private patios look onto the mountains. As a base for exploring this wondrous region, it's perfect. One warning, though: if you're like me, your immediate feeling upon check-in will be: let's cancel the rest of the day's activities, I'm just going to sit in the bright purple chair on my patio, looking out at the mountains.
Don't do that, though, because more adventures await. Outside the nearby town of Tilcara lies the wonderful Caravana de Llamas, where you can not only play with these amazing creatures, but take llama excursions ranging from a little spin around town with lunch at a nearby lagoon to four day trip through the hills as the llamas carry your luggage and food. You sleep in local houses or in other places like schools, and it's really a very particular experience. We are each given our "own" llama for a trek to the Pucará de Tilcara, a three thousand-year old archaeological site. "My" llama, Coya, is the most agreeable creature on earth, chattering constantly as we ascend through narrow streets lined with adobe houses (his chatter is apparently a sign that he feels at ease). It's one of those moments that makes me step outside myself and observe the scene: the llama squawking and braying, the majestic multi-hued mountains rising in the distance, the narrow streets, Argentines actually stopping to take pictures of us. How many of my friends, I gloat silently, have had an experience like this?