I think back to the little museum and its sign proclaiming that this is the land where "the sun lives." It's true, not only in the literal sense but in the poetic one as well, this is indeed the land where sun lives, all the more so because its pleasures are (to me, at least) so unexpected. Who would have dreamt that out in the middle of nowhere in Argentina would exist such stunning scenery, combined with the sophistication of wine tourism to produce a region so casually and amazingly hospitable in its outlook? One of the greatest excitements of travel is to discover a place that gets it right, and beyond that, a place I hadn't even known was there. Jujuy and Salta, with their charming towns, great wine, and landscapes of almost otherworldly beauty, are a revelation to me, rewarding the intrepid traveler with a feeling of elemental discovery. There's very little between you and mother nature, and if you don't love breathtakingly desolate and heart-rendingly majestic scenery, then this probably isn't the place for you. If, however, you want to spend the whole day under the most immense sky imaginable, stepping across eerie salt flats or admiring crafts from terracotta pots to colorfully woven blankets, then hop on a plane at Buenos Aires' little local airport and within a few hours you'll be in a world that feels like no one has ever been here before.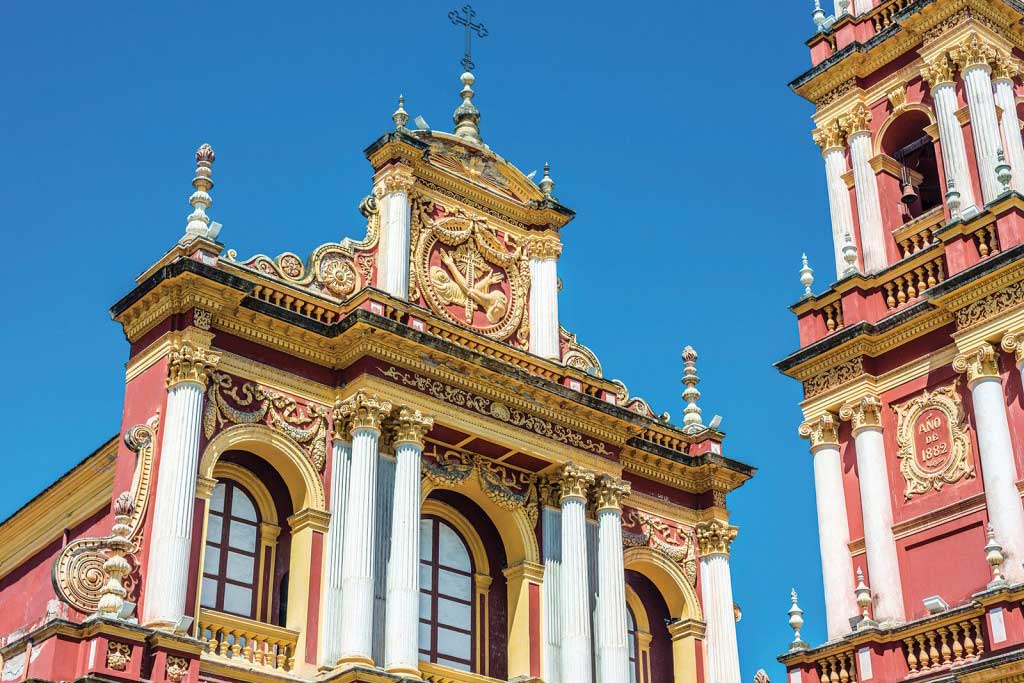 AGENTINA RESOURCES
JUJUY (from the U.S., dial 011-54 before all numbers):
Hotels
Howard Johnson, Güemes 864, San Salvador de Jujuy. Tel: 388-424-9800. Doubles $108. Great stopover in the main town of Jujuy. www.hjjujuy.com.ar
La Comarca, Ruta Nacional 52, Purmamarca. Tel: 388-490-8098. Doubles $161. Simple rooms and amazing mountain views make this a good base for exploration. Lacomarcahotel.com.ar
Los Colorados, El Chapacal 511, Purmamarca. Tel: 388-490-8182. Doubles $79-89. Comfortable hotel set right along one of the valley's most scenic view trails. www.loscoloradosjujuy.com.ar
Hotel Huacalera, Ruta Nacional 9, Huacalera. Tel: 388-15-581-3417 Doubles $103-140. Beautiful hotel with folkloric design and great restaurant. www.hotelhuacalera.com
Restaurants and Coffeehouses
Bonafide, General Belgrano 707, San Salvador de Jujuy. Tel: 388-422-2928. THE place to see and be seen (and sip coffee) in San Salvador. www.bonafide.com.ar
Havanna, General Belgrano 977, San Salvador de Jujuy. Tel: 388-484-0060. A tiny spot on this major San Salvador street, perfect for a quick jolt of caffeine. www.havanna.com.ar.
Lola M, General Belgrano 1060, San Salvador de Jujuy. Tel: 388-423-0433. Chic restaurant with a modern, creative cuisine, a great choice in the capital. www.lolam.com.ar
Vira Cocha, Independencia 994, San Salvador de Jujuy. Tel: 388-423-3554. This rustic and friendly spot is the perfect place to experience the Jujuy region's distinctive cuisine. www.facebook.com/restauranteviracocha
Also, don't miss the top-notch restaurants at Hotel Huacalera and La Comarca, listed above.
Nightlife
Living, Stand de Tiro – Alto la Viña, San Salvador de Jujuy. Tel: 388-581-8137. A large gay disco on the outskirts of San Salvador, drawing a mixed young crowd. www.facebook.com/LivingDiscoJujuy
Open World, La Afata 3241, San Salvador de Jujuy. Tel: 388-468-3578. Also on the outskirts, about a 15-minute drive from town, open late nights, weekends only. www.facebook.com/pages/Open-World-Oficial/129673870477565
Vieja Violeta, Patricias Argentinas 232, San Salvador de Jujuy. Tel: 388-528-8400. A gay-friendly favorite for its lively, welcoming atmosphere in the kitsch-packed series of rooms. www.facebook.com/ViejaVioleta
Activities
Llama Caravan, Calles Corte and Vitipico, Tilcara. Tel: 388-15-408-8000. A fabulous adventure, whether it's a short llama tour or a multi-day expedition. www.caravanadellamas.com
Norterama can provide drivers and tour guides for a truly relaxing vacation. www.norteramaturismo.com.ar
Information
The best source is www.turismo.jujuy.gov.ar, whose English website should be up by the time you read this.
SALTA (from the U.S., dial 011-54):
Hotels
Azarenko Hotel Boutique, Manuel Belgrano 1702, San Lorenzo. Tel: 387-492-2816. Double rates approximately $50-150 (available on request). Gay boutique hotel in the charming suburb of San Lorenzo, just outside Salta. www.azarenkohotel.com
Antigua Sala, Bolivar 2800, San Lorenzo. Tel: 387-492-1293. Doubles $100-130. Like staying in a private home, with a gracious and refined feel. www.antiguasala.com.ar
Don Numas, Pompillo Guzmán 1470, San Lorenzo. Tel: 387-492-1296. Doubles $80-90. Lovely San Lorenzo hotel with beautifully-designed rooms and a nice spa, too! www.donnumas.com.ar
Patios de Cafayate, Ruta Nacional 40 & Ruta Nacional 68, Cafayate. Tel: 386-842-2229. Doubles $220-336. A fine hotel in the heart of wine country, refined and luxurious. www.patiosdecafayate.com
Del Vino Boutique Hotel, Ameghino 555, Salta. Tel: 387-432-0092. Doubles $82-132. Boutique style, friendly welcome, nice wine-themed rooms, and a great wine shop in this Salta gem. www.hoteldelvinosalta.com.ar
Restaurants and Coffeehouses
Aniceto, Balcarce 96, Salta. Tel: 387-439-1514. Hip little coffeehouse that also serves food. www.facebook.com/pages/Aniceto-Coffee-Bar-Grill
Piattelli Vineyards, Ruta 2, Cafayate. Tel: 386 815-405-881. Great food at this beautiful vineyard overlooking wine country. www.piattellivineyards.com
Café del Tiempo, Balcarce 901, Salta. Tel: 387-432-0771. Fun and funky little eatery with nice food and a winning atmosphere. www.cafe-del-tiempo.com.ar
La Casona del Molino, Luis Barela 1, Salta. Tel: 387-434-2835. Fun dinner spot with an impressive group of strolling musicians.
You'll also find an excellent restaurant at Patios de Cafayate, listed above.
Nightlife
Dr. Jekyll, San Luis 761, Salta. Salta's gay bar, packed with an all-ages crowd of locals and some visitors. Check to make sure it's still open.
La City, Avenida Asunción, Salta. Tel: 387-15-403-5712. Gay dance club perched up on a hill overlooking Salta.
Wasabi, Balcarce 938, Salta. Tel: 387-421-6575. A combination sushi restaurant/lounge with a GLBT-friendly air. www.facebook.com/wasabisalta
One, Balcarce 921, Salta. Tel: 387-422-9120. Gay-friendly club in the nightlife zone with a variety of parties and live entertainment. www.facebook.com/onesalta
Activities
Museum of High Altitude Archaeology (Museo de Arqueología de Alta Montaña), Mitre 77, Salta. Tel: 387-437-0592. A fascinating museum with exhibits ranging from the gorgeous to the downright macabre. www.maam.gob.ar
Wine Museum (Museo de la Vid y el Vino), Avenida General Güemes, Cafayate.Tel: 386-842-2322. A fascinating look at wine and winemaking that combines the factual with the poetic. www.museodelavidyelvino.gov.ar
Information
Your best bet is the Argentina website, which has an extensive Salta section: www.argentina.travel/en. The Salta region website, www.turismosalta.gov.ar, is in Spanish.
American Airlines flies to Buenos Aires from Chicago, Dallas/Fort Worth, Miami, and New York (check out their special LGBT program at www.aa.com.rainbow). From there it's a short hop on local airlines to the countryside.