March 2019
The Slopes
Après Ski
March 10-17
SWING Gay Ski Holiday Lenzerheide, Switzerland
www.swing-gayski.ch

Slopes up to 9,400 ft boast the perfect combination of snow and sun
Half pipes to delight snowboarders
Guided ski tour for experienced skiers
Access to a cross-country ski center, snow shoeing and hiking are also available

Immerse yourself in the luxury of The Schweizerhof, a four-star property and host resort
After a day on the slopes, relax at Hamam Evening with drinks, spas, and saunas.
Keep it classy with a dinner of cheese fondue and live music
Movie nights, snowshoe hiking, tobogganing, and a downhill race keep the mood light and lively
End the week with a grand gala dinner

March 13-17
Elevation: Mammoth Mammoth, CA
www.mammothgayski.com

Get high—we're talking 11,000 ft
In fact, it's the highest summit of any resort in California
300 days of sunshine + 400 in of snowfall = perfection
3,500 acres of terrain. You won't get bored here

2,500+ attendees
Group skis so you won't be on the mountain alone
Kick back at the VIP Wine Reception or at the bowling party!
Comedy night and armed services theme party
Go wild Saturday night at the Neon Blizzard blowout party
Multiple venues hosting parties at the same time—have your pick!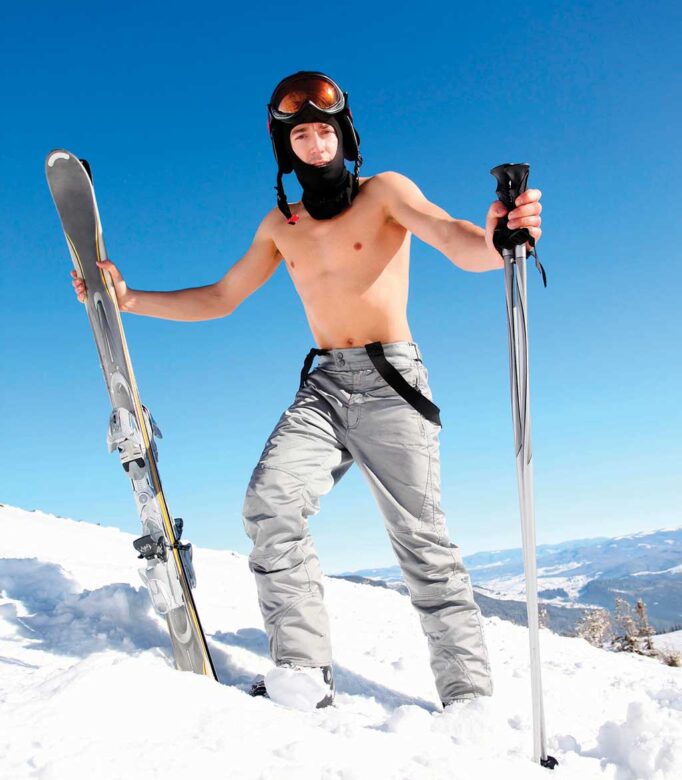 March 2019
The Slopes
Après Ski
March 23-30
European Gay Ski Week Les Trois Vallées, France
www.europeangayskiweek.com

Trois Vallées in the French Alps is one of the world's largest ski areas
370 miles of ski runs linked by 180 lifts and 3 glacier areas
You'll ride slopes that stretch from France to Italy, and rarely dip below 6,500 ft
Enough runs to ensure that you never hit the same one twice.
All gear rental (including clothing) is available on-site

Welcome Party kicks off with DJ Heidi Liscious from the UK
"Don't miss" events like the Erotica Party, Bearpit Part, The Snowball signature bash, and the speedo-only Splash Roma pool party
For a calmer night, join the classic French cheese fondue dinner!
Roughly 10% of the crowd are female
Wide variety of accommodations from four stay luxury resorts to private mountain chalets

March 23-30
Gay Snow Happening Sölden, Austria
www.gaysnowhappening.com

Three mountains above 9,500 ft make you dizzy with options
Panoramic views inspire you to pause, and take a deep breathe
93 miles of slopes to play to your heart's content
Ever skied on a glacier? Try it here

Helpful ski guides teach you the secrets of the mountain
Relax with bowling or a visit to the spa
An avant-garde play, karaoke night, scavenger hunt and traditional German costume party are all on tap
Closing circuit party on Saturday night!