On this side of O'ahu, where giant resorts and the city of Honolulu serve as a playground to hundreds of thousands of tourists each year, we tend to forget to connect to the natural beauty and spirit of the island.
I'm hand in hand with strangers, forming a circle under the Hawaiian morning sun. I'm with two college-aged girls and a woman. Singing in a melodic verse that's distinctly Hawaiian, slinging words of thanks to the heavens, while grounding their feet to connect to the volcanic soil. Each inflection seems to mimic the lapping of Pacific waves, and their cries of thanks echo the sound of birds tweeting their own music toward the ancient mountains that once blessed this land with fertile, irrigated soil.
"This is our community," a woman at Ma'o Organic Farm (86-210 Puhawai Road, Tel: 808-696-5569. www.maoorganicfarms.org) tells me. "We work hard to protect our ohana (family)," she says sitting under a summer-camp structure made from an old chicken hut. It seems ironic, though, that she speaks so personally and passionately about the locals, after all, she comes from the Mainland (as Hawaiians call the Lower 48). She is, however, deeply connected to the people here, having married a Hawaiian and becoming part of the community of Wai'anae on O'ahu.
It seems easy to see why she's taken such a motherly and active role in the community as we sit with the two girls. They both work here on the organic farm, receiving an education, pay, and credit for their time. Here, they learn about ancient farming traditions that sustained Hawaiians for centuries. They also learn how the connection between the people and the land was severed, both physically and culturally when the army stopped these sacred mountains' waters from freely flowing, destroying the farming here. Yet many people are not aware of what happened because of modern-day conveniences and imports coming from the Mainland and Asia.
"Wai'anae youth are some of the most at risk in Hawaii," she tells us. They, according to the organization, "…struggle to achieve their socioeconomic goals" with a slew of problems including drug use and high teen pregnancies. Additionally, "Wai'anae is recognized as the most food insecure region of Hawaii with native Hawaiians having the highest rates of preventable disease including diabetes, heart disease, and some cancers."
It seems hard to believe that this farm filled with busy teens tending to lush fields can be located in this area. As we sample small bits of fresh arugula, kale, lemons, and dragon fruit, we walk to an area where the food is being harvested. I look up at a massive board listing some of Honolulu's trendiest restaurants and markets. "Each day we are up at 4 or 5 A.M. before the sun preparing for the day's orders," one young man tells me. He's been working here for four years. First he finished a two-year college internship and work program that provided tuition support at Leeward Community College, and a monthly stipend. Now, he works here full time. "It's nice to know where our food comes from, and when we go to eat in the city, we can look at those greens and know we had a part in their story."
On this side of O'ahu, where giant resorts and the city of Honolulu serve as a playground to hundreds of thousands of tourists each year, we tend to forget to connect to the natural beauty and spirit of the island. From chain restaurants to mega malls, it's not always easy to find an authentic Hawaiian experience, but this story is changing. It's the story of small salad greens being plucked by an eager young student who woke up at 4 A.M. before the sunrise to harvest the land, the hip chef who went to the farmers' market to pick it up to prepare at a locally owned café, and you, the tourist, who happily enjoys being part of the larger Hawaiian ohana.
While I recognize that some visitors to Waikiki revel in the effortlessness of staying at one of the oceanfront resorts, I find a more low-key place to call home off the main strip. Literally located next to a gay bar, The Surfjack Hotel and Swim Club (412 Lewers Street, Tel: 855-945-4082. www.surfjack.com) is part hotel and part 60's beach party, reflecting a trend that's taken off around the globe where hotels become active social spaces.
When I arrive to check in, a party is already taking place. The Hawaii International Film Festival (www.hiff.org) is happening this week, and a mixed crowd of international directors and local filmmakers circle the glistening courtyard pool. Aloha shirt-wearing men mix with Burmese monks as hotel guests dip their feet in the pool with bottom tiles that read "Wish You Were Here."
As a staff member eagerly explains the hotel's laundry list of amenities, I take a moment to admire the chic, beach vibe. The handmade wallpaper by Andrew Mau especially catches my eye as it reflects the playful attitude of the hotel. There is also a living fern installation by Paiko Hawaii, painted works by hand-lettering artist Matthew Tapia, and awesome wood-carved lights by local artist Mark Chai in the restaurant located on the side of the pool.
In my vintage-inspired one-bedroom "bungalow" with reed ceilings, handcrafted furniture, eclectic artwork, private lanais, and custom-tile bathrooms, I immediately open both my sliding doors to welcome in the fresh air. After changing into my decidedly not-in-New-York-winteranymore summer clothes, I join the party downstairs and grab a bite to eat at the much-hyped in-house restaurant.
Honolulu-born chef Ed Kenney is somewhat of a celebrity around these parts and rightfully so. The man has a handful of restaurants and is widely credited with making local food cool again. Say goodbye to the days when it was fashionable to fly in Maine lobster and sip French wines, Kenney sponsored local farms, bringing Hawaiian cuisine back to its roots with passed-down recipes, and has lit a trendy fire under the culinary scene here. At Mahina & Sun's, visitors get a modern take on island cuisine. It's easy to see why locals are also embracing this hotel restaurant when we order the Family Feast where sustainable seafood sits center stage, quite literally. A salt-rub mochiko fried whole deepsea snapper is proudly on display, along with Kualoa oysters and delectable sides, created from what Kenney is currently inspired by, including root vegetables with ogo (seaweed) and inamona (roasted kukui nut relish) and buttered ulu (a breadfruit) with chili-pepper water aioli that manages to masterfully combine both sweet and spicy.
Following a morning swim, I happily grab a coffee at Olive & Oliver. This is a boutique featuring men's and women's apparel within the hotel that was founded by a delightful and adorable married couple, Ali McMahon and Parker Moosman, who hand pick the store's items from mostly Hawaiian designers. Their shop also features a wonderful coffee bar where they sell Surfjack's exclusive (and sustainable) coffee blend, that's very strong. Each bag of beans contains a photograph by local artists illustrating their visions of what makes Waikiki and Hawaii unique.
I rent a green car from a nearby Enterprise, a must for visitors who are planning on not staying in the confines of the Waikiki strip. A quick ride brings me to the Hawaii Convention Center where Honolulu Fashion Week (www.honolulufashionweek.com), has taken up residence for the week. I'll be the first to admit that it's difficult walking into a dark convention center when I'm beach-weather deprived, but inside a local marketplace illuminates the room with local designers selling their inspired pieces. If you mention fashion and Hawaii to someone, you're most likely to get a confused look and the inevitable, "You mean like Hawaiian shirts?" And by the time you leave here, you better snap back: "They're called aloha shirts!"
Hawaii's fashion world received some international attention thanks to shows like Project Runway that brought designers like openly gay Kini Zamora (www.facebook.com/kinizamora) and transgender designer Ari South (www.facebook.com/ariya.southiphong) into the mainstream fashion narrative.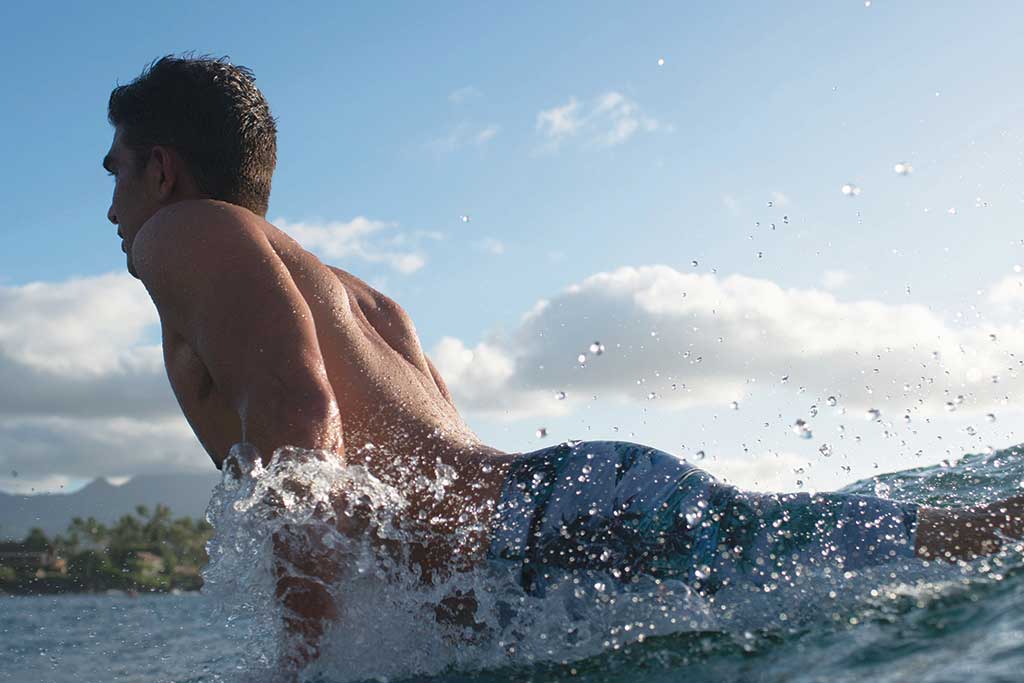 In terms of menswear, Reyn Spooner (many locations. www.reynspooner.com), probably the most iconic brand, has an awesome display of patterned shirts and beachwear and puts on a phenomenal showcase of their history clothing Hawaiians. During a Live Aloha show, though, openly gay designer Manaola Yap (www.manaolahawaii.com) showed the power of staying local and reinforcing his company's policy of keeping kuleana-based partnerships in order to help nurture the local community and indigenous artistry. This can be seen in the fabrics he uses and the patterns he creates. While the marketplace is open throughout the week, I also needed to head into the city to visit a few stores that I heard about while browsing this inspiring marketplace.
"It's definitely a really close community of designers," Roberta Oaks (19 N Pauahi Street, Tel: 808-526-1111. www.robertaoaks.com) tells me at her colorful boutique in downtown Honolulu. Oaks has been designing in Hawaii since 2004, but opened the storefront in 2009. She walks me through her line of menswear: modern takes on the traditional aloha shirt. "It's really about what pattern calls to you," she says in that relaxed island tone. While some people pull brightly colored patterns with fish and flowers, others, like me, gravitate toward a more understated zebra-like display.
The well-stocked store also contains various other homegrown products, so it's a must for visitors aiming for local and unique pieces, including surf photography, prints from local artists, candles and scents inspired by Hawaiian flora like the kai collection, and even some Roberta Oak's gear for your pet, such as her stylish bandanas.
If Roberta is in the shop, you should also ask her about her campaign to make the tree out front one of the state's smallest parks.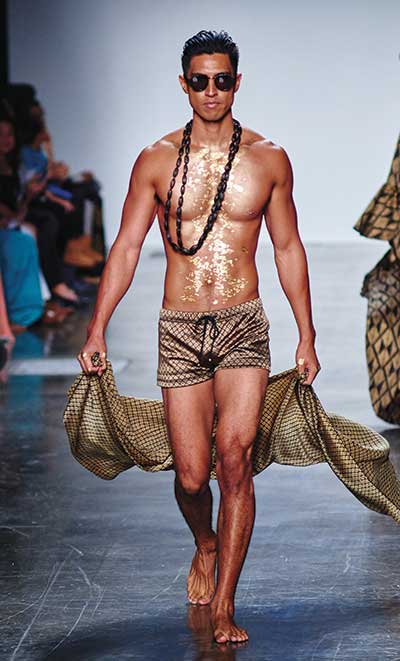 Islanders will give you a mixed reaction when you say you're interested in visiting the downtown's Chinatown area. Up until a few years ago it was a no-go for some because of an uptick in street crime, but today it's hard to find a reason not to enjoy this diverse enclave. Like most areas that people shy away from, affordable rents meant that a growing number of artists and entrepreneurs could open their doors (rents in Honolulu are more expensive than in New York according to some studies). Chain restaurants dominate Waikiki, but you can find more local and authentic foods in downtown. I happily stop at the Pig and the Lady (83 N. King Street, Tel: 808-585-8255. www.thepigandthelady.com) a well-publicized restaurant, where reservations are encouraged.
Even at lunchtime this trendy spot seems to fill up for Chef de Cuisine Brandon Lee's inspired Vietnamese fusion. Cutesy pigs line the restaurant's front window and diners walk past a counter-service bar and shelves of gorgeous Southeast Asian baked goods that are made daily in the back (you can watch them at work through a window).
Under crab-cage lampshades at a communal table, I cool off with a Thai iced tea and gleefully look over a menu that's just my style. It's a great start when I dive into the twice-fried chicken wings that are sweet and spicy and super-crispy. "What's the sauce," I ask my fellow diners. "The menu says money $auce," they respond. It's a secret recipe that will leave you feeling a bit like a pig and not so lady like as you rub it off your mouth. For the main, I have Hawaiian prawns, crab fat, tofu, banana blossom, rice vermicelli, and fresh herbs that immediately triggers memories to traveling in Southeast Asia. Before leaving, make sure you pop into the bathroom, it's an homage to Big Trouble in Little China.
Following the advice from a local I met on the porch of the gay bar next to my hotel, Bacchus Waikiki (408 Lewers Street, Tel: 808926-4167. www.bacchus-waikiki.com), I am determined to find a gay-owned store in Chinatown that promises to fulfill my need for unique and design-focused souvenirs. Stepping into Hound & Quail (920 Maunakea Street, www.houndandquail.com) is kind of like stepping into the minds of the owners, Travis Flazer and Mark Pei, who met on a haunted tour of Honolulu. A fabulous mix of vintage goods and oddities gives the store a museum feel, but everything is very accessible. Animal busts, old books, photographs, and furniture collected from throughout Hawaii and around the world (Pei works as a pilot and his travels constantly bring him to unique and stimulating places).
Interested in a lei class?" the welcoming staff at The Surfjack Hotel and Swim Club asks me as I drop off my car at valet. "Sure!" I happily agree when I see the spectacular arrangement of flowers and ferns laid out by the pool. Each week, the hotel offers an assortment of activities, but you'll be surprised by the caliber of talent that they bring in. These aren't kids' programs. On this afternoon, a lovely woman, whose family has been creating traditional leis for generations, meets me. She learned the technique from her mother, but isn't afraid to throw modern-variations into the art of wearing flowers. We work together to create my monstrosity of a wristlet that she calls "dope," giving me enough confidence to wear it throughout the day. That afternoon, her talents will also be used during Honolulu Fashion Week. Arts and crafts may not be your thing, but the Surfjack also offers guests more adventurous activities like surf lessons or, as I experience, an inspiring and life-changing trip to the local farms.
That afternoon, I also take an easy cocktail tutorial. Want to know what's in a mai tai and how it became the drink of choice for tourists visiting the island? You can sign up for a cocktail class where the master bartender takes you step by step through the construction of some of the island's favorite concoctions.
I also try my hand at a quick oyster-shucking lesson from a farmer who proudly tells us of how local islanders transformed ancient irrigation structures into the perfect oyster beds. And while you carefully crack into these crustaceans, you can bet you'll be sampling many, and, of course, with a Bikini Blonde beer in hand.
The next day, after fitting in a morning trip to the beach (the earlier you hit the beach the better, unless you are planning on driving to a more isolated locale), I head to the South Shore Market (1170 Auahi Street, Tel: 808-591-8411. www.wardvillage.com), a brand-new, much-needed, mixed-use space that benefits residents, but also is an attractive destination for tourists. The space includes shops by local entrepreneurs and art by Hawaiians. Here, each nook is filled with Etsy-to-brick-and-mortar businesses that take advantage of the community aspects of the space.
Salvage Public is a noteworthy menswear store with one-of-a-kind bathing suits and print shirts that will put other tourist-area shops to shame. Each month, a Friday-night party takes place where visitors mix with residents to shop, listen to local bands, and have a cocktail.
As I am sitting here at the "mall," I watch a group of mainland tourists get lost in the art, holding shopping bags that read "Show Your Love for Local Hawaii." I'm munching on a delicious poke salmon bowl from the Holoholo Market, and listening to a band that blends Hawaiian instruments into an indie sound. I'm nearly caught off guard when a girl from a farm that I visited earlier in the week shouts an "Aloha, Joe!" "Ah, you got the bowl!" she exclaims. "Yesterday," she says, "I helped harvest that salmon." Feeling a bit lazy and awkward for so casually eating food that someone in front of me worked so hard to harvest, I praise and thank her for her salmoncatching ability. "I'm not the one who needs the thanking, that's you. More tourists and locals need to stop eating at places like Tony Roma's Steakhouse and be part of sustainable Hawaii, so mahalo to you," she says. And with that, I walk back to my hotel and I thank Hawaii for the knowledge I learned from this trip, and listen closely to the sounds and chants from this beautiful part of planet Earth.