Though the cultural significance of this gender-bending character eludes us, it reminds me that the week we arrived in Burma, the cover of the English paper featured a photo of two men celebrating their tenth anniversary by getting married at the Excel Hotel in Yangon. Being the first public gay marriage in Burma, the event attracted public criticism and a debate if they had violated Section 377 of the Penal Code: "Anyone who has sexual intercourse with a male or female or animal abnormally shall be given a life sentence or a sentence of ten years in prison or a fine or both."
Indeed, during our travels in Burma, we encountered several young men whom we perceived to be gay, openly so in some cases.
During the monsoon season (May through September), the upper Irrawaddy River rises some 20 feet, making permanent docks impossible. In most "ports," the Belmond Orcaella simply noses onto the sand, extending a plank to the beach with improvised steps cut up the steep bank. Waking up while moored below the village of Gwechaung, I pull back the curtains to see a wooden boat next to the Belmond Orcaella and a family bathing and washing laundry. I'm eager to join the children splashing, but I am advised that for health reason it's imprudent to swim. Instead, I open my cabin windows and blow out soap bubbles, to the delight of the kids. I love this aspect of the Orcaella: no reserved mooring, but a wonderful opportunity to watch daily life unfold around us.
After the day's heat subsides (the hot, dry season peaks in April), we don life vests and zoom upstream in a wooden boat where a caravan of ox carts await. In my world peregrinations, I've experienced just about every conveyance imaginable (sampan, gypsy wagon, dog sled, reindeer sleigh, rickshaw, kayak, camel caravan, etc.), but never an ox cart. The wooden wheels creak and the bells on the bullocks jangle as we jostle the deeply rutted trail up the riverbank, as foot-thick dust billows around us. Passing through the village, children greet our curious procession with calls of mingalarbar (which translates as "auspicious blessing"), while families wave from verandas.
Atop the aerie overlooking a river bend, with lush green fields bordering, we arrive at the brick Gwechaung Fort, commissioned by the Burmese king and built by Italians in 1860 to keep the rapacious British at bay. In two previous Anglo-Burmese wars (1824 and 1852), the Brits conquered western and southern Burma, including Yangon. Coveting the vast tracts of teak in northern Burma. In 1885, the British met little resistance at Gwechaung Fort, their warships then charging upriver to attack Mandalay, capturing and exiling the royal family to India. Descending by ox cart to the river, we encounter dozens of villagers in their evening ablutions. In the glow of sunset, children frolic, women chat and launder clothes, while men fill buckets on shoulder poles for the arduous haul back up to the village.
After a brief interlude to shower off the dust and dress, we disembark again and walk to Min Hla Fort, another battle site in the third Anglo-Burmese War. Entering the gate, we pass through a gauntlet of traditionally dressed men and women who place fragrant flower leis over our heads. Candles burning along the brick walls help illuminate the courtyard, and dozens of children sit on the rampart steps watching the performers, as well as the foreigners who are still a novelty in these parts. The aroma of grilling meats wafts, and a spread of side dishes: penilay kyarzan hincho (lentil soup); kyethat kalathar chet (Bachelor's chicken and gourd curry); Nga Hin Sebyan (butter fish curry); ah kyaw sone (vegetable tempura); and desserts, beckon on tables. The atmosphere is utterly magical, and clearly the Belmond Orcaella crew has invested much time and effort to create this wonderful evening for the passengers.
With the Belmond Orcaella sailing 96 miles to Pyay, it's our first full morning on board to indulge in a whole lot of nothing. While strolling in front of the captain's deck, I look down and notice two men at the starboard and port bows repeatedly lowering and raising into the water long, marked poles; with the ever-changing shoals, these manual depth finders help the ship navigate the shallower channels.
Forward on the top deck, is a modest swimming pool, which is a great place to cool off after land excursions. Here, I spend an hour poolside getting acquainted with Francoise, the princess who lives in Switzerland and India, where she operates Heart for India, a foundation focused on educating children who live in slums. Her former husband is the very famous Greg Roberts, the author of the international best-selling book, Shantaram, currently being produced into a movie by Johnny Depp.
At the outdoor lounge before lunch, a fashion show features multiple uses of the colorful longyi (the traditional ankle-length fabric worn around the waist). In a warm climate, it makes sense to wear clothes facilitating airflow "down there." Without a clasp, people (men in particular) end up tightening their longyi every few minutes, half in the effort to keep it from falling off and half simply an absentminded exercise for the hands. In addition to the skirt, the crew demonstrates how to employ the longyi as a shoulder bag, a backpack, a baby sling, a conveyance for the elderly, and even creating a delightful elephant trunk headdress for the amusement of children.
Throughout Burma, one sees women, children, and sometimes men (we're told that they're "the gays") sporting beige powder on their faces. Thanakha is ground from tree bark, moistened with water, then applied to the face as a sun block and cosmetic. How can I resist? At dinner, I appear with an elaborate design of spirals and stars covering my visage. If the staff hasn't already figured it out, surely now they surmise that I must be one of "the gays."
The next day, we disembark to the ancient city of Sri Kshetra, which flourished during the fifth-ninth centuries when the impressive 153-foot- high Bawbawgyi Ceti stupa was built, unusual in its solid, bell-shaped structure, and among the earliest Buddhist monuments in Burma. Afterward, the groundskeeper invites us into his home where we remove our shoes, which is also customary when entering temples. This traditional raised structure is constructed on posts, with woven split bamboo walls and a thatched roof, allowing for air circulation. The woman of the house graciously shows us around, the interior spare and tidy, while the sleeping area is hygienically raised from kitchen and living space. A niche on the east wall holds an altar to the deities, both Buddhist and nats.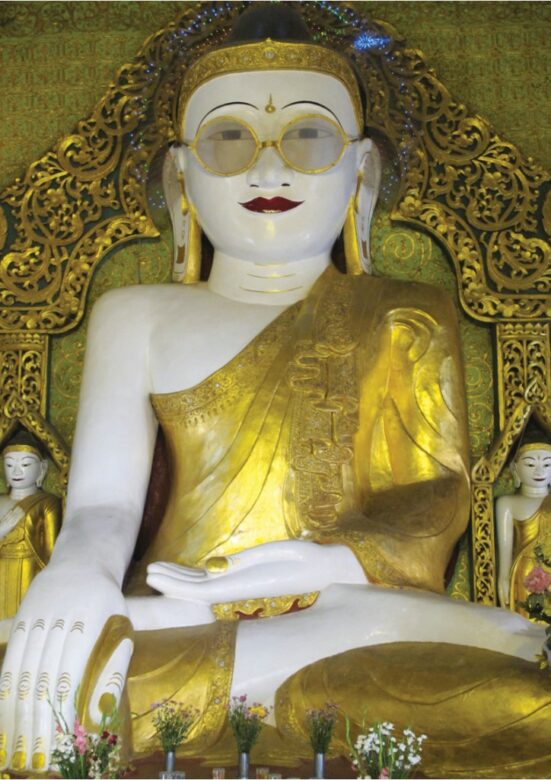 While walking through town, we cross paths with a colorful procession. Musicians bang on drums, symbols, and gongs while a machete-wielding man whirls about as though possessed. A half dozen elaborately made-up young girls pass by in decorated carts, followed by a procession of somber looking women—in marked contrast to the raucous musicians, wearing brilliant longyis and bearing flowers and fruit. Our guide explains that the young girls are heading to the nunnery to be initiated as novices. Within hours their gaudy make-up will be removed, their hair shorn, pink robes will be donned, and they'll begin the ascetic life of a young nun.
In Burma, it's customary for males, and to a lesser degree females, to take up monastery residence twice, once while a child, then again fully ordained as an adult, often after raising a family or retiring. At any given time, approximately 1-2% of the population is monastic. In the mornings, we always see monks and nuns on the streets collecting food for their single daily meal; it's not begging, but allows the populace to turn the good deed of dhana. Other than Bali, I've never seen a country with the religion so integrated into daily life.
That night, after an onboard performance of traditional marionettes, I retire to my cabin where there's a jar of thanakha. Each evening, instead of the customary pillow bonbon there awaits a thoughtful little gift: local soaps, a jade bracelet, colorful longyi, a meditation book. Moments after I turn out the light, a commotion erupts outside. Drawing back the curtain, I see several hundred people gathered on the shore, a line of women passing agricultural offerings to men partially submerged in the water, accompanied by music and singing. I quickly throw on clothes and scurry ashore to join in the dancing; I know that I'm causing a bit of a spectacle, but can't help myself. A crew member later explains that this celebration marks the conclusion of a fast by Hindu priests. After leaving the river, they'll serve up a feast and walk on hot coals, which I long to see, but it's already nearing midnight and I've got to crash. Though I thoroughly enjoyed the Belmond Orcaella land excursions and sightseeing, these slices of local life (like the day's earlier street procession) that we just happen upon add wonderful dimension and depth to the cruise.