Rich in history, culture, and tradition, in Burma, a bygone Asia still endures. In fact, it must be among the few countries in the world still beyond the clutches of McDonalds, Coca-Cola, and ATM machines. But modernity is rapidly encroaching, and ever since the military regime began shifting power to civilian leaders in 2011, business people, diplomats, and eager tourists are flocking to the country with Yangon (formerly Rangoon) poised to become Southeast Asia's next boomtown.
YANGON
Dawn stirs like a sepia-toned fantasy with motes of sunlight streaming through the plantation shutters onto the teak floors, as a chorus of birdsong come from the lavender jacaranda and flaming coral trees. Here, the morning unfolds at a measured, languid pace suited to the tropical climate. Under the twirling ceiling fans on the grand veranda dining room of the restored 1902 mansion, now the Belmond Governor's Residence, one half expects to glance up from the morning paper and spot the likes of Somerset Maugham or Rudyard Kipling taking tea, or if it's closer to the cocktail hour, perhaps a shot of Mandalay Rum.
Golden pagodas, colonial-era buildings, traditional shop houses and moldering jazz-age mansions form a low-rise fabric unique to Asia, the whole stitched together by tree-lined avenues swarming with buses and cars. On Yangon's bustling riverfront boulevard, Strand Road, stately buildings like the Customs House, the Central Post Office, and the British Embassy bear witness to the city's turn-of-the-century status as one of the British Empire's key commercial hubs. A haven of tranquility, the Strand Hotel, among Yangon's best-preserved colonial edifices, has cosseted globetrotters almost continuously since the Armenian Sarkies Brothers, owners of the Raffles Hotel in Singapore, opened it in 1901.
At the classic Strand Bar with its teak-framed windows overlooking the bustling street, you can savor a Cuban cigar at Friday's happy hour that features live jazz and draws an eclectic crowd of expats, journalists, and swanky locals. My travel companion and I order their signature beverage aptly named Stranded in Paradise while playing a round of pool in the alcove.
The Strand is also home to River Gallery I, opened in 2005 by a Kiwi expatriate, Gill Pattison, and an ideal place to explore Yangon's buzzing contemporary art scene. Last year, Ms. Pattison expanded with River Gallery II, just up the street in a lofty-ceiling former law office.
A few blocks farther on Strand Road, we dine in the majestic former Myanmar Red Cross Building, now home to the Union Bar & Grill that features seasonal food, free Wi-Fi, and cocktails like the Mango Sunset, with house-infused Kaffir lime rum.
At the nonprofit, fair-trade Pomelo Boutique, expat volunteers market the work of about 20 Burmese artisan groups. Proceeds from beaded jewelry, glassware, handmade toys, and textiles by traditional weavers from conflict-ridden Rakhine State revert to the local communities.
That afternoon, we take a taxi to the popular tourist stop, the house at 54 University Place on Inya Lake where Aung San Suu Kyi was held in house arrest for almost two decades. Then we stop at the National Museum, where 5,000 objects, royal regalia, musical instruments, decorative arts, and clothing of the indigenous tribes are on display.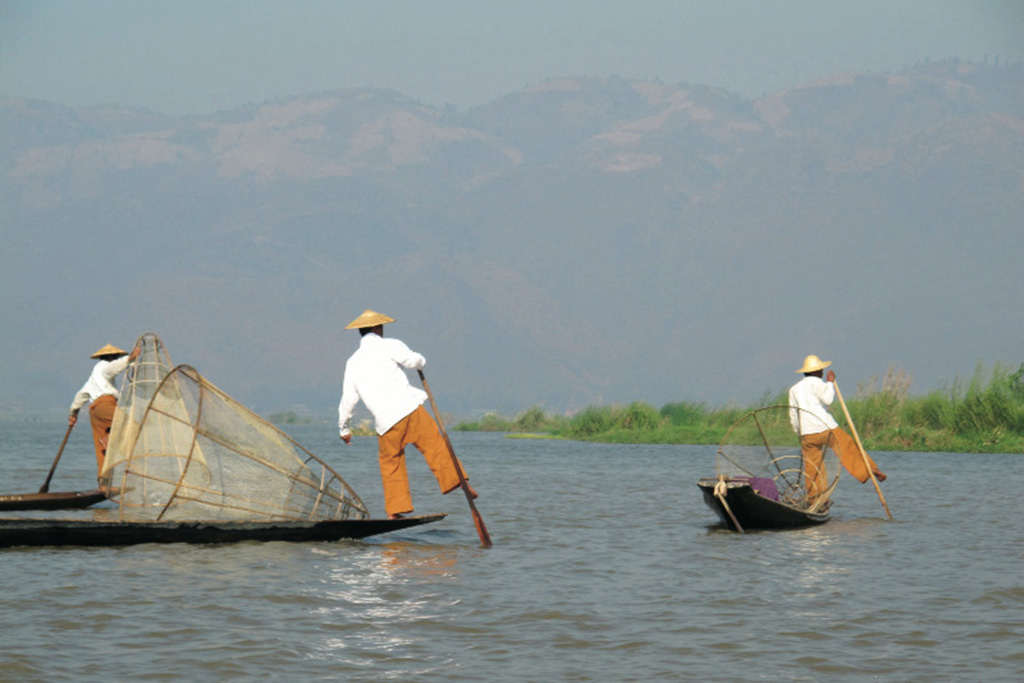 INLE LAKE
As we stand on the bridge over the canal in Nyuang Shwe, a mist covers the photogenic lake at dawn and surrounds the 30-foot longboat that will soon take us on a wonderful journey. Warmed under the provided blankets (at an altitude of 4,440 feet the mornings and evenings are chilly), we pass stilt homes, gardens, and villagers toting mammoth loads on their heads. Nearing the canal outlet into the lake fishing boats await, each propelled by oarsmen dexterously balancing on one leg, the other entwined around a paddle, while casting a cone-shaped net to catch fish.
The shallows of the 14-mile-long lake are blanketed with floating gardens, hydroponic marvels composed of gathered water hyacinth roots, reeds, dirt, and manure, upon which tomatoes, cucumbers, beans, squashes, melons, papayas, and bananas thrive, making it one of Burma's most fertile vegetable producing regions. I later learn that, unlike neighboring China or India, in Burma's long history it has never experienced a famine. Passing boats of red chillies and purple eggplants make their way to the floating market. Until recently, the floating market was exactly that; transactions between bobbing boats. But now, most commerce happens in stalls in a nearby field.
Each weekday, somewhere on Inle Lake, a community market attracts locals and tourists alike. Brightly turbaned tribe women trek down from the surrounding mountains to trade green tea and crafts for fish and necessities. An exotically attired woman with a betel nut blackened smile sells sticky rice in banana leaves alongside quail eggs. Another woman shoots out her hand to grab my wrist, and tries to entice me to buy fresh peanut brittle. I buy a bag—delicious! Nearby, a large vat of noodle soup simmers away and will soon provide breakfast or lunch to traders and customers.