Dreamy and surreal, we drift in a hot air balloon over the fabled Plains of Bagan where, as far as the eye can see, golden temples and stupas jut skyward, and, in the dawn light, we see the molten sun creep above the distant violet-hued mountains. Floating over a cluster of brick pagodas bordering a field, I turn around in the wicker gondola and below us appears the impressive Dhammayangyi Temple where dozens of early risers enthusiastically wave and point cameras at us as we languidly drift past.
Nearing the ruined walls of Old Bagan, a flock of birds flies below, a shifting breeze nudges us onward. To the West, the broad curve of the Irrawaddy River wends down from the mountains of Kachin State on the China border to the Andaman Sea. Before we gently land near a schoolyard between the trees at the river's edge, I briefly glimpse the white-and-red-trimmed Belmond Orcaella, the five-star riverboat that will soon become home base after having traveled in Burma for ten days on our own.
Two hours later, my traveling companion, Peter, and I board the Belmond Orcaella where we're offered cool minty drinks and the staff genially welcomes us for our weeklong cruise through Burma—an exotic country seemingly preserved in time. Now that international sanctions have been lifted, tourism is booming; well over two million visitors arrived in 2014, compared to about 800,000 in 2010. Catering to well-heeled and adventurous travelers, the recently launched Belmond Orcaella (Orient-Express re-branded as Belmond), named after an endangered river dolphin, rises up three decks, is 200 feet long and 40 feet wide, with a shallow four-foot draft enabling it to pass unencumbered over shoals in the dry months.
Upon boarding, we are pleasantly surprised with an upgrade and shown to our State Cabin where a fruit plate and bottle of wine await. The ship's 25 plush accommodations (two Balcony Suites, two Junior Suite, 12 State, and nine Deluxe Cabins) all feature floor-to-ceiling French doors framing the passing river boats and villages. The spacious bathroom has dual sinks, large glass shower, and Bulgari bath products. A safe, television, robes and slippers, and a blow dryer (for Peter's "unruly" hair) are standard amenities. After stowing our belongings in the ample walk-in closet, since I've been up before dawn for ballooning, I crash on my deliciously cozy twin bed for a nap before lunch.
Later, there is a safety briefing in the lounge bar and introduction to the officers and department heads by Win Min, the urbane and handsome hotel manager. In the restaurant, we mingle with our fellow passengers: a mix of amicable Americans, five people from Brazil, two young women from Munich, an elderly couple from Vienna, and two friends (one an actual Moldavian princess) from Switzerland. There are also three Aussie couples who exhibit absolutely zero interest in mixing with anyone else other than themselves, and we eventually dub them "The Gang of Six."
With an hour before the first scheduled shore excursion, Peter and I make a quick foray about the Belmond Orcaella. The indoor lounge and bar provides an air-conditioned haven for cocktails or tea, along with Internet connection (albeit a bit slow, but par for most ships), board games, and photo books about Burma. A spacious outdoor lounge and bar is the venue for daily briefings and the place to watch the fiery sunsets (some anomalous atmospheric conditions in Burma make it rife for implausibly gorgeous sunrises and sunsets). A small exercise room and a tranquil well-being spa treatment room round out the fore of the ship.
In the afternoon, we set out sightseeing in Bagan in a mini-van with our affable guide Kenny. (Though Burma switched to driving on the right side of the road, the driver's seat disconcertingly did not correspondingly shift to the left side.)
After King Anawrahta converted to Theravada Buddhism, he began a massive campaign in 1044 of constructing temples built of brick, topped with gilded hti pinnacles, decorating the insides with frescoes, which contain a mix Buddhist, Hindu, and local nats (spirits) images.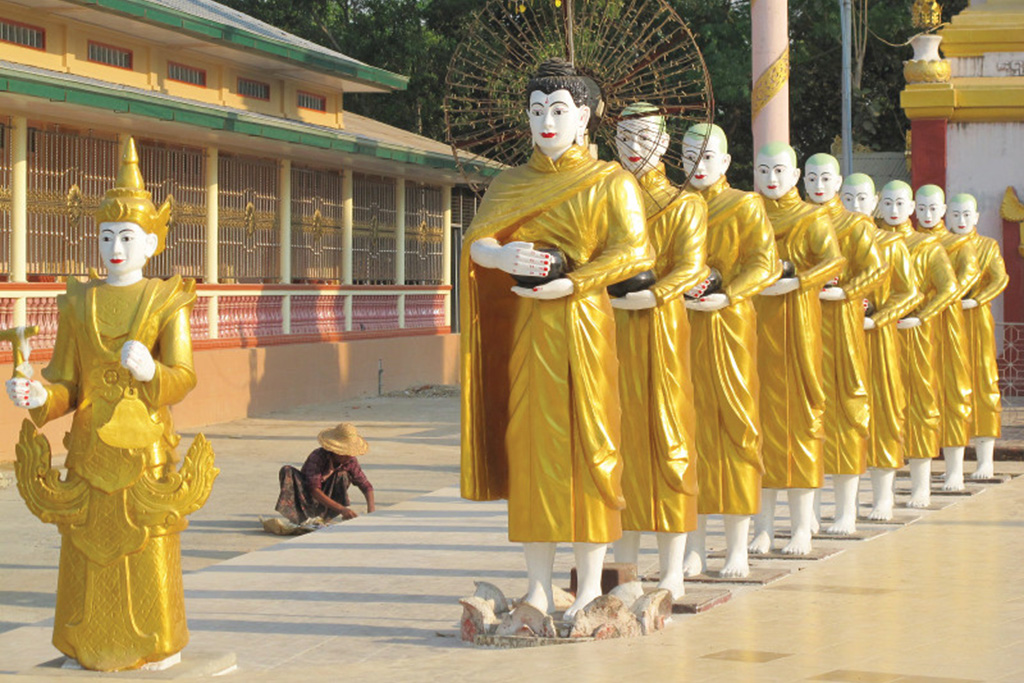 At its peak, there existed some 12,000 temples, and this breathtaking mist-enshroud vista of several thousand stupas and pagodas counts among Burma's most important historical sites. Yet, to date it fails to merit a UNESCO Heritage designation due to shoddy restoration efforts, an intrusive history museum, and an eyesore of a tower jutting up from the Aureum Palace Resort, a military general's vanity project.
Sunset chasing is popular in Bagan. As the fiery orb lowers in the west, tourists flock to the taller pagodas, clambering up the stone steps for the daily ritual of clicking cameras and international camaraderie—I count at least two dozens languages spoken.
After descending onto a dusty road, we encounter two Padaung women whose feminine beauty is expressed by wearing copper neck rings. (Among Burma's 60 million people, 135 ethnic groups make up eight official major national races, the Bamars, hence the name Burma, constituting the majority.) Commenced as early as age three, the rings' pressure slowly deform the collarbones and ribs downward, creating the illusion of an elongated neck. Due to ongoing fighting in the Thai border region, displaced Padaung women frequent the lowlands garnering money by being photographed; I couldn't resist, and rather sheepishly pose between them while Peter snaps away.
Still ported in Bagan, for the next morning's shore excursion we visit the market of Nyaun Oo that's filled with a multitude of colorfully dressed tribal women who are busy buying a vegetables and fruits, fresh and dried fish, red chillies, spices, and addictive tamarind candies. Approaching a curious looking basket, I realize it's heaped with fried crickets upon closer inspection. Gerard, the intrepid Swiss guy, braves popping several in his mouth; I grimace at the loud crunch. I wish I had more pluck, but some cross-cultural experiences I'd rather forgo.
Several stalls with artful spiral arrangements of brilliant green leaves ply betel nut. Pieces of betel and a pinch of tobacco are folded into a leaf smeared with lime paste; the tiny burrito is chewed and the blood-red slurry is eventually expectorated. I once tried betel nut in the island of Yap, and the brief buzz, lasting all of 30 seconds, hardly seemed worth the effort. But measuring by the crimson minefields of muck one encounters on Burma's streets and the ubiquitous blackened teeth of the grannies, it's clearly a popular national addiction.
Later, we stop at a lacquerware crafting studio. On one platform, a young woman weaves horse hairs through a delicate frame of split bamboo that will eventually become a cup. Onto various objects, young men layer on black lacquer, the resin from the melanorrhea usitata tree. Depending on the piece, multiple-colored coatings are applied, dried, etched, and polished. The process is repeated up to 16 times over a year until a lovely box, table, musical instruments, or giant urn is produced. Frugal me gets a vicarious thrill as Peter buys a dozen smaller pieces (boxes, bowls, and cups) as gifts for friends back home.
Of the numerous pagodas in Bagan, a dozen are commonly frequented by visitors, with the gilded Shwezigon Pagoda ranking on top of the list. Begun by King Anaweahta then completed by King Kyansittha (1084-1113 C.E.), the Shwezigon Pagoda is among the oldest, the massive gold-plated edifice gleams in the sun and enshrines a number of sacred Buddhist relics, including a replica of Buddha's tooth. The other three dental copies are in regional temples, and locals believe prosperity will be theirs by paying homage to all four relics in one day. Damaged dozens of times in earthquakes (the most recent in 1975), the temple was restored, and every December it attracts thousands of devoteés for the Shwezigon Festival.
After lunch, the Belmond Orcaella sails to Salay, where we board minibuses to Yout-Saun-Kyaung, a monastery carved entirely from teak. Built on ten-foot posts, underneath is a cool refuge from the glare and heat. Through a stairway, we enter a mellowed teak-panelled interior where sunlight streams through intricately carved screen panels. The curved roof rises in tiers like a fantastic chocolate wedding cake carved with scenes from the life of Buddha, village life, foliage, and animals.
That evening on the Belmond Orcaella, a troupe of four elegant women dancing with candles entertain us after dinner. One later dance strikes Peter and I as peculiar. It's a character sporting two heads; next to the male dancer's head is a papier mâché female head. Like a circus sideshow, half his torso is garbed as a man, the left side as a woman. We'd previously seen a variation of these traditional Burmese characters, U Shwe Yoe and Dae Moe, in a marionette show, another time in a street procession where a man in drag enacted a frenzied courtship dance.