Our next excursion is to the Shwe MyatMhan Pagoda that features the only bespectacled Buddha in Burma. Some temple Buddhas appear serene and distant, a few downright foreboding, but this smiling face with brilliant ruby-red lips and gold spectacles, seems so accessible, like a friendly gay professor. Apparently people with eye problems pilgrimage here for healing. Indeed several Burmese with eyeglasses enter as we are leaving.
Along the way, we stop to watch young men, their longyi hitched up into cute shorts, playing chinlone (like hacky sack, the ball, though, made of bamboo). In the evenings, we often encounter groups of men engaged in this relaxing, noncompetitive game. When I indicate I'd like to give it a go, they laugh and make room in the circle. I surprise myself by keeping up with them, though I cheat some by using my head, elbows, and butt.
Before returning to the ship, we stop at a small, family jam factory. Here again, as in the lacquerware factory, much of the pitting, chopping, and stewing fruit is carried out by teens and children. It's dubiously explained to us by our guide that the kids are on school holiday, but for Francoise, whose non-profit's aim is to keep India's children in school and not working, it's an uncomfortable reminder of a where child labor brings in badly needed family income.
Later in the day, while cruising toward Yangon, we pass the famous cliff carvings of Akauk Taung, which means "Tax Mountain." In the 18th century, river toll-takers here passed the hours between taxing boats by carving reclining and meditating Buddhas. For some reason, I'm expecting giant Buddhas, like the ones in Afghanistan destroyed by the Taliban. Instead, dozens of Buddhas of varying sizes painted white, blue, ochre, and yellow peer down at us from the high cliffs.
Back on board the ship, Executive Chef Bansani from Thailand, leads a cooking class where we prepare one of Burma's most distinctive dishes: lephet thoke (tea leave salad with fermented tea leaves, Chinese cabbage, shrimp, sesame seeds, and chili). It's exotic and tasty, and difficult to find in the States. Throughout the cruise, the meals offer Western favorites, including croissants, made-to-order omelets, a salad bar, tempting desserts, and ample opportunities to sample regionally inspired Asian dishes created by Chef Bansani. She explains that often the multi-course dinners are planned around what produce, fish, or ingredients she might discover in the local market while we are in port.
The following morning, we meet at the gangway for an outing on trishaws, bicycles with sidecar seats. Orange-and-white umbrellas aloft, our convoy causes a stir with the locals as we pedal through the port city of Zalon that's is lined with colonial-style wooden homes. We pass a teak house with a banner that reads in English and Burmese "National League for Democracy" flanked by blow-up photos of "The Lady," as Aung San Suu Kyi is affectionately known. Though many people we meet express disappointment in the Nobel Peace Prize winner's inaction in Parliament, they're hopeful that she's biding her time for more far-reaching reforms once she wins the 2015 elections.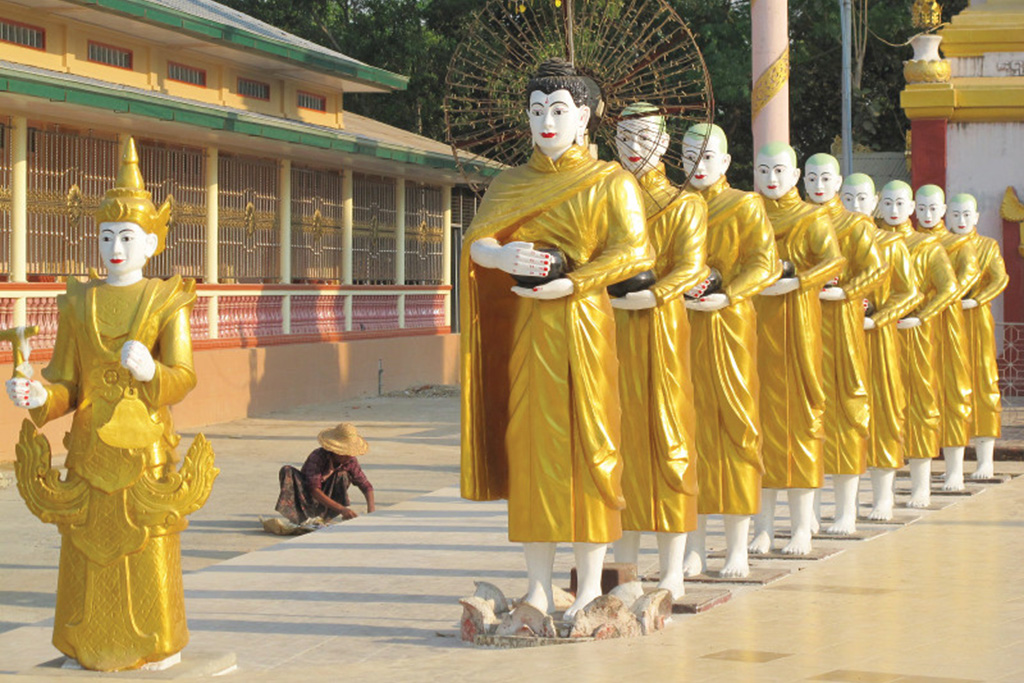 At the Pya Taw Pyan Pagoda, also known as the Returning Home Pagoda, is a bronze Buddha that was once sent as war booty to Queen Victoria. For some inexplicable reason (London's museums were chock-full of the Empire's pillaged goods), the Queen insisted it be returned here a series of large paintings depicts the Buddha's circuitous journey. The venerated image, small in comparison to others we'd seen, is among the few not gussied up with a colorful, flashing L.E.D. light halo around its head that we see just about everywhere else.
Later, we visit the town of Danuphyu, where the revered General Maha Bandula led a failed defense against the British. Riding along dykes and raised roads through low-lying delta town, I realize that this was the region devastated by 2008 typhoon Nargis that killed some 300,000 people; it was among the worst in history. Now, nearly fully recovered, we arrive at a tranquil monastery complex composed of late colonial-style buildings. Though spacious enough for hundreds of monks, we only encounter a handful, which makes us wonder: Are the monks on holiday (as we are told) or is there a deliberate effort to diminish the monasteries, hence their political influence?
We stop at another factory producing a product that Burma is known for, smokes. We often spot men and women in the market stalls puffing away on traditional slim green cheroots, but have yet to see anyone smoking these huge, fat stogies that are the size of bananas. Crude looking, they're filled with wood chips and a smidgen of tobacco, wrapped in the leaf of Sebesten tree, the "filter" is a roll of dry corn husks. A woman lights one up, looking like she's setting her face on fire. I smile, thinking I'd like to see these featured in Cigar Aficionado magazine!
As I discovered during this trip, the Irrawaddy River doesn't actually flow past Yangon, but filters through the delta many miles to the west. In 1883, the British constructed the Twante Canal connecting the Irrawaddy to Yangon. For several hours, I sit on the lounge deck as we pass in close proximity to villages, and I catch glimpses of Burmese life: men and women carting loads of reeds on their heads, workers in the fields, children laughing and playing.
We arrive in Yangon in the afternoon, and, soon after, the much-anticipated shopping spree commences. After visiting Yoyamay, the finest stop for ethnic fabric located upstairs at 75-year-old Bogyoke Market (also known as Scott Market) with over 2000 shops, Peter and I set out into the fabulous fabric paradise to buy two-dozen longyis and sarongs for gifts.
Having recently converted to Judaism, I'm anxious to visit Yangon's synagogue. Just a few blocks from The Strand Hotel near the waterfront, we locate the Musmeah Yeshua Synagogue, Burma's only remaining Jewish house of worship, tucked between Indian paint shops and Muslim traders. Built in the 1890s for the Baghdad and Cochin Jews arriving during the British Raj, at its heyday on the eve of WWII, the Jewish community numbered about 2,500 members. Following the Japanese occupation and military coup in 1962, most Jews fled. There to show visitors around is Moses Samuels, one of only a half-dozen remaining Jews. The schul is remarkably well-maintained, with fresh paint, colored glass windows, the Torah scrolls encased in silver coverings.
No trip to Burma would be complete without visiting the 2,500-year-old Shwedagon Pagoda, Burma's most sacred site enshrining strands of Buddha's hair and other holy relics. With a base perimeter of 1,420 feet and rising 330 feet, Shwedagon Pagoda is plated with 22,000 solid gold bars. The top of the stupa is encrusted with 4,531 diamonds—the largest 72 carats. Repeatedly damaged by earthquakes over the centuries, the top collapsed in 1768, but such is the importance of Shwedagon that it is repaired again and again, the gold donated by royalty and the wealthy.
Reached by four covered walkways guarded by lion-dog statues, the massive central pagoda is surrounded by a complex of hundreds of smaller temples. It happens to be a full moon, hence a minor holiday, and the grounds throng with thousands of families praying, eating, socializing, and sleeping. On display in one side temple are dozens of intricately decorated cakes, apparently meant to appease mischievous nat folk spirits. As much as a spiritual site, it appears like some exotic Buddhist Disney World, shimmering in the setting sun, illuminated at night. Truly, it's one of the marvels of the spiritual world where a visitor could easily spend a full day.
Back on board the Belmond Orcaella, I dress in my longyi and apply my best thanakha face for the farewell cocktail party and dinner. On behalf of my fellow passengers, I address a thank you to the staff and crew for the exquisite hospitality and attentiveness, and raise a toast to the people of Burma, that their future may be increasingly bright, hopeful, prosperous, and free. The consensus of those we candidly spoke with was that the country was indeed moving, albeit slowly, in a positive direction.
With the military generals in retreat and tourism booming, Burma's moment is now, before modernity swallows up some of its uniqueness and charm. The most advantageous way to experience the country's backwaters and hard-to-reach wonders is by riverboat, with Belmond excelling in luxury and comfort. I'm already plotting when I can return to Burma for another cruise, next time to explore the Gorges of the Far North or the Chindwin River.