Another major force behind D.C.'s culinary makeover is Kimpton Hotels & Resorts, which made its East Coast debut with Hotel Topaz near Dupont Circle in 2001.
Credited with giving D.C.'s hospitality scene some much needed sex appeal at the time, the boutique pioneer and longtime LGBT supporter has since expanded to eight D.C. properties, plus three in nearby Old Town Alexandria, Virginia, and one in Baltimore. Offering exceptional dining experiences at eight of its area properties, the brand has figured prominently in reinventing the D.C. menu.
"Kimpton was founded with the idea of combining a boutique hotel with a great local restaurant," says Eric Santiago, the brand's director of restaurant operations for D.C. "When we brought that neighborhood-oriented culinary commitment here in 2001, the dining landscape was still fairly bland," he continues. "We believed that D.C. diners were ready to embrace seasonal menus, craft cocktail programs, and new approaches to traditional cuisine, and I think many other savvy restaurateurs took notice."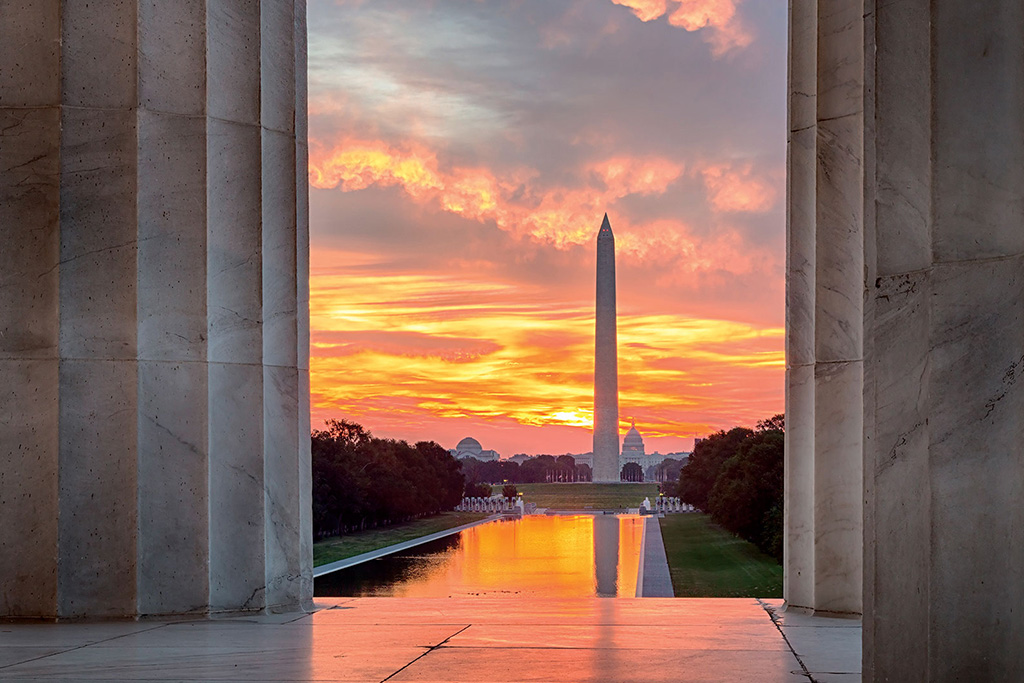 Examples include Hotel Monaco, Kimpton's triumphant conversion of the landmark General Post Office, where Poste (2002) provided a dining destination for then still-evolving Penn Quarter. That same year, Firefly debuted at Dupont Circle's Hotel Madera, setting the tone, as Santiago says, "for the cozy, inviting dining experience that now inspires many of D.C.'s best new venues."
Two star D.C. chefs, Jeffrey Buben and Robert Wiedmaier, are attached to Kimpton properties. With his celebrated Vidalia (1993) still going strong, James Beard winner Buben, an active supporter of hunger relief, AIDS and homelessness organizations, followed up with Bistro Bis (1998) at Capitol Hill's Hotel George.
Serial restaurateur Wiedmaier, who replaced Palladin as executive chef at the Watergate Hotel and then made his name with Marcel's (1999) and Brasserie Beck (2007), delivers dynamic Belgian-American fare at BRABO and BRABO Tasting Room, adjacent to Lorien Hotel & Spa in Alexandria.
Each showcasing the passion and individuality that define Kimpton's chef-driven restaurants, Zentan at the newly reflagged Donovan hotel sizzles with robata-grilled meat skewers and other wonders from Japanese chef Yo Matsuzaki, while at Hotel Monaco's reinvented Poste Modern Brasserie, South Korean chef Kyoo Eom puts a modern spin on French brasserie classics including haricots verts a la Provencal, pheasant, and pork chops.
Through devotion, giving back, ebullience and innovation, D.C.'s culinary pioneers have transformed the city into a global beacon for foodies and new talent alike. Growth has been explosive, with more than 700 new restaurants opening here over the last decade. Whether anchoring new developments or reviving old neighborhoods, D.C.'s food and drink map now reaches every corner.
Across from Gallaudet University, Union Market, opened in 2012, revives the site of D.C.'s legendary Centre Market from 1871, renamed Union Market in 1931. Surrounded by food operators such as A. Litteri, an Italian grocer dating to 1926, this year-round warehouse is a prime spot for coffee, socializing and bites from some 40 artisans. I enjoyed a tasty smoked salmon BLT at Neopol Savory Smokery; other draws include sustainability-driven Bidwell Restaurant, which grows organic produce on the market's rooftop.
Soon, D.C.'s revived streetcar network will include service from Union Station into the once gritty (fine during the day, avoid late night) Atlas District along H Street NE, connecting urban explorers to Ethiopic, one of D.C.'s acclaimed Ethiopian restaurants, and gay-friendly Jewish deli-meets-Irish pub Star & Shamrock.
Ready for prime time is the new restaurant row along 8th Street SE (or Barracks Row, after the U.S. Marine headquarters here, from 1801), where longtime LGBT haunts Banana Café & Piano Bar and lesbian bar Phase 1 rub shoulders with diverse upstarts including national sensation Rose's Luxury and Ted's Bulletin, serving retro-comfort food and boozed-up milkshakes.
This thriving thoroughfare taps into The Yards, the multi-use transformation of the former Navy Yards on the Capitol Waterfront. Housed in the historic Boilermaker Building, Bluejacket Brewery and its Arsenal restaurant are rewarding choices for craft beer and elevated pub fare. Pickling is a leading trend in D.C.—Arsenal's artful presentation of pickled kumquats, eggs, and other treats was exquisite.
The brewery is part of the Neighborhood Restaurant Group, its 16 chef-driven restaurants and bars, dessert lounge, wine shop, and catering putting "NRG" into the D.C. scene for over a decade. Included in the fold is the landmark Iron Gate, converted from Victorian-era stables in 1923 and D.C.'s oldest continuously operating restaurant until closing in 2010. Reopened in late 2013, this Dupont Circle jewel entices once more with artisanal cocktails in the carriageway and alfresco dining amid the back courtyard's wisteria and grapevines. Another heritage gem, the circa-1922 Hotel Tabard Inn, beckons across the street.
The theme of reinvention continues at the Loews Madison Hotel, where Rural Society is a lively Argentinian steakhouse from serial Philadelphia restaurateur and James Beard winner Jose Garces. The hotel may have been the first to feature the minibar, back in the 70s (also claimed by the Hong Kong Hilton); these feature in the restaurant's four private niches.
Garces followed fellow Philadelphian Stephen Starr into D.C. after the latter helped ignite the renaissance of once downtrodden 14th Street NW with Le Diplomate, his always-bustling homage to the Parisian brasserie. Another coordinate on this booming corridor, which has attracted some 60 new restaurants over the past several years, is The Pig from gay-owned EatWell DC, which supplies its three other neighborhood eateries (Commissary, Grillfish and Logan Circle) with produce from their EatWell farm in Maryland.
For Frank Ruta and Fabio Trabocchi, one half of the Chefs For Equality' super table, it was a case of reinventing themselves.
There was much local lament last spring when Ruta had to close his acclaimed jewel-box Palena Café in D.C's Cleveland Park neighborhood. Now D.C. is celebrating his return as executive chef of The Grill Room at the five-star Capella Washington, D.C. hotel in Georgetown. Another hometown favorite is the hotel's mixologist, Angel Cervantes. Credited with introducing mescal to D.C. in the mid-90s at Red Sage, Cervantes, also a veteran of Citronelle, oversees Capella's convivial Rye Bar while conducting custom cocktail programs for guests and private groups. True to his name, his five-cocktail experience for our group of six in the hotel's Living Room was heavenly.
Down the street on the Potomac riverfront, Fiola Mare is the third restaurant from star Italian chef Trabocchi and his wife Maria. Opened last spring, it's a sublime, sophisticated classic. Trabocchi broke local hearts when he left his James Beard-winning post at Maestro, the former four-star restaurant at the Ritz-Carlton, Tysons Corner, for New York. In 2011, he won them back by returning to D.C. and opening the award-winning Fiola, followed by the more casual Casa Luca.