Restaurant Mirabelle Ginger Almond Tart
"This pie is part of the early history of Mirabelle. I created the recipe for our dessert list when the restaurant opened in 1983. The recipe has been printed many times, and still today my customers ask for it…so I keep it on the menu. Personally, I love it with a cup of great coffee, it just goes well together." – Chef Guy Reuge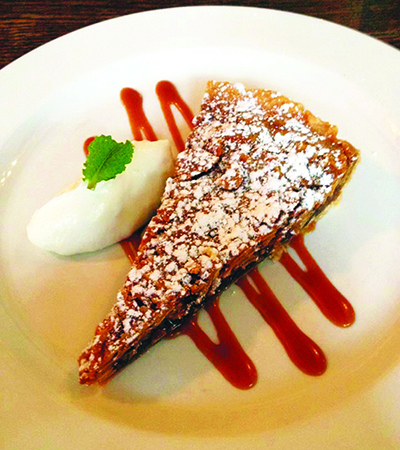 Ingredients: Pate Sablee
4 ounces confectioners' sugar
8 ½ ounces all-purpose flour
Pinch of salt
4 ½ ounces butter, chopped into small cubes
1 egg
Method
1. In the bowl of an electric mixer (such as a Kitchenaid) fitted with the paddle, combine the confectioners' sugar, flour, salt, butter, and egg.
2. Form the dough into a ball and refrigerate for at least 1 hour.
3. Roll out the dough 1/8-inch thick to fit a 10-inch tart shell mold.
4. Fit the dough into the tart mold and freeze for 1 hour before baking.
5. Bake the tart shell in a preheated 325 F. oven for 15 minutes, or until the crust is golden, and reserve it.
Ingredients: Ginger Almond Filling
1 pound light brown sugar
1 cup blanched sliced almonds
3 tablespoons heavy cream
1 tablespoon grated fresh gingerroot
6 ounces unsalted butter
4 large egg yolks
Confectioners' sugar for dusting the top of the tart
Unsweetened whipped cream
Method
1. In a saucepan, combine the brown sugar, almonds, cream, grated gingerroot, and butter.
2. Cook the mixture over moderate heat, stirring constantly with a wooden spoon, until liquefied but not too hot.
3. Rapidly stir in the egg yolks.
4. Pour the mixture into the reserved tart shell and bake in preheated 240 F. oven for 45 minutes to 1 hour, or until semi-firm and the top looks shiny.
5. Remove the tart and let cool for at least 3 hours before unmolding.
Plating
1. Sprinkle the tart with the confectioners' sugar and slice it into 8 pieces.
2. Serve each slice with the unsweetened whipped cream.