Oheka Castle Restaurant N.Y. Steak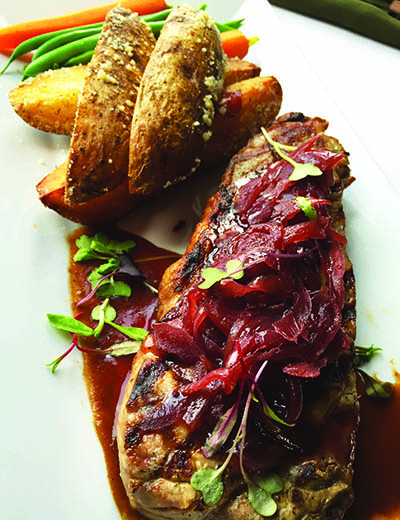 Ingredients
1 16-ounce Allen Brothers shell steak
4 ounces fresh asparagus, blanched
4 ounces steak fries
1/2 ounce port wine shallots
1 tablespoon red wine reduction
Salt and pepper to taste
1 teaspoon grated parmesan
1 baked potato cooked and cooled for 2 hours in refrigerator
Ingredients: Port Wine Shallots
6 large shallots, thinly sliced
2 cups port wine
2 ounces brown sugar
1/2 teaspoon roasted garlic
Salt and pepper to taste
Method
1. Place all ingredients in small saucepan over medium heat.
2. Reduce until liquid becomes like syrup.
Method: Steak and sides
1. Season both sides of steak with salt and pepper.
2. Sear steak on both sides under broiler.
3. Remove from broiler and place in 450-degree oven until desired temperature.
4. Remove and let rest 2 minutes.
5. Remove potato from refrigerator. Cut into 6 steak fries and fry at 350 until golden brown, season with salt and pepper and Parmesan cheese.
6. Season asparagus with olive oil and salt and pepper, place under broiler until done.
7. Plate steak with shallots and drizzle of red wine reduction.
8. Stack steak fries, then asparagus.