Scrimshaw Chicken Dumplings
Yield: About 48 dumplings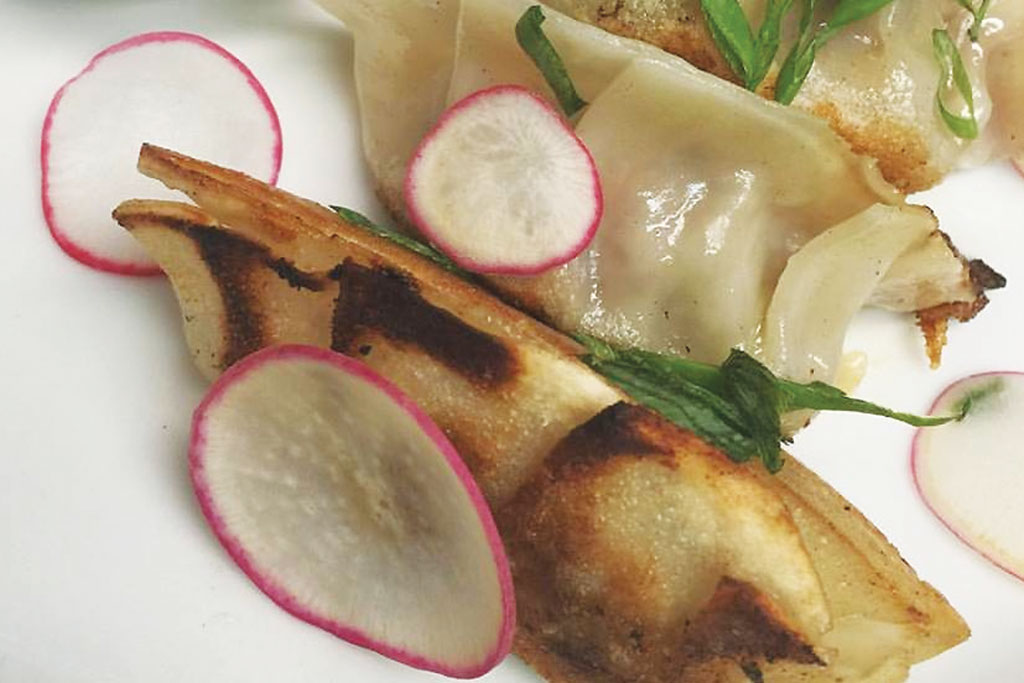 Ingredients
1 pound ground chicken
½ cup water chestnuts, coarsely chopped
2 tablespoons thin soy sauce, such as Kikkoman
1 to 2 teaspoons hoisin sauce
2 tablespoons cornstarch
1 teaspoon salt
½ teaspoon freshly ground black pepper
1 tablespoon Asian sesame oil
1/2 cup coarsely chopped cilantro leaves
2 to 4 tablespoons of oil
1 package thin round dumpling wrappers (thin yellow dumpling wrappers from Chinatown store are best; white wrappers from most supermarkets will do in a pinch).
Equipment
14-inch Wok and 10-inch bamboo steamer baskets
Method
1. In a bowl, combine the chicken, water chestnuts, soy sauce, hoisin sauce, cornstarch, and salt and pepper. Mix to blend well.
2. Add the sesame oil and chopped cilantro leaves, mixing again to blend.
3. On a clean work surface, lay out six to a dozen dumpling wrappers.
4. Lightly wet the edge of the circle with water.
5. Place 1 teaspoon of the filling in the center of each circle.
6. Lift up half of the circle and pleat the edge with your thumb.
7. Lift up the flat edge and press to seal forming a crescent-shaped dumpling.
8. Work with the dumpling on the work surface so the bottom will be flat.
9. Continue until all dumplings are formed.
10. Place formed dumplings on an oiled plate to grease the bottoms.
11. Fill a wok with enough water to touch the bottom of the steamer basket.
12. Place dumplings in the steamer basket, being careful they do not touch.
13. Baskets may be stacked. Cover and steam for about 7 to 10 minutes, until the skins are translucent and the dumplings firm. Do not over steam.
14. Serve with a simple dip of soy sauce and vinegar or lemon juice, and/or hot sauce, such as Sriracha.