[I]n 1978, several airlines began rewarding their full-fare coach passengers with perks, primarily convenient seats at the front of the economy-class cabin. At the time, with shinier new planes entering the market, it had made sense that the customers paying more for their fares should have their own dedicated space, and, consequentially, the business-class cabin was conceived. Airlines like British Airways, Pan Am, Air France, and Qantas were the first to introduce the three-class cabin and, today, business class is the most sought-after section for obvious reasons: the perks. Comfort and service make a world of difference, especially when traveling on long-haul flights. Formerly cradled seats have evolved into the fully flat bed, take-away amenity kits now offer luxurious spa products, celebrity chefs are designing the in-flight dining menu, and business-class cabins tout seat-back entertainment (rather than a shared monitor) on generously-sized, personal screens.
According to the New York Times, carriers vie for the attention of these passengers who have money or corporate accounts that pay for their travel. While travelers in business class represent approximately ten percent of long-haul seats globally, they account for the most revenue for airlines. Thus, every airline is bending over backwards to produce the perfect cabin. Ultimately, booked passengers are rewarded with spacious seats, plenty of overhead compartments, contemporary design, back-bending service…anything that will contribute to a memorable in-flight experience.
"The two main things that make a business-class cabin memorable and worth it is service and seats," says Eric Rosen, contributor to the gay-owned The Points Guy (the authority on frequent flier miles and business- and first-class cabin reviews). Eric clocks roughly 100,000 business-class miles annually and mostly looks for privacy, personal space, and, of course, a bed that reclines fully flat. "I like personalized service where I'm greeted by name and my water or wine glass doesn't go empty on the flight. That makes a business-class cabin exceptional."
Business-class cabins are in such demand that first-class cabins (though getting more opulent) continue to shrink to make room for the middle section of the plane. Profitability is simply better here. Some airlines are even getting rid of first class (or merging the two) as first- and business-class cabins are getting more indistinguishable.
George Hobica, airline expert and founder of AirfareWatchDog.com, says: "Business class is filled with workers whose companies still allow business-class travel on long-haul flights. First class is increasingly for entrepreneurs and movie and rock stars." George also points out business class is no longer five or six times the cost of the lowest fares. "In many cases, fares are coming down closer to what economy or premium economy costs. It's still not cheap, but on a recent search of NYC to London, I saw $2,399 round-trip fares compared to $800 in economy and $1,500 in in premium economy." Needless to say, business class is increasingly economical (thanks to the competitive market) and unarguably the best place to sit back, relax and enjoy the flight.
But not all business class cabins are created equal, and some airlines pull out the red carpet (often, literally) for these passengers, and many are known to exceed expectations and go the extra mile with service. Airlines like Singapore, Emirates, and JetBlue (Mint class, domestic) have set a high bar for their features, though competitive airlines are equally impressive and quickly becoming the better option for long-haul flights. Having racked up distinguished awards and accolades, these airlines aim high to please with their business-class cabins, and passengers will be utterly spoiled at a comfortable cruising altitude in the skies.
AIR FRANCE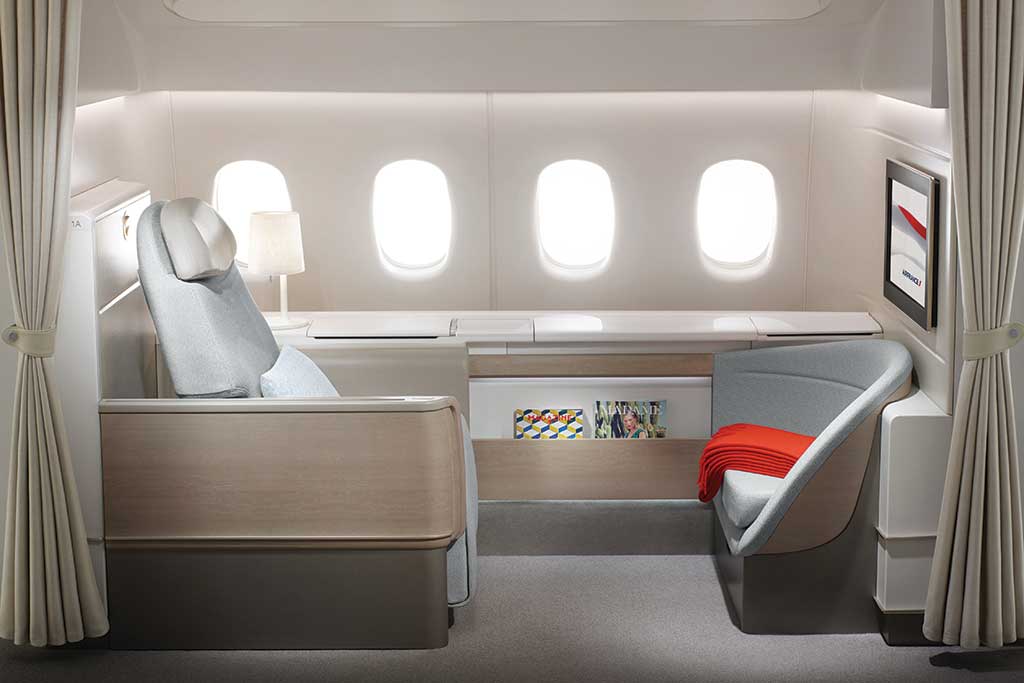 Fashion-forward, progressive-thinking, and oh-so French, Air France has been building a better business-class experience for its US passengers with its Boeing 777. Amenities have been amped, service tweaked, and cabins reimagined, proving Air France is a force to be reckoned with when flying to Europe. Passengers, especially departing New York, Los Angeles, and Washington D.C., are the first to experience the new business class designed around a concept of three Fs: Full flat (180 horizontal bed), Full access (direct aisle access for all seats), and Full privacy (cocoon-shaped pods).
The new cocoon seating is intimate with graceful curves that quickly envelop the passenger. The innovative cocoon adapts to the shape of each individual, from the seating position to the lie-flat bed. Sleeping here is a dream with the seat's soft foam, duvet, XXL-sized feather-down pillow and faux leather upholstered headboard, that allows the passenger to feel right at home (or at a swank hotel). Storage and work tables are practical, amenity kits include high-end Clarins products, and new lighting options improve ambience. Entertainment options are endless: the 16-inch touch-screen dis- plays offer more than 1,000 hours of programming.
What truly stands out is the in-flight dining. Air France business-class passengers are treated to elegant meals designed by star chefs like Joel Robochon, Regis Marcon, Guy Martin, and Anne-Sophie Pic, concluding that Air France features the most Michelin-rated chefs in the sky than any other airline. www.airfrance.com
ALL NIPPON AIRWAYS
All Nippon Airways (ANA) was formerly an underdog compare to the top Asia carriers. In the past few years however, the Japan-based airline has been ranking high on Best Airlines lists (it was awarded a five-star airline ranking from Skytrax the past three years, the first for a Japan carrier, and the highest achievable mark). It offers less US hubs than other competitive airlines, but the business-class experience is quite exceptional, especially aboard its signature B777-300 aircraft.
The seats are arranged in a 1-2-1 configuration, so every passenger has direct aisle access (those with window seats have a whole world of privacy). The well-designed pod seats are an innovation that only the Japanese could create. Each spacious seat (44″ pitch, 19.4″ width) is fully lie flat, there is a side table and a sliding seat table, three lights (reading, foot, and dining), a seat control panel, shoe compartment, a Do Not Disturb button, and a sleek 17-inch LCD touch-sensitive wide-screen panel for in-flight movies. Rather than socks, passengers receive slippers, and fun and quirky amenities like mouthwash in a pouch and moisture-control face masks all make it a truly Japanese experience. ANA proves comfort is their number-one priority for passengers: every seat includes the Nishikawa Sangyo Air Cyclone, a three-layer padded structure that allows comfort and tons of flexibility for improved sleeping.
In-flight dining is a major treat as the airline consults with 26 connoisseur chefs (including Pierre Gagnaire and Toru Okuda). The delicious meals are like works of art in that traditional Japanese way, and passengers delight in Ippudo "soraton" (pork broth ramen); Ippudo is the first ramen shop to be continuously listed in Michelin and Zagat guides.
The staff is incredibly sharp and attentive, flights are seamless and fun, and passengers get a taste of Japan before they land. Even the bathrooms are equipped with the ever-famous, high-end electronic toilet. Now, that's true customer-driven pampering. www.ana.co.jp
AMERICAN AIRLINES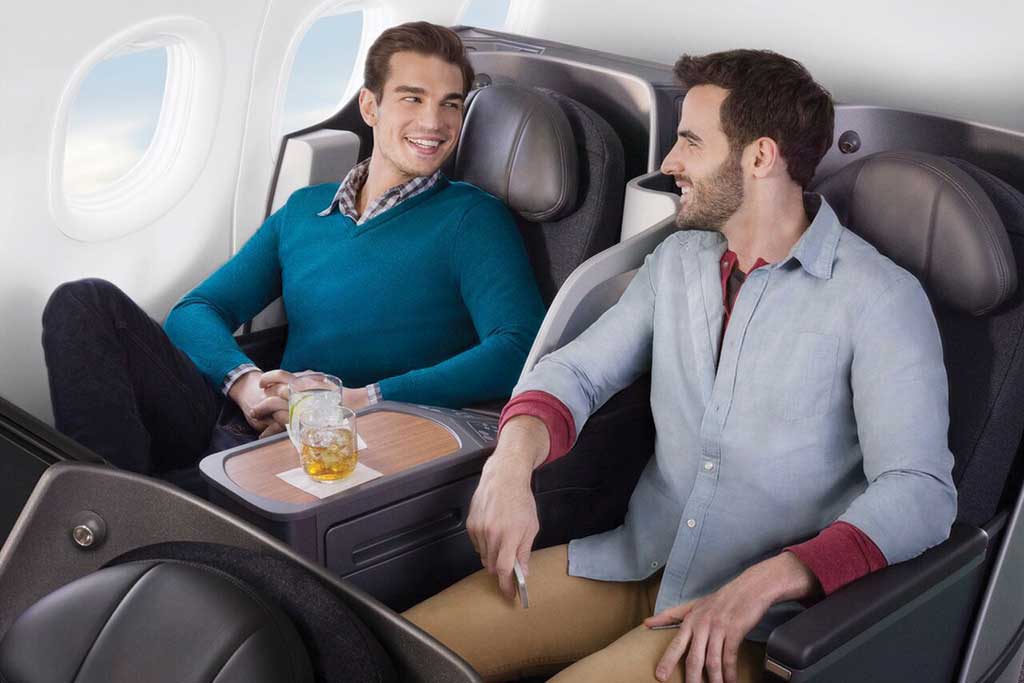 US-based airlines have never ranked among the best international business- class carriers. The reasons are obvious: older planes, unimaginative amenities, tedious design, mediocre meals, indifferent flight attendants, and cramped quarters. We're not venting: it's reality. In fact, some US-based airlines are still stuck in the 2000s, with business-class seats that only recline at 180 degree on international, long-haul flights.
All this is quickly changing in order to appease the business-class passenger. Several major airlines are addressing relevant issues that prohibit them from soaring with A-list airlines, and leading the pack is American Airlines. It recently invested $2 billion to enhance the customer experience. For instance, the airline is introducing 75 new main- line aircrafts this year, major hubs now offer the award-winning A321 business-class seats (the best domestic business class in the skies), and several American hubs are getting important facelifts and routes, including Los Angeles International Airport, which began flying direct to major cities like Sydney and Mexico City.
American Airlines made a dramatic upgrade to their business class, having introduced a new generation of cabins with notable design, improved seats, and entertainment upgrades on all 767-300s and 777s. Passengers can expect exciting amenity kits, in-seat entertainment (whether seatback or portable screens), and more flat-bed seats. The Boeing 777-300ER has made waves for frequent fliers. The sleek flagship international aircraft rivals several international carriers with direct aisle access from every fully lie-flat seat, Wi-Fi capability, and upgraded meals. Business class has become the preferred cabin for travelers to key hubs like São Paulo and London, and even offers domestic love on routes between JFK and LAX, and LAX and Dallas. www.aa.com
BRITISH AIRWAYS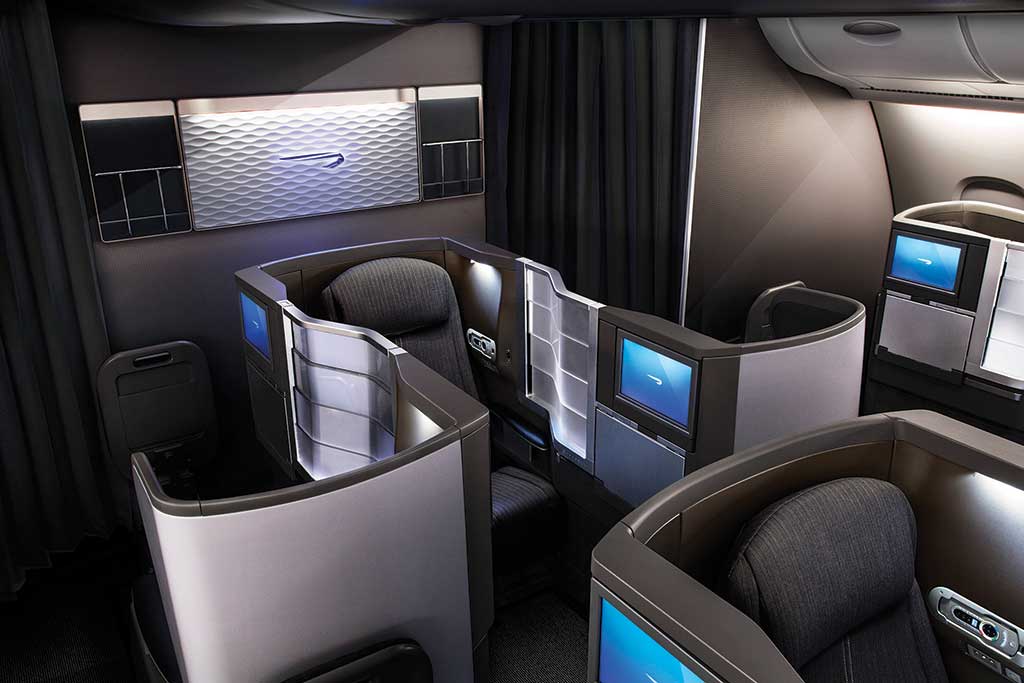 Flight junkies will remember when Airbus introduced the new A380 to the world. It was globally hyped for setting new standards on planes as the largest passenger airliner with two decks (approximately 450 seats), advanced design, and a progressive flying experience. British Airways made major noise when it launched inaugural A380 flights, including LAX to London Heathrow "Red Carpet Route" when several celebrities like Jessica Chastain were quick to board.
But British Airways has long served as a pioneer in the industry, and the airline has always been a step ahead when designing the business-class experience. Most frequent fliers are familiar with the excellent Club World lounges, where British Airways offers thoughtful amenities like spa treatments and full-service restaurants rather than food stations. Traditional British hospitality leaves passengers feeling like British royalty, and the business-class cabins are as posh as they come.
All seats are equipped with screen sliding dividers for more privacy, a BA trademark, and fully lie-flat seats are equipped with adjoining footrests. The Elemis-filled amenity kit moonlights as a shoe bag, and the Thales in-flight entertainment comprises one of the largest selections in the sky. "Business" class feels more apt here: most passengers are dressed to the nines, though it doesn't feel as stuffy as you would assume for a business-class section. In fact, it's one of the best cabins for people watching, where a modern rock star in T-shirt and jeans could be sitting next to an affluent business owner in a Gucci suit. Diversity is a highlight, and the service truly exceeds expectations with the wizardly staff. Communicative and fashionable flight attendants are often the most memorable part of the journey. www.britishairways.com