CATHAY PACIFIC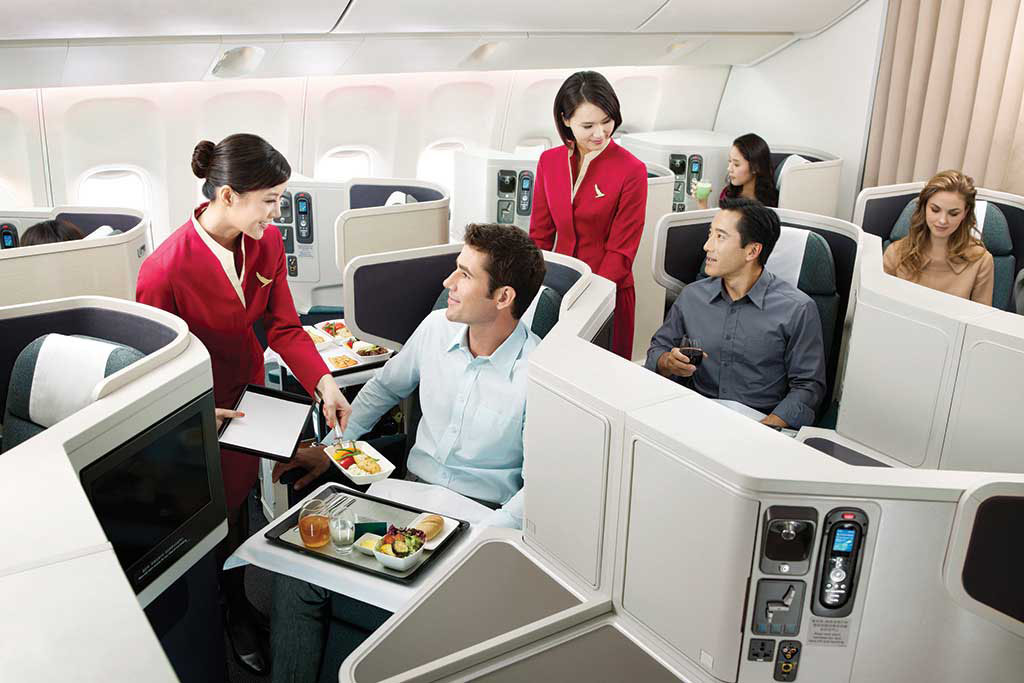 Business-class flights aboard Cathay Pacific from the United States to Asia are often double the average fare yet still almost sold out, a transparent indication this is one of the most sought-after business-class cabins across the Pacific. Cathay Pacific is one of the best airlines in the world, period. It's unanimously voted as one of the top airlines by critics, and with good reason: you simply can't duplicate service and comfort on the award-winning Boeing 777-300ERs and Airbus A330-300s.
Upon check-in, passengers get a taste of the luxury that awaits in Cathay Pacific airport lounges that offer memorable dining, a vast selection of glossy magazines, work stations, and even showers. It's not until you board your flight, however, that you truly appreciate the hospitality and unparalleled service from the efficient flight attendants.
The business-class cabin is almost as large as the coach class section, considering the demand. Each high-design "pod" has increased privacy with reverse herringbone-configured seats, not typical for many competing aircrafts. They are also equipped with precision toggles to adjust the seat position for mood and posture. Those who are looking for truly uninterrupted sleep on overnight flights rest assured with seats that recline into a fully flat bed that's 82 inches long, one of the most spacious in the skies. It also includes a bed extension that increases its width to provide additional hip support. With such comfy seats, you may not need the fashionable eye mask and earplugs.
Passengers rejoice with the award-winning StudioCX entertainment system on the 15.4-inch touch-screen personal TV, including hundreds of hours of entertainment, including foreign media. Of course, nothing truly completes the experience like the excellent din- ing choices. Cathay Pacific is the only airline to offer freshly squeezed orange juice (no concentrate), and the menus comprise local Hong Kong and Western options. Even between set meals, passengers can order hot noodle soup that rivals some of your favorite noodle shops on ground. Waking up refreshed is an overstatement, and there's no other airline that scores a "breakfast in bed" hit like Cathay Pacific. www.cathaypacific.com
QATAR AIRWAYS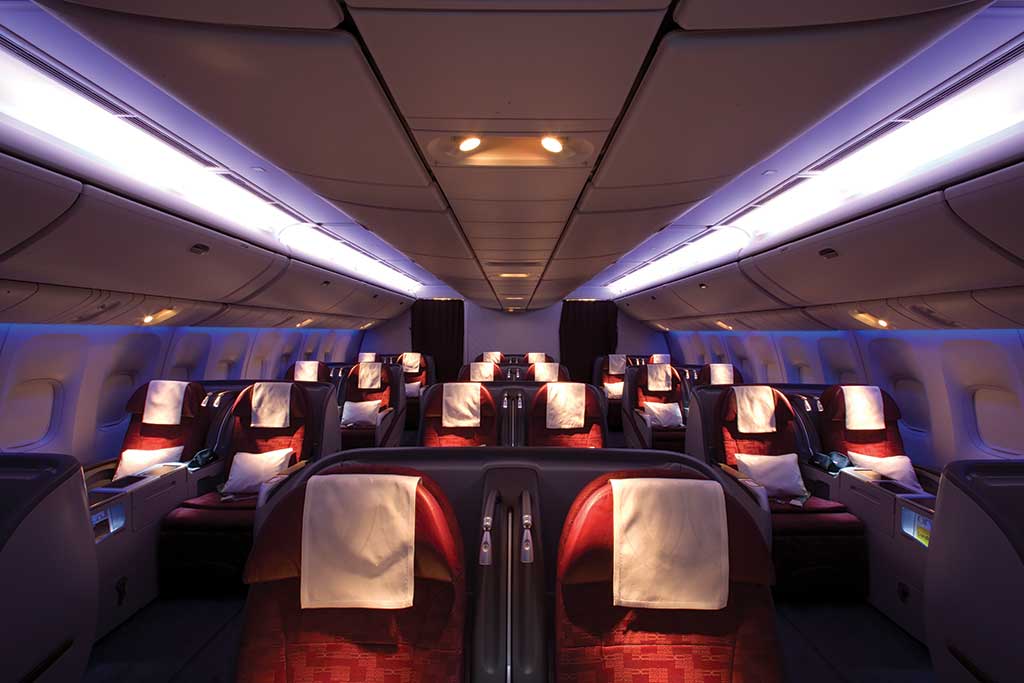 Business class aboard Qatar Airways, based out of Doha, almost feels like being upgraded to a lavish hotel suite. Founded in 1993, it's one of the youngest international airlines in the world. This works in the airline's favor as their fleet is also very young (average age is less than five years), mean- ing passengers are treated to newer, more advanced planes like the Airbus A330, Boeing 777-300 and Boeing 787 Dreamliners—even flying coach is a treat! There is no wonder Qatar Airways is regarded as the best airline for business-class passengers (the cabin was awarded World's Best Business Class by Skytrax in 2013 and 2014).
The business-class cabins are elegant and refined, with a touch of warmth and personality so soulful you wish you could buy it bottled up in a duty-free catalog. The airline features some of the most spacious seats in the industry. In fact, that's become one of the airline's claim to fames. The 777-300ER, equipped with its own boarding zone, has a 2-2-2 seat configuration that's staggered out to leave plenty of room to stretch. Despite the sheer size, it's still quite intimate. When passengers are seated, the cabin supervisor makes his rounds to greet every passenger minutes before a flight attendant offers passengers Champagne; you feel more like you're attending a highbrow dinner party rather than a buffet (business vs, coach metaphor, of course).
The friendly flight attendants, a diverse group representing various countries in the world, proceed to offer passengers several goodies in timed intervals (including signature pajamas to keep, a sleep kit, and a Giorgio Armani bag with fragrances and beauty products). If there was anything that felt like Christmas, it's Qatar Airways' business class. All seats are fully lie flat (no angles), with shell-covered armrests, several compartments providing easy storage, BOSE headphones, seat "massage" features, and a terrific entertainment system that includes texting and Emails (without needing Wi-Fi). Locally and internationally inspired menus offer plenty of dining options, and plenty of food, with star chefs like Nobu Matsuhisa as consultants. The comfort level on board Qatar Airways is a rarity in the skies. www.qatarairways.com