[T]he islands of Tahiti and Bora Bora are often used in pop culture to evoke the ultimate dream vacation, combining natural beauty, seclusion, and a sense of opulence. Having recently visited both, along with the islands of Moorea and Tetiaroa (all part of French Polynesia), I can say they live up to the fantasy. Their warm, crystal-blue waters offer views of dolphin pods frolicking while I ride a ferry from one island to another, and lush green vistas cover the tips of extinct volcanoes. No wonder this destination has become the ultimate green getaway, and a choice locale for gay weddings (legalized there in May of 2013, soon after France), honeymoons, and retreats for anyone looking to reconnect with themselves, nature, or their partner.
Yet, because of its own reputation as a tropical paradise, the region also faces a big tourist challenge: how to get guests as close to nature as possible, without damaging it. There are several resorts meeting this challenge in unique ways, prioritizing the environment to different degrees, but all hoping their guests gain some knowledge (and a growing commitment to protecting the natural world) along with their tan lines, without compromis- ing on style or comfort.
For nature-loving travelers looking for a five-star experience, here are some of our favorite French Polynesian escapes.
INTERCONTINENTAL MOOREA RESORT & SPA
"There's a lot of vegetation here, a lot of nature," says Executive Assistant Manager Marion Laporte of the InterContinental on the northwest coast of the island of Moorea.
Easily accessible by plane or catamaran from the Tahitian capital of Papeete, the resort is beautifully nestled between the bright blues of a lagoon and the sweeping greens of forests rising up the mountainous remains of extinct volcanoes. The former can be explored on popular excursions that allow visitors to swim with sting rays and reef sharks and the latter on guided hikes or ATV trips.
"It's a little glimpse into the way Polynesians live, with Western com- fort," says Laporte. In fact, it's here that I first develop an appreciation for the traditional Polynesian sarong, worn by a beefy porter playing a ukulele. Sadly, according to Laporte, the sarong is slowly being overtaken by shorts and casual button downs as the area becomes more Westernized, but I'm in favor of cultural as well as environmental protection.
To help with the latter, the resort's rooms are made from natural materi- als. When I'm brought into my stand-alone bungalow, with a living room, separate bedroom, and private deck that overlooks the lagoon, I marvel at the bamboo floors, the walls covered in woven dried leaves, and the art cre- ated by local artists. In 2013, the InterContinental Moorea became the first resort in French Polynesia to achieve EarthCheck Gold Certification, which is considered the most credible environmental certification program in the tourism industry. Among other things, the resort air dries all its linen, gath- ers rainwater, uses separate systems for potable versus toilet water, has solar-powered carts, and recycles like crazy. "You wouldn't believe the amount of paper used in a hotel," says Laporte.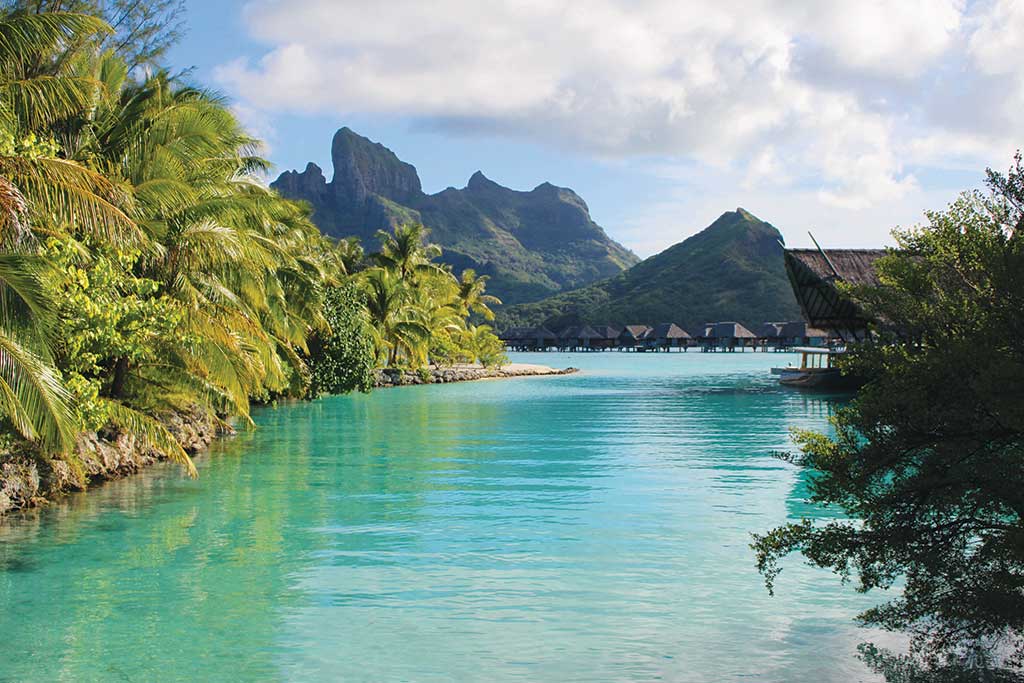 They also have what she describes as "the only authentic Polynesian spa" in French Polynesia. Where many other resorts have aimed for a deluxe feel, the InterContinental Moorea's "Hélène'Spa" has gone for a simpler, almost rustic ambiance, describing itself proudly as a "return to basics." The spa's pride is its traditional "river bath," comprising a stone basin with cooling waters drawn up from an aquifer. "Traditionally, the river bath is used to purify and cool off because it can get so hot outside," explains the spa's marketing director, Megan Cardoso.
For animal enthusiasts the big draw is the Moorea Dolphin Center that provides a home for three bottlenose dolphins. Two of them were born in captivity in Hawaii, and the third is retired from the US navy. The center is run separately from the resort but is conveniently on-site. It's a hit with guests, yet one of its primary goals is teaching French Polynesian children about the importance of the aquatic ecosystems surrounding their islands. The hope is this will help with future conservation efforts.
I've swam with dolphins in both Mexico and Cuba, which was a lot of fun, but the Moorea Dolphin Center offers a unique experience. Where other dolphin excursions focus on Marine Land showmanship, this center remains hands-on and skews toward the educational. So, obviously, I ask about gay dolphins. The center's Animal Director Yann Panheleux takes my question in stride.
"Male dolphins will have sex with other male dolphins, but [the term] gay is anthropomorphic." He's leery of putting human labels on these amazing mammals, and strives to connect with them on their terms as much as possible.