[A]s I ride a tiny twin-engine plane, where my 6'2" frame sits sideways to accommodate my legs, my inner skeptic is at the ready. Yet as jaded as this former hippie and ecology graduate can be, the more I see of the facility, the more impressed I become (and not just because there's a muscle God in a headdress and hula skirt waiting for me on the private air strip).
The Brando was created as part of the late actor Marlon Brando's trust, to fulfill his vision of having a five-star ecologically sound resort on the island, which includes a research station, what they call a "university of the seas," now managed by the Tetiaroa Society.
Brando first came to Tetiaroa while filming Mutiny on the Bounty, and fell in love with the small atoll. He resolved to one day own it, and bought it in 1967. By 1999 he was building partnerships to start making his dream of a "post-carbon resort" a reality.
Of any five-star resort that I've been to, the Brando stands on its own for the way it has combined luxury and sustainability. It's one of two resorts in the world to use deep-sea water air conditioning by drawing cold water from the ocean's depths, (AC usually accounts for about 70% of a resort's electric use), more than four thousand solar panels provide two thirds of their electrical needs, while the rest comes from an electric plant on the atoll, which burns primarily coconut oil (a small amount of fossil fuel is needed to keep the generators going). Water comes from desalination, wastewater is treated then used for irrigation, and rainwater is collected for the toilets. Each villa also has it's own solar hot water system.
If you're a nerd for these kinds of innovations (as I am) a tour of said infrastructure is well worth it. On the other hand, if you just want to sip Mai Tai's at Bob's Bar (built where Brando used to hang out with his drinking buddy Bob) go for it, the drinks are included (and delicious). Still, to really enjoy the full Brando experience one needs a spirit of curiosity, tapping into one's inner naturalist.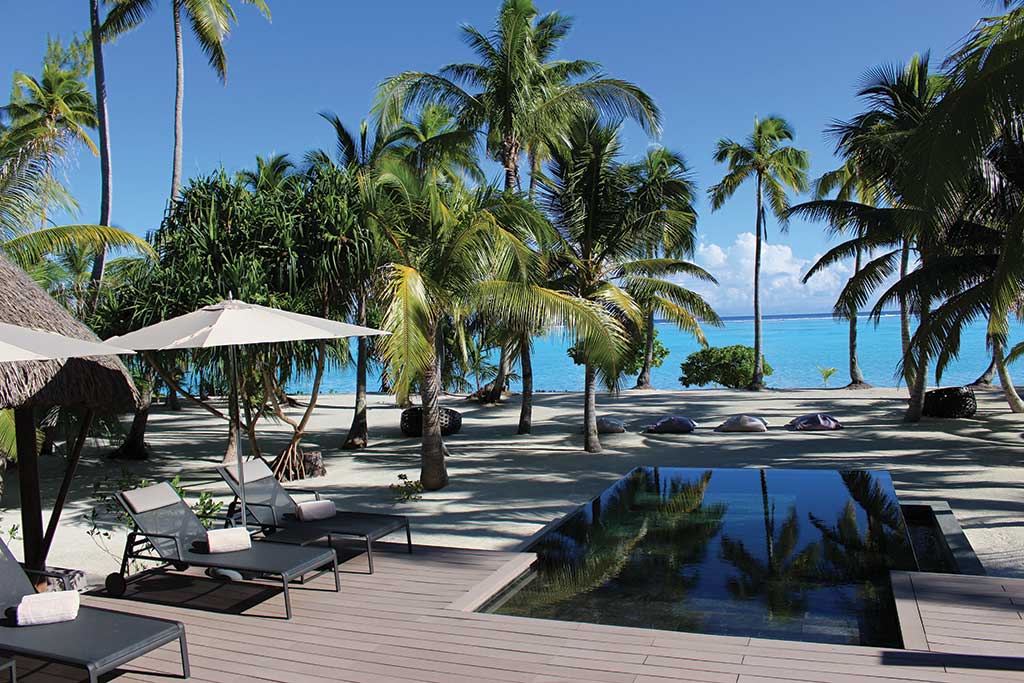 This includes excursions to neighboring (and largely untouched) atolls, snorkeling with triggerfish and small black-tip reef sharks, or just wandering the resort grounds (bikes are provided at each villa), which feels like a well-tended jungle. The most exciting of these experiences begins at the aquatics activity center. As I'm signing out an outrigger to go paddling in the bay, a call comes through that a nest of turtles has just hatched. (Guests can also request wake-up calls for middle of the night hatchings). I'm quickly picked up in an electric car along with other guests and whisked away to an undeveloped part of the island, where we climb over rocks and tread through underbrush to get to the beach where the baby turtles are penned in, awaiting release.
Hannah Stewart, a Canadian and head of the island's research station, explains that most of them won't survive. They're food for basically everything, birds, sharks, and even crabs, which grab their fins as they rush for the ocean and pull them under the sand. Still, there's something inspiring about watching dozens of baby turtles racing for the sea, and yes, I do pick one up to grant it its first selfie. However, the research component that runs along- side the resort goes beyond easy-to-love Disney Pixar moments like this.
"We have a perception to counter," says Stewart, who's leading a research station wed to a five-star hotel, which begs the question, is this just for show? She concedes, "a lot of hotels have scientists on display" with- out a lot of real science to back them up.
At a talk that night I get a taste of what kind of research is taking place while I've been out paddle boarding, drinking fresh banana juice, or getting a traditional Polynesian spa treatment (one treatment per villa per day is included). As part of a condition of doing studies on the island, researchers will do lectures for guests in easy to understand language. Tonight's speaker is Dr. Hervé Bossin, a medical entomologist, here to talk to us about mosquitoes. I can't think of a less-sexy topic, except perhaps rat control (much of French Polynesian is in fact overrun with rats that hitched rides on ships, and the plan for Tetiaroa is to bring in experts who specialize in clearing rat populations from islands).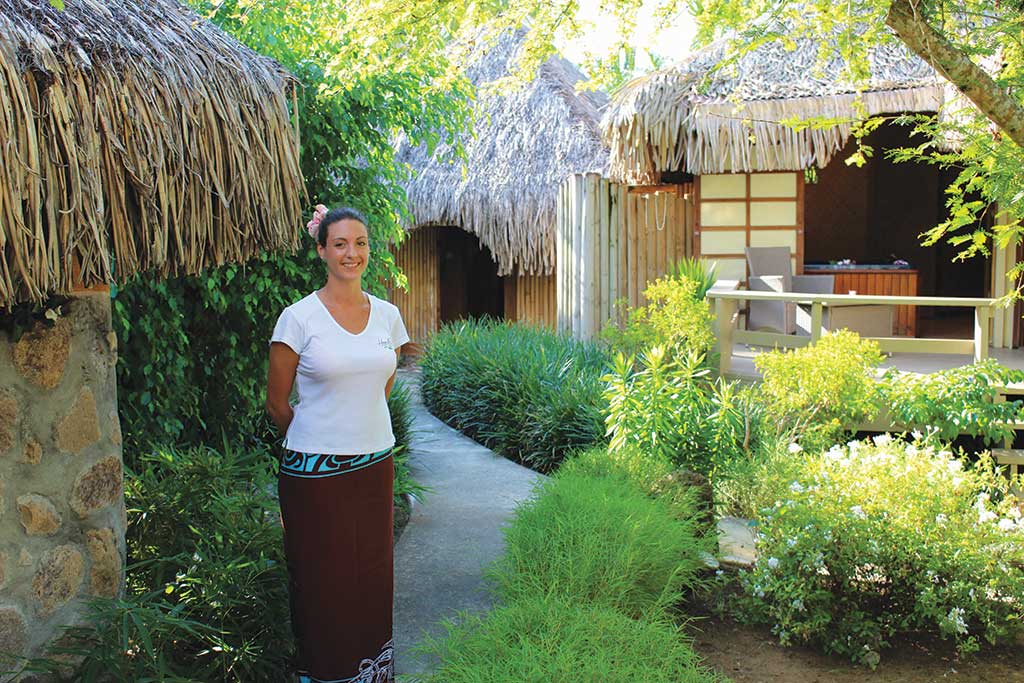 [B]ossin is looking at ways of controlling non-native mosquito populations without the use of pesticides or other harmful chemicals. "This is my passion," he says. "I always liked to play with bugs." As we nosh on baked nuts and other hors d'oeuvres he starts with a slide that boldly proclaims that mosquitoes are the deadliest animals in the world. He points out that 800,000 people die per year because of mosquito-born diseases, compared to 100,000 fatalities from snake bites, and only ten from shark attacks.
His specialization involves sterilizing male mosquitoes, which are then released into the wild. The sterile males mate with females, which then lay non-viable eggs. The results so far have been a significant drop in mosquito populations in the test area. A pair of guests note that they haven't had a single bite since they got here a few days ago. He points to a map, where the control group is located, and assures us, "If you went to this part of the island, you would be bitten."
I'm not sure if pest control is exactly what Marlon Brando had in mind when he envisioned this mix of research and retreat, but I think he'd be proud of his legacy (mosquito sterilization and all). His granddaughter is one of the naturalists who overflows with enthusiasm as she shows us around the various atolls, and I'm told that actor Leonardo DiCaprio was so impressed by his visit to the facility it will provide inspiration for the "restorative" eco-friendly resort he plans to open on his own private island off the coast of Belize.
DiCaprio has a lot to compete with. Every time I return back to my villa at The Brando, I feel like I'm stepping into my dream home. Where some resorts have opted for simplicity, this is the height of designer chic, with a TV that lowers into a cabinet at the touch of a button, a his and hers bathroom that looks like it came out of Modern Home, an outdoor soaker tub, a walkthrough closet/changing area, a private dipping pool, and a secluded beach "backyard" with beanbag chairs and a sheltered eating area where guests can have "room" service.
There's no buffet at The Brando (frankly, it would seem crass), but like the drinks, the food is all-inclusive, so I'm more than stuffed after each meal. For most of my time at the resort, I choose to dine amid the glowing spheres that dot the beach outside the Beachcomber Café. For a more intimate and formal environment there's Les Mutinés, which is surrounded by a moat to make it feel like you're "floating on a lagoon." Both feature the cuisine of two-star Michelin Chef Guy Martin, serving a mix of Polyne- sian, East/West Fusion, and classic French dishes.
For my final breakfast, my server brings a tray to the back of my "home." The meal is simple yet finely made, scrambled eggs, smoked swordfish, fresh papaya and mango, and, my favorite local delight, fresh banana juice with crushed ice.
As I watch the gently lapping waters, and savor the wonderful food, I muse that Brando had it exactly right. "Tetiaroa is the tincture of the South Seas." Tetiaroa Private Island, Tahitio. Tel: +689-40-86-866-300. www.thebrando.com