[T]he rest of the day, I enjoy lounging by the pool, paddle boarding and snorkeling in the lagoon, and then walking up the ten steps from the water to stretch on my hut's back deck as the sun sets. My digestive tract is now perfectly primed for the beach dinner buffet available three times per week.
As I feast on Polynesian pork, lightly seasoned tuna sashimi, banana in coconut milk, and seafood-stuffed pineapple, the musicians start twanging on wooden string instruments and beating their drums. A troupe of athletic men and women dressed in little more than grass skirts and leafy headdresses bound enthusiastically on stage. Their tra- ditional Polynesian dance moves make me think of Beyoncé meets the Karate Kid, combining bootylicious twerking with martial arts, all of it highlighted with primal grunts and shrieks.
The show and food fit the overall tone of the resort—a bit of showmanship and a lot of authenticity. Tihura, Moorea. Tel: +689-40-55- 1900. www.oihg.com
THE FOUR SEASONS BORA BORA
If you're looking for a nature-engorged, yet still chi chi, destination gay wedding, or even some much-needed "me" time, it's tough to compete with Bora Bora's Four Seasons Resort.
From the moment I land, I feel like I'm in heaven. My luggage and I are whisked from the tiny airport onto a shuttle boat that makes me feel like I'm in The Great Gatsby. "It was inspired by the commuter boats of the 1920s, between Long Island and Manhattan," says Marie Perrier, assistant director of catering & conference services.
We speed along the waters of Hitiaa Bay, the wind in my hair and a lei around my neck. As we pass a series of overwater bungalows and dock at the resort, I'm overwhelmed by Mount Otemanu across the aquamarine waters. It will greet me morning, noon, and night for the next two days and is an awe-inspiring backdrop for any wedding ceremony. In fact, the small, on-site chapel is almost all glass, to make full use of the view. As I'm taking a shirtless selfie in front of it, an electric cart drives by with a bride and groom in the back seat. A flower falls from her wedding bouquet, which I rush over to give back to her, basically saving the wedding. For a moment, I imagine what my own Bora Bora nuptials would look like. Obviously, I'd be standing next to Gordie, the hunky fruits and vegetables guy at my local grocery store. We'd opt for paddling a traditional outrigger from shore, to the tiny islet just off the beach, accompanied by Polynesian drummers and a fire dancer.
According to Perrier, one couple went the other direction, with "a catamaran disco party in the middle of the lagoon." In fact, after Mount Otemanu, the lagoon is the resort's most prized natural feature, and used for far more than boogieing to the Village People. It's soothing blue waters encourage guests to interact with nature in unique ways, whether it's meandering the surrounding foot paths and wooden bridges, taking advantage of its consistently calm waters to do a paddle board yoga class, or snorkeling amid colorful fish and coral nurseries.
It wasn't always like this. About six years ago, the resort hired Marine Biologist Oliver Martin to get the lagoon "thriving with life." He says the Four Seasons sees the value of this blue space. During the economic downturn, tourism dropped and a number of gardeners were fired, but they kept him on. And they've "left me to do my work, which has made it successful."
As we snorkel around the lagoon, he gives me a guided tour of his creation, the foundation of which is his "coral nursery." There are square concrete slabs that look like patio stones set underwater along the edges of the lagoon. Steel rods are stuck into holes that have been drilled into the concrete. Bits of coral the size of a finger are grafted to the steel, multicolored tendrils reaching through the water. The coral comes from places where it's dying because of silt or other changing conditions, or pieces that have been broken off by storms. "Adults can help graft coral," he explains, or watch as Martin does it. One corporate group that donated to the resort's coral program asked for grafting kits in their rooms when they came for a retreat. "They'll go back home with a bit of knowledge, some color, and some souvenirs," he says.
But it's the kids who seem to get the most out of the experience. "Kids are like sponges," he says. "They remember 50% of what I tell them. The adults, about 10%."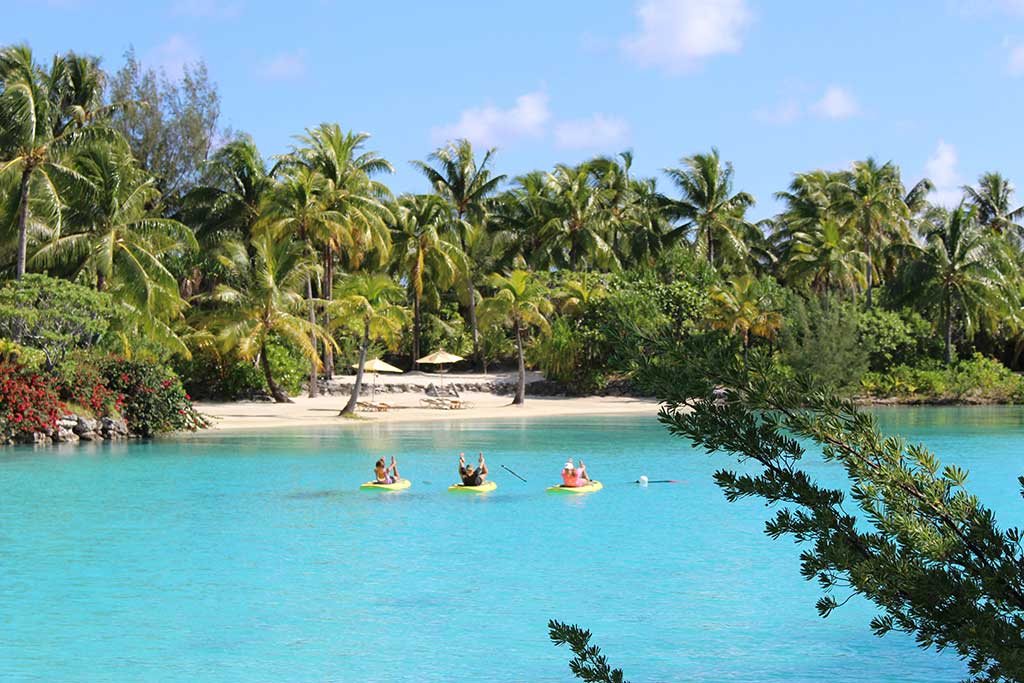 [H]e points out a school of fish, swathes of bright yellow that make a pair of snorkeling guests squeal in delight. "Fish take sanctuary in the lagoon until they get bigger," he explains, "Then they leave because the food is limited."
He dives down a few feet and picks up a sea cucumber, placing it gently in my hands. It's spongy to the touch. "I don't mind people interacting with the animals or touching coral [carefully, in the lagoon] because it's small scale," he explains. However, he admits it's an artificially created environment. It wouldn't survive without him. A few years ago, there was a storm that covered the lagoon with silt. If he hadn't been there to brush it off, all the coral would've died.
For a taste of the region's raw natural beauty, he says the true gem is just beyond the resort's spa and gym, that overlooks the ocean. In September, you can whale watch from the elliptical machine.
I put on a pair of running shoes and head to the shoreline. There I see and hear the ocean crashing over the reef. I wander among rough stretches of petrified coral where water meets land. The resort is hidden behind trees, and it's easy to imagine being a castaway. As Martin tells me, "you can walk for half an hour and the land is untouched."
There's numerous other options for exploring nature in this tropical para- dise. The adventurous can rent jet skis as part of a guided tour, or be taken around by catamaran or high-speed motorboat. On the resort itself there's out- door yoga by the lagoon, paddle boarding, or as I opt to do, soaking for a cou- ple of hours in the spa's hot tub staring out over the lagoon's clear waters. The spa is designed like a cathedral, with high-vaulted ceilings made from sandalwood and filled with local art depicting the island's natural beauty. Specialty treatments include volcanic stone massage, and a French Polynesian massage that involves flowing, full body strokes inspired by the ocean's waves.
That night I have the option of haute French cuisine on the beach, or the more laid-back Sunset Bar, with its choice of Asian inspired delicacies. I go for the latter because it really is a fantastic place to watch the sun go down. As a musician plays an array of Western hits, I watch the sun blaze orange across the horizon, eating some of the most tender beef I've ever had, with curry and lime vegetables. I stare at the resort's tiny islet with its single palm tree in the foreground. It's almost too perfect to be real.
I could easily end my evening there, but as I walk along the wooden over-the-water walkway towards my bungalow, I enjoy the warm evening breeze, stepping aside for those guests who prefer to be taken back to their accommodations by electric cart. Inside my own bungalow I take a moment to appreciate the entirely wooden interiors that maintain a thoroughly crisp and modern design.
All rooms are equipped with water-saving technology and LED lamps, waste water is treated and used in local irrigation, and the resort is current- ly installing solar panels that will generate 20% of their electricity.
I slide open the double doors from the living room onto the private deck. There's a box with flippers and mask. Tomorrow, I will climb down the lad- der to snorkel right from my bungalow, but tonight I walk through into the washroom and slide apart another set of doors right above the huge stone col- ored tub. It's so open I might as well be outside. I fill it with hot water and a dissolving puck of essential oils, soaking in it as the ocean breeze caresses my skin. It's with regret that I finally crawl into the queen-sized bed on the other side of the walkthrough washroom, because I don't want this perfect night to end. Motu Tehtuo. Tel: +689-40-60-3130. www.fourseasons.com
THE BRANDO, TETIAROA ISLAND
"All things are possible at the Brando," I hear this from the desk staff at another hotel after I tell him I'll be headed to the secluded (and exclusive) Brando Resort. Barely eight months old when I go, it's already achieved mythic status in French Polynesia's tourist industry, where some speak of it as if it were a promised land they could never hope to visit, and others lift their noses, as if nowhere could live up to such hype.