Baron's Cove Long Island Duck Breast with Black Cherry Quinoa & Steamed Spinach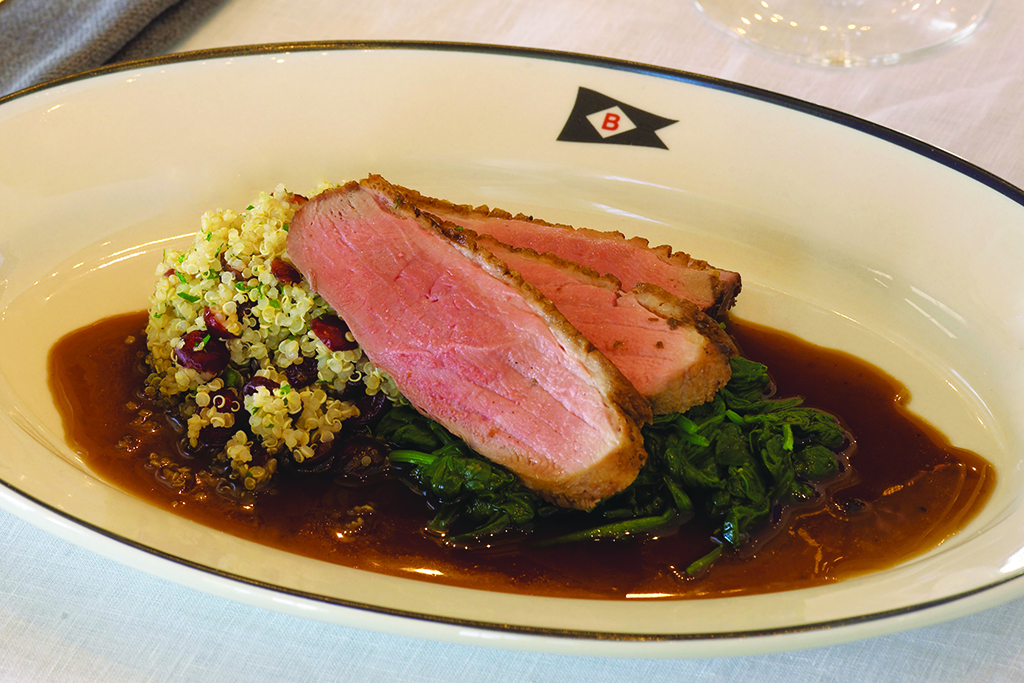 Ingredients: Duck
4 8-ounce duck breasts from Crescent Farms (fat trimmed and scored)
Canola oil
Kosher salt and black pepper
Method
1. Render duck on fat side for 20 minutes, medium heat.
2. Set aside, rest for 10 minutes before serving.
Ingredients: Black Cherry Quinoa & Steamed Spinach
1 cup quinoa
4 ounces black cherries
1 ounce brandy
2 shallots, finely diced
1 lemon
10 springs parsley
Baby spinach
Method
1. Boil quinoa in 4 quarts of water for 15 minutes until grain breaks. Treat like pasta while letting it cool off slightly.
2. Bloom dried black cherries in warm brandy for 12 minutes. Reserve liquid for mixing into quinoa.
3. Mince shallots into fine dice, zest lemon and chop parsley.
4. Mix all with quinoa and some of the cherry brandy.
5. Salt and pepper to taste.
6. Steam baby spinach. Add salt and squeeze of lemon juice.
Plating
Place quinoa and spinach, top with duck breast sliced at a bias.