Garden City Hotel Polo Steakhouse Crab Cakes with Dill Yogurt Sauce and Sriracha Aioli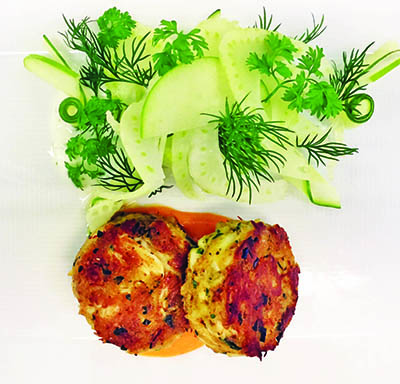 Ingredients: Crab Cakes
2 pounds super lump crab meat
½ cup fresh white bread crumbs, fine
1 cup panko
Ingredients: Base
¼ cup chervil, chopped
¼ cup tarragon, chopped
½ cup thyme, chopped
1/8 cup Worcestershire sauce
¼ cup Old Bay Seasoning
¼ cup Dijon mustard
1 teaspoon white pepper, ground
15 whole eggs, mixed well
2/3 gallon mayonnaise
Method
1. In a bowl mix all base ingredients, taste and season.
2. Drain crab meat, place crab in bowl.
3. Add soft white bread crumbs, fold softly with rubber spatula to retain lump meat.
4. Grind panko fine, sift lightly on each side prior to pan searing.
5. Cook for 10 minutes in oven.
6. Serve when hot.
Ingredients: Dill Yogurt Sauce
3 cups plain yogurt
3 tablespoon dill, chopped
1 tablespoon tarragon, chopped
1 each lime juice
Salt and white pepper to taste
Method
1. In a mixing bowl, combine all ingredients and whisk until fully incorporated.
2. Check seasoning.
Ingredients: Sriracha Aioli
4 egg yolks
1.5 teaspoon Dijon mustard
Lemon juice
2 cups blended oil
½ cup Sriracha
Method
1. In a large mixing bowl, gently whisk together yolks, Dijon mustard, and lemon juice until fully incorporated.
2. While whisking, slowly add blended oil until aioli is fully emulsified and has a thick smooth texture. This step may require a little extra oil.
3. Whisk Sriracha into aioli, until fully incorporated.
4. Season with salt and pepper.