Just a short drive north of San Francisco is Sonoma County, a vast and diverse landscape that includes everything from vineyards to redwoods, from pounding surf to leafy plazas. Every little town has its own character, from the laid-back LGBT environs of Russian River towns like Guerneville to tony Healdsburg, hippie-ish Sebastopol, artsy/agricultural Petaluma, and historic Sonoma, and the land between them is as powerfully beautiful and unimaginably varied as the towns. I'm warning you ahead of time, I'm going to be waxing poetic before this story is over, because that's the kind of feeling Sonoma County gives rise to: it's a poetic kind of place.
Well that all sounds amazing, I hear you saying, but how do you actually get there, and what's there once you arrive? The scenic route is Highway 1, one of the most beautiful coastal roads in the world. As soon as you cross the Golden Gate Bridge from San Francisco, the scenery begins to get spectacular, and as it twists and turns along the coast, it's pretty sublime (though not exactly quick). This time, though, I head straight up Highway 101, saving the delights of the coast for later, and within forty-five minutes I'm in Petaluma, the nearest Sonoma County town.
PETALUMA
I love Petaluma's combination of chic and agricultural – there may be stores with names like Earth Song or boutiques offering aromatherapy candles, but one of the biggest events in town is "Butter and Egg Days." Since it's so close to San Francisco, it has long attracted artists and craftspeople who want the studio space but don't want to pay city prices. This has brought an artsy air to a town founded on poultry (you'll still see Petaluma chicken on many menus), and once you've left the city on your Sonoma County adventure, it's a perfect starting point and a charming place to while away an afternoon and get in the mellow Sonoma mood.
I walk along the Petaluma River and stroll among late nineteenth/early twentieth century architecture. I visit Vintage Bank Antiques, three floors packed to the gills with temptations in the gorgeous 1920s American Trust Building, where I almost buy a rustic 19th century grain bin (how on earth would I get that home?). Around the corner in Sienna Antiques, I'm tempted by a nine-foot needlepoint panel with dragons and flowers, and a 1920s French puppet set. I have coffee served by the friendliest staff in creation in Acre Coffee before stopping in one of my favorite little eateries, Petaluma Pie Company, where you can get pies from a lunchtime mushroom/goat gouda to such sweet treats as dark chocolate/tart cherry. Want a sit-down meal? Check out Graffiti, set right on the river and offering a laid-back contemporary elegance and creative cuisine. As I leave the restaurant and head down 4th Street, a sudden gust of wind rustles some wind chimes outside a store into pleasant cacophony. Before long, the street corner is filled with people watching and listening as the chimes clang, like it's a major event. That's all I need to know about Petaluma.
GUERNEVILLE AND THE RUSSIAN RIVER
I can't linger too long, though, as I'm headed to heaven on earth: the Russian River resort area. Since the 1970s, Russian River is one of the grand old LGBT resort areas in the country, on a par with Fire Island or Rehoboth Beach. As I drive along wooded River Road, a feeling overtakes me as it always does: I'm headed to Russian River! Here in Guerneville and surrounding towns, there's a laid-back quality to the beauty, a take-you-as-you-are feeling that makes it my favorite LGBT resort destination.
I'm trying something new on this trip, and rather than staying in a hotel, I've booked a house through Russian River Getaways. To put it simply: they're a great company, and I don't hesitate to recommend them. They have houses of all sizes, in all price ranges, and if you have a few couples venturing to Russian River together, you're actually paying much less than you would in a hotel for unrivalled privacy and truly wonderful quarters. I'm in this amazing house with large, airy living room/dining room, fireplace for cool nights, and a wall of windows overlooking the Russian River. Bedrooms are large, well-appointed, and comfy, the kitchen better than anything I have at home, and the deck boasts a grill, hot tub, and incredible views all the way down the river (there's also a private dock and boat). The house's name? Not surprisingly, it's "Paradise." Thank you, Russian River Getaways.
If you want the amenities of a hotel, check out Highlands Resort, which Ken and Lynette McLean have run for twenty years. It's a typically Russian River story, this straight couple running an LGBT resort for decades, with its sweet little cabins and clothing-optional pool. Says Lynette in between bites of her homemade granola, "We just started comparing every other place to here. Everywhere else came up short." It is, in fact, a pretty perfect location, a woodsy setting that takes you by the hand and says "you're going to relax now, aren't you?"
Guerneville has the comfort of a long-established mecca, whether you visit for Women's Weekend in May, Pride Weekend in June, or late July/early August's Lazy Bear Weekend. Or just come whenever you feel the need for some beauty and a lot of fun. While the LGBT roots are unmistakable, and locals estimate that half of Guerneville's 5000 or so residents are LGBT, the area has recently been "discovered" by a young, hip crowd, bringing a feeling of resurgence. While I'll always make time for such down-home spots as funky little coffeeshop Coffee Bazaar, now there's actually beginning to be a Russian River dining scene, thanks to such restaurants as out chef/proprietor Crista Luedtke's Boon Eat + Drink, where the emphasis on fresh, local food from flash-fried brussel sprouts to seared local duck keeps the dozen or so tables packed. Even tiny Forestville down the road boasts a restaurant as spectacularly cozy as Backyard, where chef Daniel Kedan dishes up "comfort food plus" in a lovely country house atmosphere. Not to be missed: their amazing version of chicken pot pie, topped with tiny buttermilk biscuits, and the chocolate budino, with a surprising hint of salted caramel. Great food, great ambience.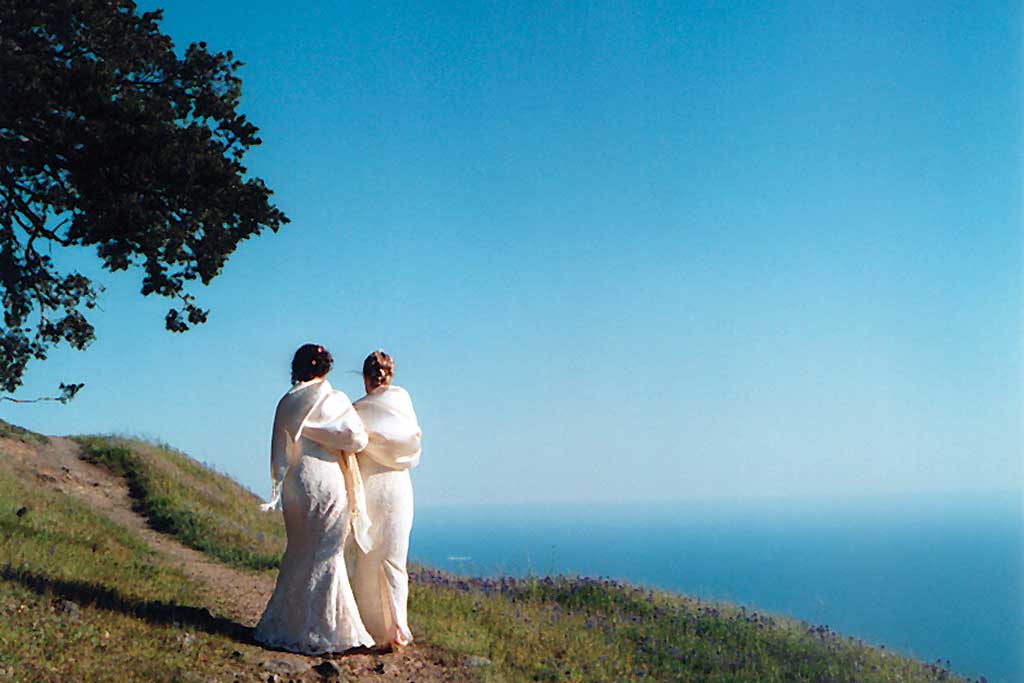 What gay nightlife exists in Sonoma County is in Guerneville: namely, Rainbow Cattle Company, which seems unchanged every time I visit: pool table, laid-back staff, and mainly male crowd whose age tilts upwards of forty. While you're on a nightlife prowl (I use the term loosely), stop in El Barrio, a tequila bar recently opened by the owner of Boon, whose evocative southwestern décor and mind-boggling assortment of tequilas draws a mixed and mellow crowd to sip and chat. You'll also want to see what's on at Triple R, a "party central" kind of resort where you might relax in the piano bar or strut your stuff on karaoke night (open to non-guests).
Mainly, though, this area is about nature, and you'll spend your Guerneville days exploring some of the most gorgeous scenery in the area. I always make a trip to Armstrong Woods State Natural Reserve, where over 800 acres of redwoods beckon with their humble majesty. Come here during the week and you can almost feel the silence descend upon these trees that have been here for centuries. Spend an afternoon watching the sunlight filter through the branches of trees that rise hundreds of feet into the air. Stroll along verdant paths that lead from wonder to wonder. Are you relaxed yet?
If the answer is "not quite," head to the river. Whether you choose to rent a kayak or simply stroll along its banks, let the ever-changing enchantment of Russian River take over, gently demanding that you let go of stress. I watch in delight as ducks dive-bomb into the water, birds tinged with blue and green dart between treetops, kayakers paddle by looking very, very happy, and the light moves across the river, dancing on the banks. I've been to a lot of beautiful places in the world, but there are very few that hold for me the magic of Russian River, and I suspect you'll feel it too. It's hard not to, so irresistible is the river's pull.