Dinner, of course, in the ever-popular Willi's Wine Bar, where a lengthy wine list is supplemented by alluring small plates like scallop dumplings, goat cheese gnocchi, mu shu bacon, and filet mignon sliders. Share them all, along with your favorite Sonoma county wine, in this low-key and sophisticated setting named after a Parisian spot and with all the same allure, plus Sonoma County uniqueness. It's been popular for ages, and it's easy to see why.
When it comes to accommodations, Vintners Inn is our top choice here for LGBT travelers. Each of the 44 deluxe guest rooms provides French country décor and wonderful views of the vineyards and lush gardens. Request a room with a fireplace and Jacuzzi and prepare yourself for a sublime and sensual getaway. After a day exploring in Sonoma wine country, head to the Courtyard Spa Room for couples massages and treatments. For gourmands, the renown John Ash & Co. restaurant is a celebration of wine country cuisine at its best. Get ready to experience exceptional local food and produce pair with some amazing regional wines. If you're looking for a great location for your wedding, you will find all you need at Vintners Inn. This includes a romantic outdoor Wedding Pavilion with views of the 92-acre vineyard, intimate indoor rooms, full-service banquet kitchen, dance floor, valet parking, and an array of other options to make your wedding day very special.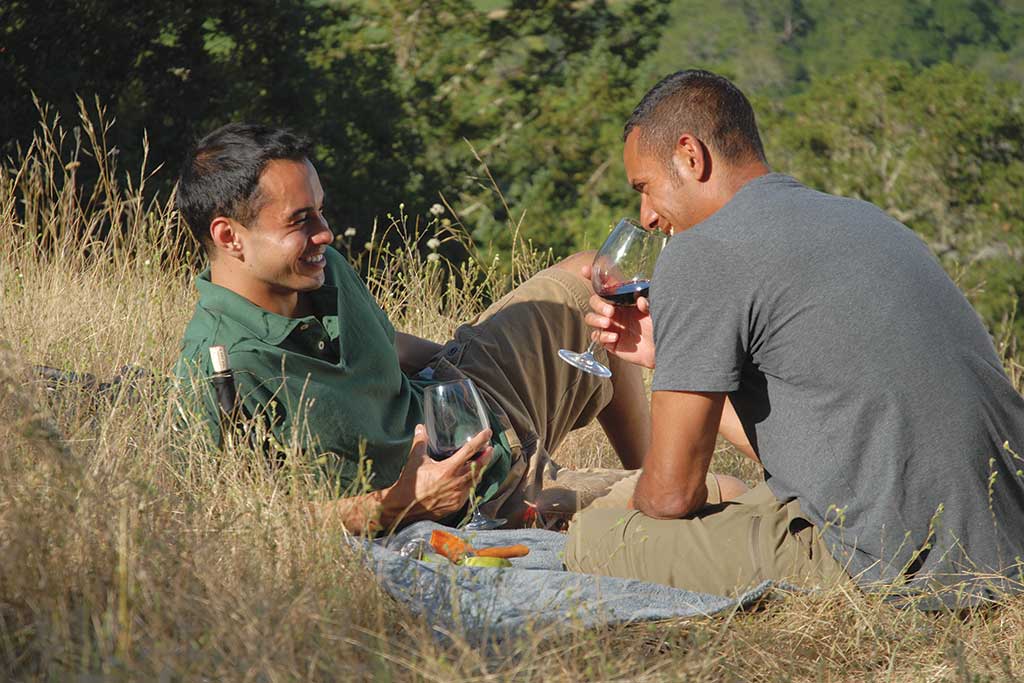 SONOMA AND SURROUNDINGS
From Santa Rosa, head southeast toward the county's eponymous city, and you find a very different atmosphere in Sonoma, where history rules and the feeling is peaceful and oh-so-western. On the way, visit the tiny town of Kenwood, where you'll want to stop for lunch in Kenwood Restaurant, which looks for all the world like a roadside diner but holds some major surprises. I'm hooked from my first taste of wild fennel soup. The feeling grows stronger digging into asparagus and local crab salad. By the time I indulge in guilty pleasures like duck fat fries teeming with fresh rosemary, and flourless chocolate cake smothered in whipped cream, it's true love.
There's a real getaway feeling to these blink-and-you-miss-them towns here in the Valley of the Moon, not far from the border with Napa, a seclusion that you don't feel as much in the Western part of Sonoma County. If that appeals to you, settle into the quiet in style at Casa Bella Inn, a pretty and LGBT-friendly property set on two luscious acres and given a bright contemporary look in a 2014 renovation.
Be sure to stop in Glen Ellen Star, the area's hippest new restaurant, for locally-sourced and farm-fresh food in a burg that makes Kenwood look like a metropolis. Then there's Sonoma itself, where the huge plaza (California's largest) holds manifold delights. I love wandering through the old mission, the Sonoma Barracks, and other historic buildings (I could sit all day in the evocative courtyard of the barracks). It was in Sonoma that the famous Bear Flag flew for a month, marking the quixotic and short-lived California Republic.
Did you think I'd temper my history with some gourmandizing? You're right. As every visitor to Sonoma knows, the girl & the fig is a must-do for fine food in a casually gorgeous ambience. I stop in for brunch, and the airy, saffron-hued dining room is packed to the gills with diners enjoying such enchantments as fabulous cheese and charcuterie platers, duck confit polenta, and of course some chocolate-dipped fig "kisses." French flair meets Sonoma county goodness. Go there.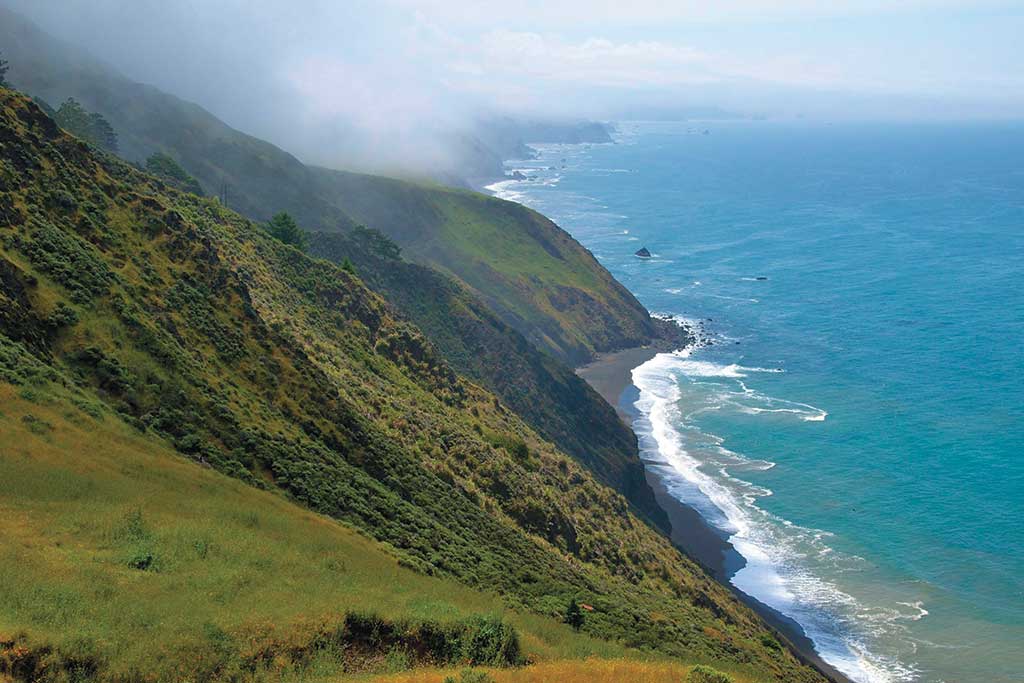 Around the corner lies a new discovery for me: The Epicurean Connection, a café, cheese shop, and local music venue all in one. Proprietor Sheana Davis is a major LGBT ally, having founded the local AIDS organization almost thirty years ago and now involved in events like a Gay Farmers' dinner, with proceeds benefiting the local LGBT youth group. Most enticingly, Sheana offers cheese making classes. Regularly-scheduled classes are held in the newly-renovated General's Daughter conference center, but if you want something more private, she has all the gear, down to the cheesecloth and ladle, to do a private class at your hotel. Under Sheana's expert guidance, you'll create your own wonders that might just rival her own Delice de la Vallee, a luscious triple cream cow/goat milk cheese
FREESTONE AND ONTO THE COAST
Is my trip totally about food? You might think so, since I tend to start the day at my favorite bakery in the entire world: Wild Flour Bread, located in the tiny village of Freestone in West Sonoma, on the Bohemian Highway (I'm not kidding!). Sit at the long wood table and indulge in huge, sticky cinnamon rolls or scones in such flavors as Meyer lemon/white chocolate or pear/cardamom, prepared with organic ingredients, baked in their wood-fired brick oven. I have to admit that when I think of coming to Sonoma County, one of the things I look forward to is Wild Flour.
Right across the street lies Osmosis Day Spa, where I indulge in a remarkable cedar enzyme treatment. First a cup of tea in the Japanese-style garden. Then my attendant leads me into the cedar tub room. I strip off my robe and climb into the pile of moistened cedar shavings that cover me from neck to feet. I remain that way for twenty minutes, soaking up the heat and the healthful cedar oils. Every time I move, the mixture produces more heat, until I'm enveloped in a blanket of aromatic warmth. A nice warm shower, a half hour of lying back in a hammock under the trees listening to soft music, and lunch in the garden, catered by nearby Fork Roadhouse, completes the process of relaxation.
Then I'm off to complete the blissing-out process. In other words, I'm driving up Highway 1. I head up Bodega Highway to Bodega Bay (if you don't recognize it as the setting for Hitchcock's "The Birds," the many Hitchcock-themed establishments will remind you). As I continue on Highway 1 to Jenner, I drive through the most startlingly beautiful scenery, rolling farmland on one side and that amazing coastline on the other. I never tire of the Sonoma County coast, from Bodega Bay to Jenner, up to Fort Ross and beyond to Sea Ranch. There are frequent turnoffs/viewpoints where I admire burgeoning wild flowers, deeply-rutted cliffs, and huge rock formations jutting straight upwards from the water. The Pacific crashes across the rocks, dramatic, a little foreboding, and oh-so-beautiful. Tiny beaches line the coast, and whichever one you choose, there isn't likely to be more than a scattering of people.
If there's a better way to end this day of bliss than Jenner's River's End, I don't know what it is. Perched on a cliff overlooking the spot where the Russian River flows into the Pacific, it's a place of so much beauty that it's hard to describe. If you want to enter a totally new world of relaxation and splendor, check into one of their cabins, facing directly out onto THAT view. Or have a meal in their restaurant, which is my favorite restaurant in Sonoma County (and possibly the world). I dig into a "technicolor beet salad" just as the sun begins its descent into the sea with a similarly colorful display. My "duck three ways" is about fifty ways toward heaven. An English trifle is a perfectly light finish, just sweet enough to please. In some ways this spot is symbolic of the many aspects of Sonoma County I love: the vineyards, farms, river, and incredible coast.
This is wine country, of course, but it's also dairy country, redwood country, orchard country, vegetable country, coastal country. It's the land of river kayaking, the land of beaches and cliffs so stunning you'll literally gasp for breath upon seeing them. It's the land of rolling hills covered in neat rows of grapevines, of black and white cows calmly grazing by the side of the highways, of curving roads that lead from one version of paradise to another. Winning towns including some I haven't even mentioned—it's about a hundred paradises rolled into one.
As I sip the last of a local Merlot, the sun making its final plunge, I think back to a magical moment in Healdsburg that sums it all up for me. I've just finished my green tea treatment, and as I sit in the plaza afterwards, nothing bothers me—not the children shrieking through the plaza, not the car in need of a tune-up that chugs noisily by. I'm in my own fairly silent and solitary world of relaxation, and it feels great. Listen, life's too short not to have these little treats, you know? That's what Sonoma County makes me realize, and as much as anything, that's the reason I love it. Just sitting here in this beautiful, leafy square, my world is just fine, an interesting and mellow kind of fine. A Sonoma County kind of fine. Birds sing in the oak trees, lovers walk hand in hand down the diagonal paths, and people smile at me as they pass (they really do). I'd say this is all too storybook perfect to be real, except that I'm experiencing it. At this exact moment, I really don't want to leave Sonoma County. Ever.