SEBASTOPOL
As much as I want to stay by the side of the river for days, there's more exploration to do. A half hour southeast of Guerneville lies appealing, hippy-ish little Sebastopol, one of my favorite Sonoma County towns. As I walk down the street, a banner overhead proclaims, "Local flavor, global vision," and that's the perfect description of this winning little town, where the 1960s still live and people are unashamedly and devotedly left-wing (in other words, my kinda people). There's not a hell of a lot to "do" in Sebastopol—unless you count a bunch of great restaurants and some very wonderful shops.
I start my Sebastopol day at Sumbody, my favorite skin care products place in the world. Along one wall are lined up tall towers of soaps, striped in deep hues and ranging from avocado/goat's milk to apricot/rose. Tables at the center are filled with fizzy bath bombs, salts, and other products for total submerged relaxation. Shelves along the walls hold shampoos and skin toners. It's almost like walking into a restaurant, so overpowering are the scents.
I supplement the familiar with some new discoveries, like the Tibetan Gallery and Studio, where proprietor Tashi Dhargyal is pretty much single-handedly keeping alive the traditional art of the Thangka, or Tibetan scroll painting. Watch Tashi hard at work on the massive, five-year artwork on the studio's wall, admire his smaller paintings, listen to him explain the tradition behind the Thangka, and browse among a variety of Tibetan pleasures from silky scarves to jewelry and bold pillow covers.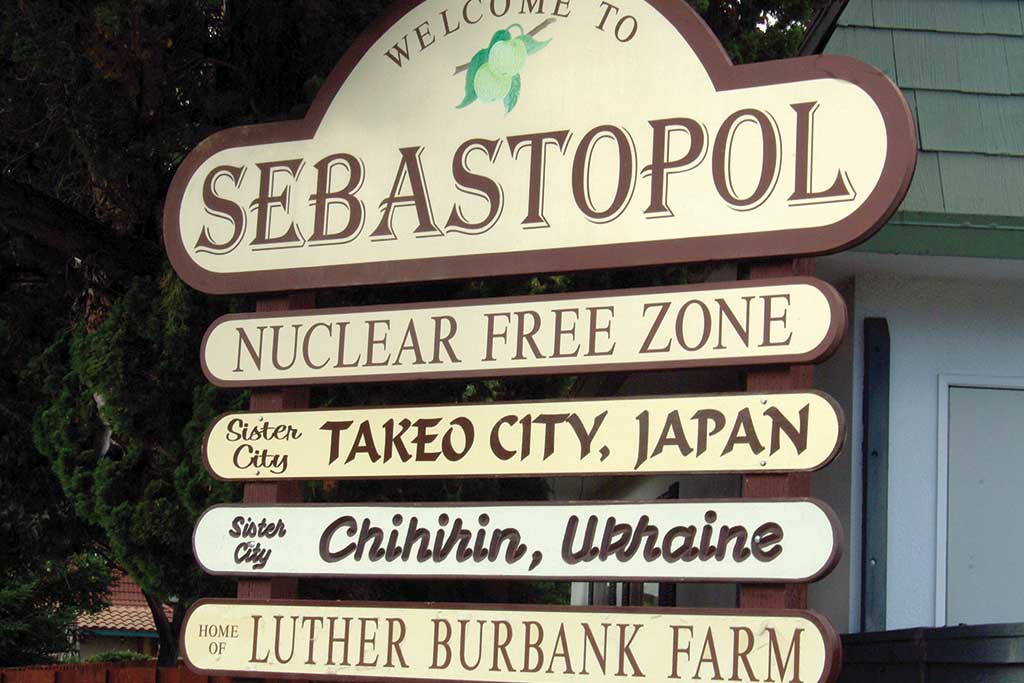 It's part of a new development called The Barlow, which is carved out of an erstwhile apple canning factory and holds a variety of great spots. I love Taylor Maid, a two-story coffee palace where the aroma of beans roasting in the back room prepares you for some of the best caffeinated drinks in the area. Spirit Works, a gin/whiskey distillery, offers an interesting tour of the whole works, though due to odd California law you'll have to run to a nearby store to get their products (I suggest sloe gin, a uniquely old-fashioned liqueur experiencing a revival). I love the food at Vignette Pizzeria, where chef Mark Hopper is going way beyond the ordinary. I start with these amazing dried chiles that are slightly but not incredibly hot, crispy, salty, and delicious. Then I dig into a pizza bianco whose crust seems to be made of air and whose topping carries a hint of honey. It's honestly the best pizza I've ever had.
Practically across the street, one of my favorite Sonoma County spots, zazu kitchen, has moved from Santa Rosa, and chef Duskie Estes is still on her game. Many of the dishes feature the products of her Black Pig bacon company, such as a "bacon burger" with the bacon chopped up in the burger itself. Vegetarians, fear not, such pleasures as pasta with fava leaf pesto, ricotta, and fresh peas await.
Down on the southern edge of town, in a nondescript strip mall, I discover a wonderful place called The Kefiry, where I sample several varieties of this "healthy soda." While we think of kefir as a dairy beverage, these are non-dairy, using the kefir culture as a fermentation agent. You can sample flavors like lemon/ginger or turmeric (surprisingly my favorite) or go for a sweeter root beer-style beverage or chocolate/chile. Healthy, delicious, and just a little offeat: where else could this drink be made but Sebastopol?
HEALDSBURG
How different it all feels in the town of Healdsburg, about a half hour northeast of Guerneville, whose a shady central plaza is surrounded by boutiques, galleries, tasting rooms, and restaurants, staying just on the right side of too chi chi (for now). Surrounded by rolling hills covered in vineyards that have supplanted the once-active prune growing industry that built the town, there's plenty here that's down to earth, accessible, and very pleasant. I mean, the town's baseball team is named the Prune Packers. How can you not love a town like that?
The H2 Hotel, built by the owners of the larger Hotel Healdsburg, is a LEED-certified boutique property with a hip overlay. Check in at the "receptobar," where espresso or wine is available to ease the process (not that it's difficult with their sweet staff). Relax in the lounge, across which are strewn a colorful assortment of chairs and a many-sided arrangement of cushioned couches. Rooms are clean-lined, modern, and appealing, with bamboo floors, fabric headboards, and balconies overlooking the green hills. Their Spoon Bar is one of the town's most popular, featuring elaborate creations devised by celebrated mixologist Scott Beattie.
Do pay a visit to SHED, a wonderful new spot devoted to "good cooking, good eating, and good farming." The owners started as farmers, and it's obvious in their love of growing, preparing, and enjoying culinary wonders. You'll find seeds and gardening equipment, fabulous kitchen supplies, produce, and prepared foods, most of it local. Wandering the aisles, I'm tempted by Meyer lemon jam, smoked chocolate chips (yep!), organic popcorn, hibiscus/lavender syrup, and much more. Be sure to stop by the bar for a Shrub, a traditional farmer's tonic of vinegar and fruit juice that's about a million times better than it sounds! This repository of goodness is a welcome addition to Healdsburg's many culinary offerings.
Speaking of which: right on the plaza, I stop in Noble Folk, the latest creation of Christian Sullberg and Ozzy Jiminez, the young couple responsible for the estimable bakery Moustache Bakery, around the corner. I've always loved Moustache's creative takes on cupcakes, and now these two dessert mavens have opened Noble Folk, a "Pie and Ice Cream Bar." With the same clean-lined white look, this place is a true emporium of not just sweetness but creativity (and local sourcing), with such twists on the traditional as passionfruit/chocolate pie, or ice creams like green tea/almond and lingonberry. I never thought there would be any place to satisfy my sweet tooth more than Moustache, but Noble Folk might just be it.
On to The Taste of Tea, and more very Healdsburg pleasures. Here you can sip your tea in various concoctions, and perhaps enjoy a bowl of homemade ramen while you're at it. Try one of their treatments, which at the least will leave you feeling relaxed and energetic, and at the most might change your life a little for the better. In the quiet back room, my feet are placed in a warm green tea bath, a mask steeped in the same tea on my face. My wrists are sprayed with a tea solution, and the mask is continually re-hyrdrated as my skin soaks up the moisture. My feet suddenly feel good after days of walking, and when the mask is removed and a mirror brought …well, I've always thought it sounded hokey to say your skin will "glow," but that's what mine does.
Afterwarsds, at Valette, I have a remarkable dinner. Open only nine weeks when I eat there, it's already one of the hottest spots in town and every table in the large open space filled. The menu gives the option of a multi-course "trust me" menu where chef Dustin Valette decides what you'll have, and in my newly daring Sonoma County spirit, I go for it. Soon the amazements start arriving. Perfectly-seared ahi with a stripe of kim chee puree. Pasta with arugula pesto, peas, and pickled radish. Scallops with leeks in a pernod sauce, under a puff pastry tinted with squid ink. Yes, I end up pleasantly stuffed, but who wouldn't leave room for frozen chocolate mousse with toasted marshmallow meringue
SANTA ROSA
While you expect to find such pleasures in a town like Healdsburg, which just screams "pleasure awaits," there are many surprises throughout the county. Santa Rosa, about fifteen minutes south of Healdsburg, is Sonoma County's "big city" where many wonderful experiences and hidden treasures await. On the edge of town, I discover the Charles Schulz Museum, which tells you just about everything you'd want to know about the history of "Peanuts" and the longtime Sonoma County resident that created the strip. Also on the north side of the city is Wells Fargo Center for the Arts, home to music, theater, and much more. Even if you don't see a show, wander by during the day to see their newly-opened Sculpture Garden, where contemporary artists are shown in an oasis-like al fresco setting.
Back to the city center for coffee at my favorite Santa Rosa caffeinery, A'Roma Roasters, in historic Railroad Square. Then on to Luther Burbank Home and Gardens, the residence of this Santa Rosa-based botanical maven. You can tour the house on a guided visit, but feel free to wander the gardens at will from dawn to dusk. They seem small at first glance, but the more you walk, the more riches you uncover: huge fields of Shasta daisies, an alluring scent garden, about a million varieties of roses, and a cactus as big as most houses. It's a testament to Burbank's genius and the amenable climate of Sonoma County, in which just about everything will grow.