Going on vacation can be a relaxing escape from your everyday life. Most people will put off being productive for a few days to really enjoy this break from their monotonous work schedules. We all need a time to just veg out, but what about people who travel regularly; they can't always 'turn off' the productive switch anytime they are away from home.
When traveling there is a lot of time sitting on a plane or a bus, many hours spent in a hotel room, and usually not too many places to actually get your body moving. Not to mention rarely being able to cook your own meals, it feels next to impossible to stay in shape. As an actor myself, I have toured the country performing in different cities and sometimes I have felt helpless when it came to getting a good workout in. After doing some research and testing different methods, however, I realized that it is not as hard to stay in shape as it sounds, even if you do only have a small room to workout in.
I have been working out regularly for the past five years, and I have made it a habit in my everyday life. I need to workout or be physical, otherwise I feel run down, exhausted, and depressed. Ramin Karimloo, a professional actor last seen in Les Misérables on Broadway in New York City, also has the same tendencies. He and I met at the gym in New York City and became close friends because we both shared a passion for theatre and fitness. We both understand how important it is to be healthy and in shape for not only our careers, but for our overall health. We workout together almost every day and push each other to keep reaching our physical goals. With someone there to help you exercise and guide you through a routine, working out can be not only effective, but also fun. Both of us being actors, however, does have its downfalls since we may have to leave for chunks of time to go do a new job. A life on the road can be tough, but we both have found ways to still maintain good physical health while jumping between cities.
What we have realized is that body-weight exercises and exercises that use some simple equipment can give you just as good of a workout as exercising in a large gym. In the pictures shown, Ramin is using a TRX Suspension Trainer in order to perform the exercises. The TRX Suspension Trainer is one of the easiest and most convenient pieces of equipment to travel with. It is light, it doesn't take up a lot of room in your suitcase, it can be set up and used almost anywhere, and you can get a great full body workout with the many different exercises that can be performed using the TRX Suspension trainer.
In the photos here, Ramin is demonstrating some great exercises that will target different areas of our body.
---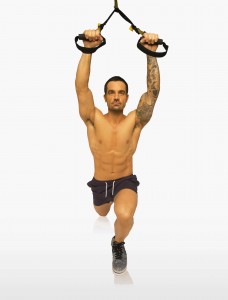 1. Front Lunge:
With the TRX coming from behind you, stand away from the wall holding the TRX bands in front of your shoulders. Lunge forward with one leg at a time extending your arms straight up during each lunge. This will really target your legs, and holding the TRX above your head will activate your core and test your stabilization.
---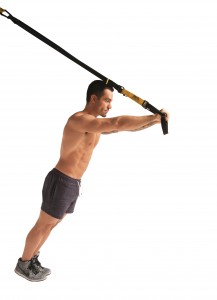 2. Tricep Extension:
Facing away from the wall, with the TRX coming from behind you, hold the TRX bands in front of your shoulders. Walk your feet back toward the wall to put your body on a forward angle. Bend at your elbows, then use your triceps to extend and straighten your arms. This will help build and tone your triceps and also help you activate your core muscles.
---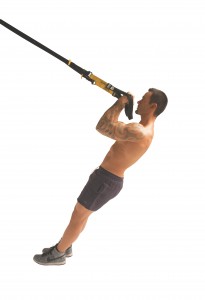 3. Bicep Curl:
Face the wall and hold the TRX bands in front of you with your palms facing up toward the ceiling. Bring you feet closer to the wall so your body is now leaning back on an angle. Focusing on your biceps, curl up to bring your body up. This will attack your biceps and give them a big swollen feeling. The closer your feet are to the wall in front of you, the more of an angle your body will be, which then will make the exercise even harder.
---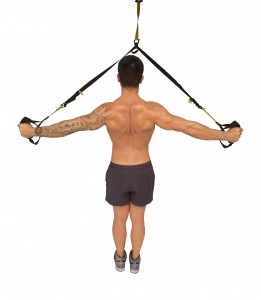 4. Rear Delt Fly:
Face the wall with the TRX in your hands front of you. While keeping your arms extended in front of you, walk your feet slightly toward the wall making the TRX take more of your body weight. Keeping your arms straight, extend them out to the side and bring your body up. By doing this exercise you will target your shoulders and traps. You should feel a nice squeeze and burn in your upper back.
---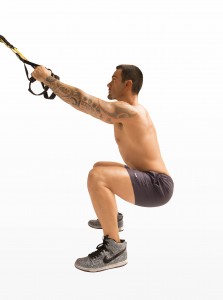 5. Squat:
Face the wall with the TRX in front of you. Squat down as low as you can and keep your knees out, then stand back up. This is a great beginner exercise using the TRX. You can depend on the TRX to support some of your body weight and help you get back to the standing position if it is too difficult to do on your own. To make it harder, you can hold the bottom position of your squat for a few seconds, or instead of standing up, explode out of the squat into a jump up while still holding the TRX.
---
These are only a select few of the many different exercise that can be done with the TRX. The great thing about the TRX is that there are countless amounts of exercises that can target all different areas of your body, and the exercises have a very wide range of difficulty, so that someone who rarely works out, as well as someone who has been working out for years, can both see results from this one piece of equipment. These exercises, along with some other traditional body weight exercises, can help your build and maintain muscle while you are traveling. As long as you have the motivation and drive, it is possible to get a great workout in the comfort of your own hotel room.
Fashion Credits:
grooming Anoli Makeup Artist
Ramin in shorts by Parke & Ronen
Sneakers by Relevant Customs
alec wears shorts by Michael Kaye