I am Italian by association, although the blood that runs through my veins is decidedly borscht by way of Russia. I grew up in a Midwestern suburb that was home to some of the four million Italian immigrants who made their way to the US during the late 19th and early 20th century. While most kids my age were cutting school to smoke a joint under the bleachers, I was taking advantage of my newly earned driver's license to head to Alesci's, a local Italian deli that's famous for their foot-long sandwich of thinly sliced pepperoni, authentic giardiniera, and melted provolone. So it only made sense that my first visit to Italy would be one of culinary exploration, forgoing Milan's high fashion and Rome's architectural wonders for a prosciutto-packed road trip through Italy's food and agritourism epicenter: Emilia-Romagna.
Nestled north of Tuscany, Emilia-Romagna is one of Italy's 20 regions and spans from the Adriatic Sea in the east toward its western borders of Piedmont and Liguria. Like the rest of the country, Emilia-Romagna touts local products, many of which have Protected Designation of Origin (PDO) status that ensures they are "produced, processed, and prepared in a given geographical area using recognized "know how" according to the European Commission. Labels aside, I quickly discover that local favorites such as heaping platters of shaved prosciutto di Parma served with chunks of Parmigiano-Reggiano and free-flowing Lambrusco are the stuff that a foodie's dreams are made of.
BOLOGNA
I begin my road trip in Bologna, the region's capital. The streets spill over with students from the University of Bologna (Europe's oldest university), and if you can distract yourself from their youthful exuberance and dynamic gesticulations, the city teems with covered porticos and a collection of more than 20 towers that were built by the city's most noble families between the 11th and 13th centuries. While it's easy to look up to take in the sights, look below and you'll discover another unique feature: a 37-mile network of canals that weave throughout and underneath the city.
I settle into the Hotel Commerciante, a four-star property that sits in the glorious shadow of the Basilica of San Patronio. Overseen by matriarch Cristina Orsi, the family-run business is one of five Bologna Art Hotels that offer visitors a taste of history amid modern amenities. Dating back to the 11th century, the building has served as the town's city hall as well as a guild house, and still retains its medieval wooden structures and other architectural features, along with free bike rentals to explore like a local. A visit to the neighboring church is a must, where construction began in 1390 but was never completed. Highlights include more than a dozen chapels that were privately funded over the centuries, including the work of late Gothic painter Giovanni da Modena. Astronomers will marvel at Gian Domenico Cassini's Meridian, which casts its epic line of sunlight across the length of the church.
After touring Bologna's markets and shops, I try my hand at some authentic Italian cooking under the guidance of best friends Barbara Zaccagni and Valeria Hensemberger, who own and operate Il salotto di Penelope, a charming cooking school that the pair founded four years ago in a former bakery. Tucked in a back alley with a backdrop fitting a Fellini movie, the school offers classes that embrace traditional Bolognese dishes such as fresh pastas like tagliatelle and tortelloni, as well as pillowy potato gnocchi. Barbara points out that these are family recipes, passed down through the generations and grounded in tradition.
The group begins slicing and dicing as Barbara explains what feels like the unwritten Bible of Bolognese cuisine. Tagliatelle (a flat, fresh pasta similar to fettuccini, except slightly wider) is served with meat ragu; tortelloni (a stuffed pasta folded and pinched to resemble a bishop's hat) requires a simple sauce of butter and sage; and gnocchi, which can easily go from bliss to a gummy nugget, requires baking the potatoes on a bed of salt to extract moisture. When I make the meek suggestion that one could add some fresh mint to the tortelloni's traditional ricotta and parsley filling, it is received with a wayward glance and a simple, "No. We don't do that."
And with good reason. After several hours of preparation the group settles down to indulge in the fruits of our labors. We uncork a bottle of Sangiovese from neighboring Tuscany while Barbara's son, Mateo, who has just sauntered in from school, eagerly grabs a hunk of Parmigiano-Reggiano and grates a massive pile for us to sprinkle on our pastas. There are no garlic cloves or palette-neutralizing red pepper flakes to muddy the flavor. The cuisine of Bologna is purist, relying on a handful of simple, rustic ingredients to deliver comfort food that has been passed down through generations.
Though I've eaten more than my share of pasta, I decide to go on a quest for the ultimate frozen Italian treat: gelato. Bologna has several artisanal gelaterias, including the famed Gelateria Gianni, which produces upwards of 40 handmade flavors each day including classics such as gianduia, pistachio, and stracciatella, as well as unique combinations such as Inferno (white chocolate, black cherries, and wafers) and Divina Commedia (pistachio, chocolate, and hazelnut with layers of white chocolate).
For a gelato-fanatic experience, I head to Carpigiani Gelato University and Museum. Incorporated in 1946, Carpigiani has become a leader in manufacturing machines to produce artisan gelato, and has sold more than 900,000 machines worldwide. Of course, what good is a gelato machine if you don't know what to do with it? Entrepreneurs and gelato enthusiasts head to Anzola on the outskirts of Bologna to learn the craft of gelato making and become "maestri gelatieri." For those seeking a more recreational experience, a gelato master class enables participants to become gelato artisans for a day and ends with a much-earned tasting of all the gelati flavors.
The Gelato Museum opened in 2012 to trace gelato's historical significance and includes 20 original machines along with more than 10,000 images and documents. "The Gelato Museum fulfills the dream of our founders, Bruto and Poerio Carpigiani, the two Bolognese brothers who made it their job to spread gelato technology, culture, and business throughout the world," says Andrea Cocchi, General Manager of the Carpigiani Group.
LA SABBIONA
My culinary adventure continues as I leave Bologna and head southeast toward the outskirts of Faenza, a region known for its agritourism, ceramics, and wine. Amid the rolling hills I discover La Sabbiona, a family-run farm, vineyard, and guesthouse that offers visitors an authentic taste of life in the Italian countryside. Serena and Sebastiano Altini welcome guests into their home with open arms. For those seeking overnight lodging, the six rooms and four apartments offer quaint accommodations (be sure to request a vineyard-facing room) but visitors can also arrange an afternoon cooking class, which offers a hands-on opportunity to experience regional dishes.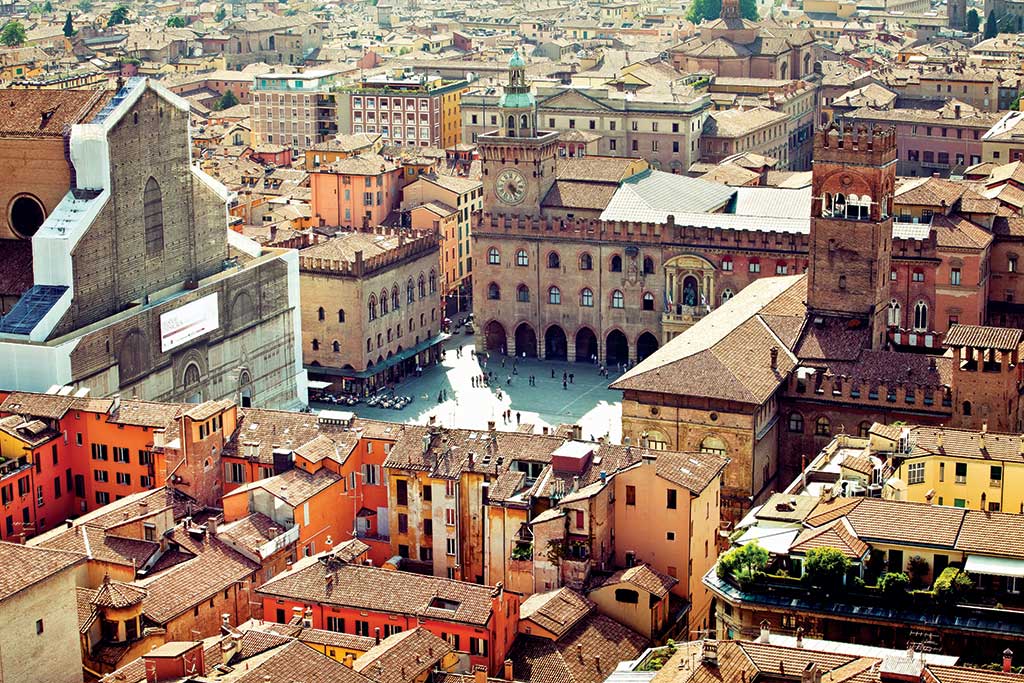 Piadina is one of the local specialties—it's a simple flatbread made with all-purpose flour, lard, a pinch of salt, and baking soda, and just enough tepid water or milk to pull it together. Serena carefully watches as we work our batches of dough, ensuring that we reach the proper thickness (1/2 centimeter). The discs are then cooked on a hot skillet, turned frequently, and pierced with a fork until lightly browned. Piadina is simple peasant bread, lacking the crumb and yeasty goodness of focaccia, but it's the perfect vehicle for soft cheese, slices of bacon, or braised cabbage.
The group sits down for a feast of cured meats, homemade giardiniera, slow-roasted figs, and plenty of flowing wine. Locals says that those from Emilia will offer you a glass of water and those from Romagna will offer you wine—the hosts at La Sabbiona are no exception. The onsite winery produces a range of blends and single variety wines from the 15-hectare vineyard, including ancient varieties such as Centesimino, Albana, and Famoso, a not-so-famous grape that dates back to the early 15th century and is only now finding its way back into production. Leave room in your suitcase for a bottle of Divo, an extra dry sparkling wine made from Famoso that offers a golden yellow hue with floral notes and a hint of apple.
For dessert, Sebastiano presents nocino, a viscous liqueur made from walnuts. The digestive takes some getting used to, but plays well with sabadoni, a traditional Easter dessert only made in Romagna. The basic cookie dough is filled with chestnuts, jam, chocolate, saba (a grape reduction similar to balsamic vinegar), and sugar. Serena inherited the recipe from her grandmother, and over time it has evolved from a peasant dish of leftover beans and chestnuts into a delightful sweet that celebrates the resurrection of St. Lazarus each spring.
THE ART OF ROMAGNA
Satiated with piadina, sabadoni, and more than my fair share of locally produced wine, I depart the countryside and go further east toward Ravenna. Beyond its food culture, Romagna is known for superior craftsmanship in the areas of ceramics and mosaics. The area is rich in clay and raw materials, but it is the evolution of glazed ceramics for which the region became famous.
One of the foremost artists of the last century is Goffredo Gaeta, whose studio and gallery, called "La Cartiera," reside in a former paper mill power station in Faenza. Spending time in the Aegean Islands as a boy, the sea plays a prominent theme in much of the artist's work, yet in his nearly 50-year career, Gaeta has developed additional techniques that include bronze casting and large format, stained glass windows. His work can be found worldwide at such esteemed cultural institutions as the Museum of Modern Art in New York City, the Ceramic Museum of Kyoto, and others. A workshop visit reveals the vast range of the artist's talents, and you can also observe Gaeta's artisans working on new projects.
Mosaics also play a prominent role in the region's artistic history, and a visit to the Basilica di San Vitale in Ravenna reveals one of the world's most glorious examples of this meticulous craft. The church took 21 years to build before holding its first mass in 547. Over the centuries, different artistic styles were incorporated, including frescos dating back to 1780. Austrian painter Gustav Klimpt was so inspired by his 1903 visit that it profoundly affected his work thereafter.
The church is the springboard for a city defined by its mosaic work, with several universities and dozens of studios specializing in the craft. Kokomosaico is one of the best, led by husband and wife team of Luca Barberini and Arianna Galo. Both graduated from the Gino Severini Mosaic Institute of Art and opened their mosaic laboratory 10 years ago. The studio specializes in contemporary interpretation of craft using ancient Roman cutting techniques, tools, and materials. Those interested in having a hand at mosaic making can participate in a half-day workshop using traditional tools and materials such as marble, glass, and gold tessere. Professional or aspiring artists looking to hone their craft have the option of longer workshops ranging from 20 to 40 hours that utilize precise techniques as well as mosaic sculpture.
The duo continues to push the boundaries of mosaic art while still staying true to the centuries-old art form. They recently collaborated with contemporary artist Domingo Zapata for a series that riffed on da Vinci's Mona Lisa. "Working with Koko was an amazing experience," Zapata told Mosaic Art Now. "Every member of the studio knows so much about contemporary art and is very much in tune with what's going on in the art world. By breaking down the composition and reconstructing it in mosaic, we created not only an explosion of light and color but also a new way to understand my paintings."
A SPEEDY FINALE
I've got one more pit stop before bidding arrivederci to Italy, and that's the Museo Enzo Ferrari Modena. Enzo Ferrari founded the legendary racecar company in 1929 and it wasn't until 1947 that the brand's street worthy vehicles hit the market. Architect Jan Kaplicky designed the 16,400-square-foot, pillar-free exhibition hall, which pays tribute to the Ferrari's passion and innovation.
While the immaculately preserved cars would be enough to engage any aficionado, even those without a penchant for Formula One engines will get a kick out of the sensory video installation, which turns the hall into a 360-degree screening room through the use of 19 projectors. For a more high velocity thrill, the museum also offers a semi-professional simulator where you can experience being behind the wheel of a single-seater on the infamous Monza track.
After indulging in my Ferrari fantasy, I traverse Modena's winding roads and settle in for my final night at Opera 02, a winery and boutique resort nestled in the hills of Levizzano Rangone just outside of the city. Enrico Montanari began the project in 2002 with the purchase of five hectares of vines. A subsequent purchase of a 1950s cow stable and additional land increased the footprint to a panoramic 45 acres. The stable was transformed into eight junior suites as well as a vinegar loft to house Montanari's batteria, a series of barrels used to age the famous balsamic vinegar of Modena, a local product with Denominazione di origine controllata (D.O.P) status that ensures high standards of production. This is not the stuff of salad dressing, but rather a viscous, sweet reduction with a vinegar bite that is often used as an accent to cheese, drizzle over risotto, or even as a topping to ice cream or gelato. Use sparingly as the 25-year goes for approximately $100 per bottle.
Later, as the sun sets on the hillside, I wander the grounds and come face to face with a gaggle of ducks, grazing goats, and the neighbor's dogs having a roll in the dusty road. They look like a happy lot, untouched by the bustle of city life just a few miles away. I can't blame them. I stroll along with a glass of the region's signature wine, Lambrusco, a frizzante red that tickles the nose with light bubbles and typically finishes with a tart, juicy bite. My luggage will have to withstand several more bottles, as I simply cannot leave without my own personal stash. I can't pack the sunset or the generous people I've met along the way, but I'm determined to bring a taste of Italy home.