Rhode Island was also once a global jewelry manufacturing capital. Enduring practitioners include Richard Hegeman, whose eponymous fine jewelry shop near RISD opened in 1970, and Rhode Island-born Carolyn Rafaelian, the billionaire founder and CEO of accessories and jewelry company ALEX AND ANI.
Continuing with fashion, Providence hosts the bi-annual STYLEWEEK Northeast, New England's premier fashion week. Philanthropy-driven Rhode Island Fashion Week rotates around the state each fall.
Integrated with the Omni Providence Hotel and the city's convention and sports complex, Providence Place mall is a modern destination for shoppers. Dating to 1828, the national landmark Arcade Providence is America's oldest indoor shopping mall. On Wickenden Street, one of several retail thoroughfares around town, unique boutiques include classy
queer-owned Mister Sister Erotica. Popular, too, are the Providence Flea outdoor markets in summer and fall.
Adaptive reuse of heritage buildings city-wide includes several appealing hotels. Downtown's The Dean Hotel is the transformation of a 1912 building with past lives as a clergy house, brothel, and strip club.
Another favorite, the storied Providence Biltmore, opened in 1922,relaunched this year as the boutique, design-driven Graduate Providence.
In 1926, construction began on a hilltop Masonic temple across from the Rhode Island State House. Two years later, the work was abandoned. In 2007, the long vacant structure was reborn as the luxurious Renaissance Providence Downtown Hotel. The adjacent Veterans Memorial Auditorium, locally The VETS, was resurrected after WWII. Featuring a 1,931-seat main stage with gilded proscenium and heraldic ceiling murals, Rhode Island's first professional performing arts venue
is a feast for the eyes and ears.
Other prominent stages include the Tony-winning Trinity Repertory Company, and the internationally acclaimed AS220 art and performance space.
Signature events in the city include PVDFest, a free annual festival of art, music and food, and NecronomiCon Providence, a biennial gathering devoted to H.P. Lovecraft. The 34-stop Lovecraft's College Hill Walking Tour includes several historical treasures.
The culinary arts are another reason to visit this lively city. "Our culinary renaissance started around 2005 with the launch of our biannual Restaurant Weeks and the arrival of significant restaurants like Gracie's and Nick's on Broadway," said Kristen Adamo, president and CEO of the the Providence Warwick CVB. "Boasting fresh Narragansett Bay seafood and a diverse population with rich ethnic traditions, Providence has since emerged as a vibrant culinary capital."
Graduates of the flagship campus of Johnson & Wales University (JWU) keep Providence's kitchens hot. James Beard-nominated alums helm three of Providence's top restaurants: Derek Wagner of Nick's on Broadway, Champe Speidel of Persimmon and Ben Sukle of Oberlin.
From JWU, William Lehman worked his way up before opening Milk Money. Featuring reclaimed wood from the 1668 home of Rhode Island's first governor, his rustic-chic East End eatery is the setting for innovative seasonal dishes like fried chicken with red or green hot sauce. Across the street, local landmark Al Forno is a must for its wood-grilled pizza.
Steps away, popular riverfront watering hole Hot Club is where Rhode Island-born director Peter Farrelly, 2019 Best Picture winner for Green Book, filmed scenes for 1998's There's Something About Mary.
Providence's global surprises include the zesty Central Asian-meets-Middle Eastern fare at restaurant Jahunger. From Greece comes Yoleni's, a bright two-level café, restaurant and artisanal food market. At nearby O'Boy, JWU grad Jae Choi delivers exceptional Asian-inspired modern cuisine.
Standouts include Il Massimo. Owners Joseph and Esther DeQuattro, whose intimate Pane e Vino is a Hill favorite for traditional Southern Italian cuisine and fine wines, went the more casual route with this bustling two-level
trattoria. Hosted by Jacqueline Dimera, Vilet Laboss and LaDiva Jonz, the monthly upstairs drag brunch is a sellout smash.
Hometown icons include the Haven Brothers Diner. Founded by Anna Coffey Haven in 1893 as a horse-drawn lunch wagon, this celebrated mobile diner, parked by City Hall, is your late night go-to for American comfort food.
Gay-owned Friskie Fries piles gourmet toppings high on french fries, including their hot wiener tribute Rhode Kill. Providence is also a donut capital, with stars including Knead Donuts and PVD Donuts.
For its street murals, hanging rattan chairs, tropical plants and long bar with skateboard seats, Architectural Digest tapped Troop for Rhode Island in its 2018 "Most Beautifully Designed Bar in Each State in America" feature.
Updating the lobby of a landmark 1902 bank building, The Dorrance is a majestic retreat for cocktails and food. Nearby, Rooftop at the Providence G is a lively year-round hangout with outdoor firepit. Updating a 1940's members-only social club, Courtland Club is a fun neighborhood bar near Federal Hill. Newcomer Saint Monday is a hybrid cafe, bar and restaurant serving American comfort food.
What a difference 30-plus years can make. In the mid-80's, I skirted by Providence many times on I-95. By reputation alone, this ailing mob town held little appeal. Now I tell everyone to go. It's the real deal, animated by artists, entrepreneurs and citizens who truly believe in their city. Providence does not judge; it encourages. That alone is a world-class credential, as more travelers are now discovering.
"We've been noticing more European gay couples in our visitor center," said Riel. "With increasing airline options into nearby Green Airport, including growing non-stop international service via Norwegian Air, it's a trend we see continuing."
The accessibility includes expanding international options at Boston's Logan International Airport to the north. Providence is also served by Amtrak and major highways. Once in town, there's no need for a car. Just the spirit of exploration and discovery in a city that has nurtured personal liberty and welcomed outsiders for nearly 400 years.
Roger Williams, his statue keeping watch over Providence from Prospect Terrace Park on College Hill, would surely be proud.
HOTEL PROVIDENCE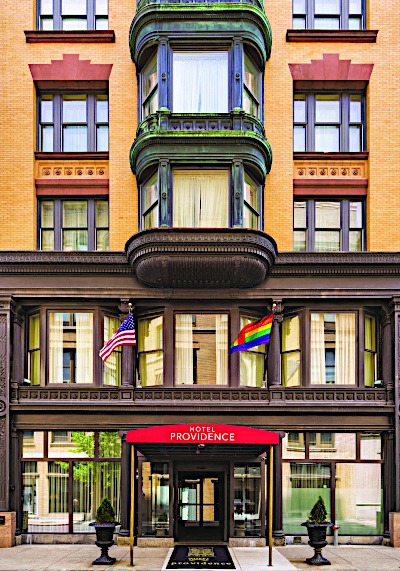 Centered in historic downtown and the Theater District, Hotel Providence (139 Mathewson Street; 401.861.8000;
www.hotelprovidence.com), exemplifies the city's embrace of hospitality and the arts.
In reviving the 1882 and 1897 buildings that form the hotel with a new building in between, developer Stanley Weiss, an art and antiques dealer, supplied the 80-room boutique with rare and significant works throughout. Self-guided tour highlights include 18th century furniture and a painting by George Whitaker, an early RISD professor and dean.
"We are also minutes from the Providence Performing Arts Center, where national tour launches this year include Cats and the Tony-winning The Band's Visit," said Greg Nawrocki, director of sales for the AAA Four Diamond
property.
Passionate about the arts, Nawrocki feels right at home in the hotel. The same goes for Providence, where he came
out later in life. "The city's open culture was a big help," he said. "The rate of gay and lesbian relationships here is significantly above the national average. All are welcome."
Providing greeting letters in different languages and doing a robust business in LGBT and straight weddings,
Hotel Providence, along with its Backstage Kitchen + Bar is a great venue for visitors and locals alike
"With the parade circling our block and passing right by the hotel, we are also the ideal base for PrideFest," added Nawrocki.
—Jeff Heilman