Add to this the marquee draw of arts and culture. Defining Providence's remarkable renaissance in the modern era, creative expression provides continuous engagement and interaction with this officially designated "Creative Capital."
In the early 90's, in economic decline for decades and still overshadowed by the Patriarca crime family, Providence needed rejuvenation. With civic revival underway, multi-media artist Barnaby Evans turned up the heat on transformation—literally.
In 1993, while in Berlin, the science-trained Brown University graduate conceived of an art project that would return to purity ancient beliefs around the sun, light and fire corrupted by the Nazis during World War II. "That's probably too dark for your article," said Evans, "but it was the inspiration for "First Fire," which I debuted in Providence the following year."
Becoming an ongoing arts installation two years later, WaterFire Providence, 25 this year, is credited as the "crown jewel" of the city's renaissance and it put Providence on the world map.
The project was tied to rescuing the city's three historic rivers. Then paved over and stagnant, these confluent waterways were uncovered and relocated to create Waterplace Park. Incorporating a river walk, bridges, and amphitheater-style water basin, this multi-use district provided the infrastructure for enchantment.
Presented mainly on Saturday nights from May to November each year, the ever-evolving program envelops visitors in a mesmerizing atmosphere of flames, embers, and smoke. Speakers saturate the air with ethereal music. Black-clad volunteers light and tend the flames in blacked-out boats. Dancers perform on the shore. Lights illuminate the war monuments in Memorial Park. Magical and haunting, it evokes the Carnival of Venice. The Providence Journal once called it "the only tribal rite performed by an entire state."
Relying on hundreds of volunteers, WaterFire, which has traveled internationally to Rome and Singapore, attracts one-million-plus visitors to Providence each season.
Another renaissance pioneer is Yarrow Thorne. Since 2012, his non-profit public art organization The Avenue Concept (TAC) has transformed Providence with giant outdoor murals and rotating sculptural works.
While a student at RISD, Thorne launched R.A.W. (RISD Art Walls), the school's first public art program. Recognizing his work as "one of the 20 most innovative arts ideas in the country," the Robert Rauschenberg Foundation gave Thorne three years of seed grant funding. Afforded "the license to do whatever was next," he embarked on transforming Providence itself.
Several elements informed his vision. "Providence then had no active public art program, and little contemporary art related to community life," said Thorne. "At the time, city leaders were seeking ways to route pedestrian and visitor traffic downtown. The answer, I concluded, was to create sustainable public pathways and avenues of art."
To date, TAC has installed or exhibited 170-plus works of public art. Investing $1.1 million in artwork and infrastructure, including maintaining walls for artists to paint and recreate. Thorne, his team, and local partners faithfully support artists with lodging, equipment, materials, and more.
Bookending a downtown parking lot, "Adventure Time" and "She Never Came Back" from internationally acclaimed Polish street artists Natalia and Bezt Rak, respectively, are signature finds on self or guided TAC tours. Another standout is "Still Here" from globally renowned Baltimore-based muralist Gaia. Collaborating with the Tomaquag Museum in Exeter, R.I. to
pay tribute to Rhode Island's indigenous heritage, his stirring work depicts artist and Tomaquaq Museum educator Lynsea Montanari holding a photo of the museum's founder, Princess Red Wing.
Founded by a small group of women in 1877, RISD has been a creative mother ship ever since. Human-like robot Sophia gave the inclusion-themed keynote address at the school's 2018 commencement. Her creator, David Hanson, created his world-renowned humanoids at RISD.
Another notable graduate, renowned queer Asian-Canadian public artist, filmmaker, poet and educator Jess X. Snow, is exploring a possible collaboration with TAC.
Absorbing campus attractions include the RISD Nature Lab, featuring a Victorian parlor-style wonderland of natural history specimens. Co-founded with the school, the RISD Museum spans eons and genres with its world class collection. Running through December 2019, "Gorham Silver: Designing Brilliance 1850-1970" showcases the 1831 Providence manufacturer that once ruled the global market for sterling silver wares.
MAN ABOUT TOWN
ALEXIS GORRIARAN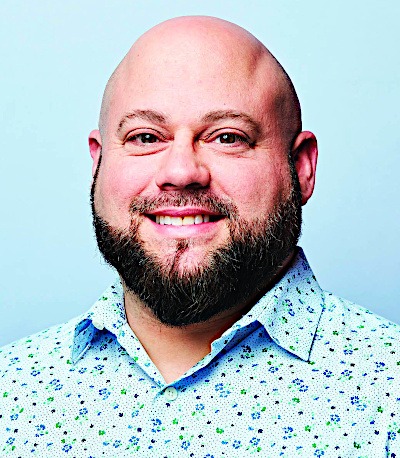 As Chair and Commissioner of the Providence Tourism Council, and President Emeritus of Rhode Island Pride, Alexis Gorriaran is a most passionate Providence ambassador. "Visitors can comfortably hold hands, explore, and have fun," said
Gorriaran, who also runs his own branding and communications firm. "There are gay bars and nightclubs, and many gay-owned businesses, restaurants, and shops. Yet, our close-knit community is immersed in the culture of Providence. There is something for all globetrotters in our accessible, affordable, and walkable city." Attracting nearly 90,000 people in 2018, PrideFest is a driving force for progress. "Involving 200-plus businesses and organizations, the family-friendly event, welcoming all people of all ages, incorporates the entire diversity spectrum of our community," said Gorriaran, who sits on Rhode Island Pride's board and consults for the organization. He is especially proud of co-creating the Illuminated Night Parade. "Culminating in a reviewing area in front of the
Providence Performing Arts Center
, this all-inclusive event alone has transformed our community," he said. "It's an electrifying symbol of our unity as a city."
–Jeff Heilman
Housed in an 1895 department store steps from the museum, the Stanley Weiss Collection is the nation's largest selection of fine colonial and classical furniture. Weiss also created downtown's Hotel Providence (see above).