Aromatic Lemon Spice Base
8 T lemon zest (dehydrate and broken into small pieces)
4 T fennel seed
2 T+2tsp anise seed
1 tsp Peperoncino
4 tsp fennel pollen
• Combine all of the ingredients (except fennel pollen) and toast in a sauté pan until fragrant (about 3 minutes). Add to a spice grinder and blend until powder.
Lemon-Spice Powder
1 T spice base
2 T Maldon salt
• Combine both ingredients and use as finishing salt.
For the Cod
½ C sugar
½ C sea salt
1 side black cod, skin on (4#)
• Combine the salt and sugar together and dust the meat side of the cod and refrigerate for 24 hours. Rinse off and towel dry.
Mantecato
1 ea Atlantic Cod, Fileted Cleaned of bones, skin and bloodline
1½ C Salt
½ C Sugar
• Place cheesecloth on a rack over sheet tray.
• Mix salt and sugar together and lace ¼ inch layer of cure on the cheesecloth.
• Place cod on top. Heavily season with Cure.
• Brush away any piles of cure from edges.
• Cover and check after 12 hours. Should be firm but not stiff
• Remove from cure, rinse and dry off. Then wrap in plastic.
• Let sit in fridge for 24 hours for cure to even out through fish.
• Use within a week or freeze for up to two months.
1# salted cod (from above recipe)
8 oz fingerling potatoes (peeled and sliced thin)
4 ea garlic cloves (peeled)
4 C + 2 C whole milk
4 oz olive oil
2 ea sprigs fresh thyme
• Drain the cod well and reserve. Place the garlic, thyme and potatoes in the milk and simmer. Add the cod and simmer until all ingredients are tender.
• Drain off and discard cooking liquid. Place cod, potatoes and garlic in the fresh milk, simmer and place in a food processor.
• lend until smooth and silky. Reserve chilled until needed.
For the Black Olive Oil
2 C pitted Taggiasca olives
2 C extra virgin olive oil
• Place a dehydrator at 225'F.
• Rinse, dry and chop the olives and place them on a tray and dry. Place the cooled olives in a high-speed blender and incorporate the oil slowly, then blend at high speed until smooth and dark black.
• Strain through a fine strainer and reserve until needed.
For the Fennel Garnish
3 each fennel bulbs cut into 1.5 in wedges
2 sprigs thyme
3 each bay leaf
¼ cup anise liquor
2 each garlic clove smashed
1TSP red pepper flakes
as needed salt
as needed veggie stock
• Take fennel wedges place in hotel pan cover 65% with veggie stock add herbs, salt. Chili flake and anise liquor
• Wrap in foil tightly place in oven at 350* cook till tender chill
• Take cold fennel and cook in sauté pan with oil till deeply caramelized. Reserve warm
For the Concentrated Tomatoes
2 C Heirloom cherry tomatoes
2 C extra virgin olive oil
12 ea cloves of garlic (peeled)
1 bunch fresh thyme
TT salt and Peperoncino
• Peel the cherry tomatoes and season lightly, place them in the oil along with the garlic and thyme and slow cook at 275'f until 'concentrated' (about 1 1⁄2 hours), and then reserve in the oil with aromatics until needed.
For the Chanterelle Garnish
1 T extra virgin olive oil
1 cup fresh chanterelle mushrooms (cleaned, pared, rinsed and dried)
TT salt and pepper
1 tsp chives, minced
• Heat a sauté pan over high flame and add the oil. Once it begins smoking, add the chanterelles and cook very quickly until tender and lightly browned. Season and finish with chives moments before serving.
For the Fish
4 ea portions of cod (5-5 1⁄2 oz)
TT Lemon-spice powder
TT salt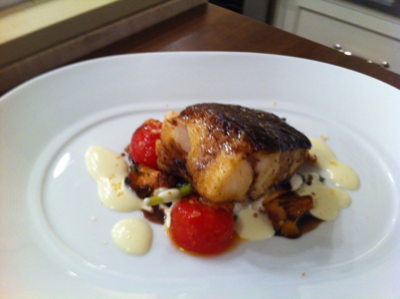 Presenting the Dish
2 T olive oil
6 ea sprigs of thyme
4 ea cloves of garlic (peeled)
4 prepared portions of cod
6 T Mantecato
cooked mushrooms
cooked fennel
12 ea concentrated tomatoes
4 T micro fennel fronds
spice salt
• Heat a heavy skillet over high heat and add the oil, place the fish in the oil, skin side down, then roast in an oven at 400'F and add thyme and garlic until fish is barely cooked, flip over and baste with oil until crispy.
• Sauté the garnish and finish with chives.
• Spoon the Mantecato on a warm plate and arrange the garnish on top. Drizzle with black oil and arrange the fish leaning on garnish.
• Finish by garnishing with micro fennel and serve hot.