SINGER-SONGWRITER STEVE GRAND took the LGBT community and the country by storm with the release of his debut single, "All American Boy." The video for that song went viral in days, and it's crazy to think that it was three years ago. Last spring, after successfully funding a Kickstarter campaign, he released a debut full-length album. Named after his trademark single, "All American Boy," it's loaded with uplifting, hook-filled songs, as well as instrumentally driven tracks showcasing Grand's talents as a musician. The album debuted at #47 on the Top 200 charts and #3 on the Billboard Independent albums chart.
I met with Steve Grand in Louisville, Kentucky for its inaugural Louisville Pride Festival. Grand was in town to perform and show his support for the local commu- nity. An estimated 12,000 people were in attendance for an all-day, family-friendly event hosted by The Louisville Pride Foundation. The festivities were held on a five-block stretch of Bardstown Road that included two stages of entertainment, food, drinks, crafts, and a wedding recep- tion for the winners of the Louisville Convention & Visitors Bureau's "Say I Do In Lou" contest (an all-expenses-paid wedding getaway to Louisville).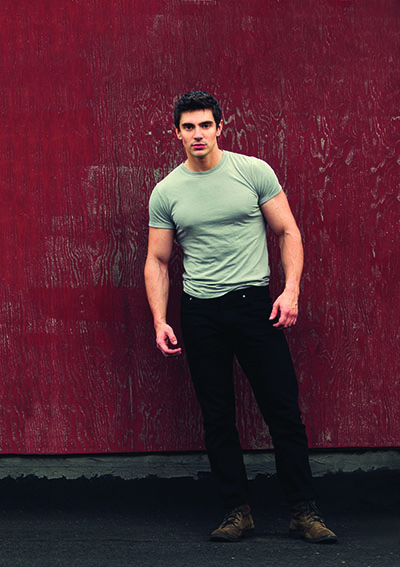 "I'm honored to be here," Grand told me after his sound check the morning of the festival. "It's always fun and special for me to do Prides, so I'm happy to be here." After he performed a few of his songs that after- noon, Grand reappeared during the wed- ding reception (which was described as the largest LGBT wedding reception in the world) to sing for the couple's first dance.
While chatting with him earlier that day, he told me about his European travels that sum- mer, the thrill of performing at EuroPride in Riga, Latvia, why it's important for him to be an activist, what's on his travel bucket list, and just exactly who the "All American Boy" is.
What was it like being in Riga, Latvia for EuroPride?
It was really cool. It was actually the first time they've had EuroPride in a former Soviet country. It was definitely the most political pride event that I've ever been to, which was exciting for me because it made me feel like I was doing something that is really important and pressing. There were more protestors there for that parade than I've ever seen, and there definitely was more security, but I think it's a testament to the fact that we are really moving in the right direction.
Where else have you traveled to recently?
I was just in San Diego last weekend. I always love being there, it's one of my favorite places. When I was on my Euro trip I also went to Lithuania and Austria. So that was definitely special for me. I'd never been overseas. I don't think anyone in my imme- diate family has ever been overseas. So it was a big deal for me.
What's on your travel bucket list?
I definitely want to go to Brazil. I want to play in Rio. I know I have a lot of great fans there. I want to meet them, hang out, and play music.
When you pack, what do you always bring with you?
A couple of clean, white T-shirts, two pairs of jeans, nothing really exciting. It's pretty basic. And usually a flannel just in case it gets chilly.
How about swimwear? Do you have a favorite go-to brand?
I know there was a little debacle this summer about that. No, no favorite brand. I just like all different kinds. There's a time and place for all of it… [Laughs]. And I do always pack some.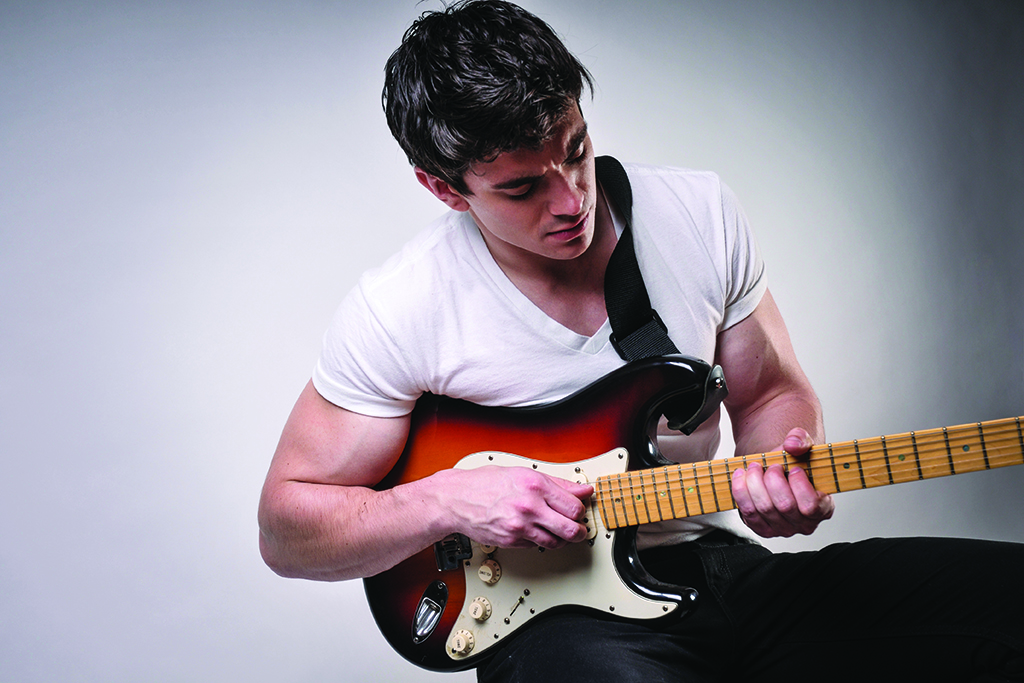 Shifting back to the LGBT community, why is it important for you to be an activist?
I know what it's like to grow up as a gay person, and I know what it's like to grow up as a gay person where you feel like you're the only person like that in the world. Things have changed so much from when I was a kid, but it wasn't always like that. And although it has changed a lot I know that it is still very difficult for young people around this country and other places around the world. I hope that I can be a voice for change by being present and being who I am, that it inspires people in some way.
What were some of your influences for your debut album?
Everything I've been through in my life. I wrote most of the songs when I was 19 to 23, which I feel were really pivotal years. Coming into your own as an adult. So a lot of the songs are about growing up and com- ing to terms with what that means as a young person in America, a young man, a young gay man in this country.
What do you have coming up next?
I do a lot of one-offs. Pretty much every weekend I'm going somewhere. My travels have been very busy. Which is good, it's better than the alternative. I'm grateful to have work. I'm always writing, always recording, and I keep chugging away, keep working toward the next thing.
Who is the All American Boy? How would you define him?
Someone that is confident enough to claim whatever identity they want for themselves. And that's why I named my album All American Boy 'cause when I grew up and when I realized that I was gay, I felt like I no longer fit the idea of what it meant to be all American. That was something my dad would always say about me and my brother, he'd say 'oh you guys are the all-American boys, you play sports, do well in school, build treehouses' and all of these kinds of things that to him meant all American. And so my naming the album All American Boy is symbolic of reclaiming that identity that was kept from me.