Whether you've committed to the ultimate US road trip along the famed Route 66 or are simply looking for a single-stop destination that embodies the Southwest's colorful diversity, Albuquerque (www.visitalbuquerque.org) delivers a charming and accessible collection of cultural, historical, and culinary offerings. The city is a delightful combination of old and new with several key neighborhoods worth exploring. Historic Old Town is home to five museums and more than 100 shops, galleries, and restaurants, as well as San Felipe de Neri parish, which has stood the test of time since 1793. Downtown possesses all the charm of a typical Main Street USA, including a surprising number of art galleries all within walking dis- tance. Nob Hill glows bright with its signature collection of neon signs, illuminating a vibrant neighborhood that overflows with historical buildings and boutiques. Uptown is where locals and visitors alike flock each September to EXPO New Mexico, home of the State Fair- grounds. Taking a closer look, here's what you can discover.
CULTURE
The Indian Pueblo Cultural Center (IPCC) (2401 12th St. NW. Tel: 505-843-7270. www.indianpueblo.org) celebrates its 40th anniversary in 2016 and has major plans to fur- ther strengthen and share the identity of New Mexico's 19 pueblos with the general public. Current offerings include weekly traditional Native American dances as well as guided mural tours that highlight the center's 19 large- scale murals by notable artists including Pabli- ta Velarde, Helen Hardin, and José Rey Toledo. Annual festivals include the Albuquerque American Indian Arts Festival (www.indian-pueblo.org/aiaf) that's held the first weekend of October and the newly established (2014) Pueblo Film Festival (www.pueblo24hour-filmfestival.com) held each November, which showcases the work of Pueblo filmmakers and actors. The IPCC is also undertaking its first major renovation of the permanent exhibition, which will open in April 2016.
Some may be surprised to learn that one of Albuquerque's other main cultural attractions has a decidedly Spanish flair: flamenco. The origins of flamenco date back to 18th-century Andalucia, but it was the Encinia family, led by Clarita Garcia de Aranda, who established flamenco's local identity by opening a dance studio in the 1950s. Her daughter, Eva Encinias-Sandoval, founded the National Institute of Flamenco (1620 Central Ave. SE. Tel: 505-242- 7600. www.nationalinstituteofflamenco.org) in 1982. Her children and grandchildren carry on the tradition, and visitors far and wide arrive each June for the Festival Flamenco Internacional de Albuquerque, a global event that attracts some of the world's most celebrated performers. Those interested in dipping their toes into the skills and fundamentals of flamen- co can drop in for a free introductory class.
It's no secret that Albuquerque can get scorching hot with peak summer temperatures hovering at 90 degrees according to US climate data. Fortunately, there are several must-see spots to stay cool where you can still appreciate the city's unique artistic sensibility. The KiMo Theatre (421 Central Ave. NW. Tel: 505-768-3522. www.kimotickets.com) is a rare example of a short-lived architectural movement called Pueblo-deco that combined elements of art moderne with Southwest Native American culture. Completed in 1927 at a cost of $150,000, the movie theater featured an $18,000 Wurlitzer organ and an epic mural by artist Carl von Hassler, titled The Seven Cities of Cibola, that pays tribute to Spanish and Indian mythology. After falling into disarray, the city purchased the theatre in 1977 with the most recent restoration in 2000. The venue hosts a variety of live performances (Grammy Award–winner Patti Griffin appears November 11, 2015) as well as movie screenings.
For a multi-sensory understanding of Albuquerque as well as a revolving collection of exhibits from around the world, the Albuquerque Museum (2000 Mountain Rd. NW. Tel. 505-842-0111. www.albaquerquemuseum.org) holds a collection of 7,000 works of art with a concentration on the American Southwest. The permanent exhibition, Common Ground: Art in New Mexico, is a portal into a much broader exploration of art and urban development, which can be seen in the four-gallery installation Only in Albuquerque. Upcoming exhibits include the folk art collection of Elie and Viola Nadelman (September 5 – November 29, 2015) and the works of 19th century educator, artisan, poet, and musician Higinio V. Gonzales (December 19, 2015 – April 4, 2016).
CULINARY SCENE
Albuquerque's arid climate provides the ideal growing conditions for the state's signature crop: New Mexican chiles. You'll find them in everything from Huevos Rancheros to enchiladas and other staples of New Mexican cuisine. Created by Dr. Fabián Garcia in 1888, the hybrid chile has several common varieties, including Anaheim, Big Jim, and Sandia, and is used either green or in its ripened red state.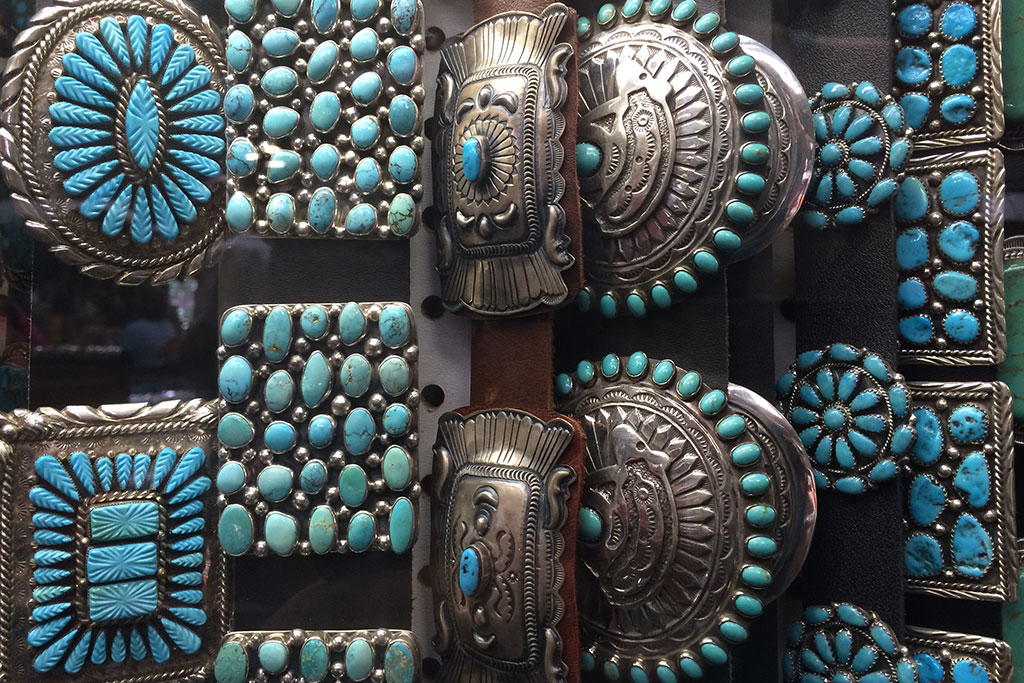 Ask any local where to sample family-style New Mexican cuisine, and you'll be steered toward the legendary Sadie's (6230 4th Street NW. Tel: 505-345-5339. www.sadiesofnewmexico.com), where heaping plates arrive with monstrous portions of burritos, tacos, tamales, enchiladas, and the house specialty, stuffed sopaipillas filled with shredded brisket, refried beans, or carne adovada. The margaritas (served in a pint glass) feature 100 percent blue agave tequila and aren't for the faint of heart.
For a contemporary riff on traditional Mexican cuisine, head to Zacatecas (3423 Central Ave. NE. Tel: 505-255-8226. www.zacatecastacos.com) in the trendy Nob Hill neighborhood. Named after the region in central Mexico, the restaurant was a semi-finalist for the coveted James Beard Award for Best New Restaurant (2013). Chef Daniel Marquez helms the casual taqueria, but don't be fooled by its whimsical décor, which features vibrant, hand-painted skull sculptures that commemorate Día de Muertos (Day of the Dead). The menu delivers elevated Mexican fare with innovative spins on classics, including duck relleno, an Anaheim chile stuffed with canela (cinnamon) duck confit, goat cheese, and Manchamantel canela sauce; octopus and blue crab ceviche with passion fruit-habañero vinaigrette; and tender baby back ribs prepared with Negro Modelo beer, prickly pear barbecue sauce, and roasted corn on the cob. Upcoming special events include Zacatecas' participation in Southwest Bacon Fest (www.southwestbaconfest.com) and the restaurant's annual tequila dinner in November.