Growing up in 1970's London and fortunate to travel much of continental Europe during my decade there, I was captivated by the world of food halls and outdoor markets. My fascination began at Harrods, where the vintage trappings and masterpiece displays in its wonderland food department tantalized my imagination to no end. Seeking out epicurean emporia wherever I have traveled since, my market memories, from the Algarve to the Arctic Circle, are a lasting feast.
Today, with culinary tourism prominent in global travel, food halls are attracting widespread attention as unique centers of exploration, learning, and discovery. As the old saying goes, "the history of the world is found on the plate," and so when traveling, there are few purer pleasures than connecting with producers and sellers directly at the point of sale.
Many of the world's greatest food halls are akin to cathedrals, temples, museums, and palaces, with past lives and legacies as flavorsome as their food. Of course, finery and prestige can mean equally opulent pricing, along with the occasional frosty attitude toward Instagram-hungry tourists. Mostly, though, food halls and markets are about carrying on the tradition, from the earliest days of civilization, of bringing people together with food and drink.
In the new culinary economy, food halls routinely anchor the redevelopment of historic buildings and the creation of new neighborhoods, while serving as incubators for today's F&B entrepreneurs, artisans, and innovators.
Food halls are also a feast for the senses during the holidays, when many try to outdo both competitors and themselves with displays and decorations. By no means exhaustive, here are some "super" markets in LGBT travel destinations around the world.
THE AMERICAS
From the Flatiron District's Italian-inspired Eataly (www.eataly.com) and the World Financial Center's French-inspired Le District (www.ledistrict.com) to the underground culinary emporiums at the Plaza Hotel and Grand Central Station, New York City is running wild with food hall fever.
History is served at the 35-plus-vendor Chelsea Market (www.chelseamarket.com). Celebrating its 15th anniversary last year, this nationally acclaimed food arcade originally belonged to the circa-1890's National Biscuit Company (Nabisco) bakery complex on Manhattan's Lower West Side. Where mighty ovens once produced Barnum's Animal Crackers, Fig Newtons, Oreos, Saltines, and other classics, Chelsea Market's snaking block-long passageway of chipped brickwork, tall archways, and tin-shack ceilings adds irresistible industrial allure to the soup-to-nuts array of food and produce within.
Atmospheric and authentic, too, is the Lower East Side's 20-plus vendor Essex Street Market (www.essexstreetmarket.com), which celebrates its 75th anniversary this year. Meanwhile, the hype is mounting for celebrity chef Anthony Bourdain's new food hall colossus. Leaked information to date tells of 100,000 square feet of Blade Runner-inspired "purposeful chaos" jutting out over the Hudson River inside SuperPier (www.superpier.com), the multi-use revitalization of historic Pier 57. Blending a farmers' market with an Asian-style fray of "hawker" merchants, the venue, reportedly named Bourdain Market, will focus on international street food and include a large oyster bar.
Three-Michelin-starred Chef Jean-Georges Vongerichten is connected to two big projects at the South Street Seaport, former home of the legendary Fulton Fish Market. Plans call for a 40,000-square-foot seafood- themed food hall and fish market inside the historic Tin Building, with a 10,000-square-foot restaurant slated for now demolished Pier 17.
Yet another star restaurateur, Danny Meyer, is reportedly creating a massive food hall at the Hudson Yards mini-city now rising on the West Side.
The Bronx has the legendary Arthur Avenue Market (www.arthuravenuebronx.com), while Brooklyn is getting into the act with a growing food hall inside the fast-developing six-million-square-foot Industry City (www.industrycity.com/food-hall) complex on the Sunset Park waterfront.
Like Philadelphia itself, the city's landmark Reading Terminal Market (www.readingterminalmarket.org) never backs down from a fight. In 1891, refusing to relocate when the Philadelphia and Reading Railroad Company wanted to build a station on its spot, the market, with roots back to 1680, made a deal to build a new street-level facility underneath the tracks and train shed.
Opened in 1892, the market was a hit, boasting some 250 food dealers and 100 farmers by 1913. Heroic during the Depression and World War II, the market hit tough times and threats of demolition in the post-war years. Diehards and loyalists kept the venue alive, though, with gradual revival beginning in the early 1980's.
After resolving another real-estate standoff, with the Pennsylvania Convention Center Authority in 1990, the market, which completed a $3.6 million renovation in 2012, is back stronger than ever and widely recognized as one of the best in the nation. With 75-plus vendors selling everything from Pennsylvania Dutch produce, Philly cheesesteaks, and housewares to flowers, it's a must for authentic Philadelphia hustle and Old World energy. For a true taste of the past, Bassetts, America's oldest ice cream company from 1861, is an original tenant in the same space from 1892, marble countertops included.
The story behind Washington, D.C.'s Union Market (www.unionmarketdc.com) began in 1931, when the city's Centre Market, from 1871, was razed to make way for the National Archives building. Some 700 displaced merchants responded by building Union Terminal Market near rail yards in northeast D.C., where they sold fresh meats, fish, dairy, and produce. In 1962, they were forced into action again when the city banned the outdoor sale of meats and eggs. That led to the construction of a new indoor market in 1967, which endured until the 1980s, when most merchants left for more modern facilities.
Anchoring a sweeping local revitalization plan, the warehouse-style facility received a comprehensive upgrade and was reintroduced in 2012 as Union Market. Home to 40-plus food vendors, restaurants, and artisans, the spacious venue has quickly established itself as a social hub and visitor destination.
In the heart of Capitol Hill, Eastern Market (www.easternmarketdc.org), from 1873 and revitalized in 2009, is another historic choice for farm-fresh produce, arts and crafts, and community events.
Atlanta-based Jamestown, the developer behind New York's Chelsea Market, is unveiling an exciting new culinary destina- tion in its hometown. Opened this summer, Ponce City Market (www.poncecitymarket.com) revives the former 1926 Sears department store and regional distribution warehouse that long served as Atlanta's center of commerce and remains the largest brick building in the Southeast to this day.
Focused on artisanal food, fashion, and technology, the project includes the sprawling Central Food Hall. Highlighting Atlanta restaurateurs and regional foods, the venue features fresh produce, raw mar- ket ingredients, and chef-driven restaurants. Eclectic choices include Latin-inspired sandwiches at El Super Pan from Atlanta Chef Hector Santiago, and local companies such as Honeysuckle Gelato and popsicle purveyor King of Pops.
While not a food hall per se, the 600-seat Bacchanal Buffet at Caesars Palace (www.caesars.com/caesars-palace/restaurants) in Las Vegas sets a titanic table by the Garden of the Gods pool complex. Reviving the legendary gourmet Bacchanal Room established in 1966 by Vegas' original Celebrity Chef Nat Hart, this $100 million update from 2012 offers more than 500 dishes prepared fresh daily in nine interactive kitchens.
"Adventures began and ended there" wrote renowned San Francisco Chronicle reporter Carl Nolte of the city's landmark Ferry Building. Opened in 1898, this beaux arts masterpiece is an American architectural icon. With its centerpiece 240-foot-tall clock tower serving as a beacon, the terminal's three-story, sky-lit Nave, running the entire 660- foot length of the buildings was once thronged with 50,000 daily ferry commuters. Made obsolete by the automobile and obscured for decades behind the double-deck Embarcadero Freeway, the terminal was reborn in 2003 following a four-year renovation.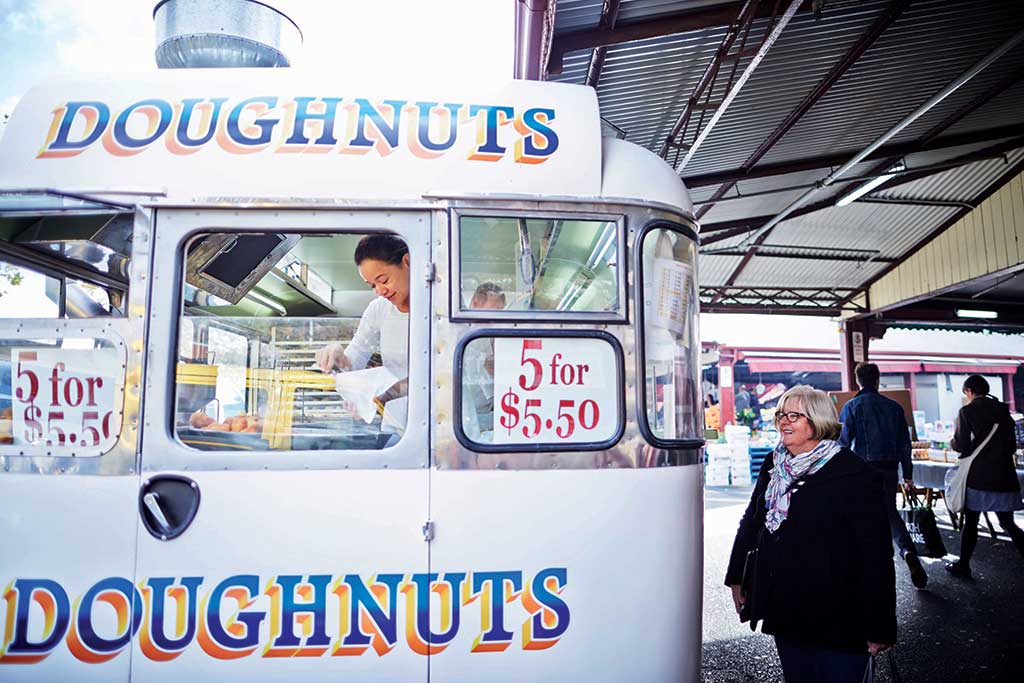 Located on the former ground-floor baggage area, the Ferry Building Marketplace (www.ferrybuildingmarketplace.com) is a 65,000-square-foot showcase of Bay Area bounty filled with tantalizing, transporting aromas. Specialty food purveyors line the Nave's aisles, while two soaring Market Halls offer a bonanza of fresh foods, produce, kitchenware, and more. San Francisco's famed Hog Island Oyster Company has a 130-seat restaurant here, one of five at the venue, with half the seats outside offer- ing peerless bay views. Also featuring cafés and smaller eateries, a wine shop, farmers' market, and more, this is the ultimate San Francisco treat.
Seattle's Pike Place Market (www.pikeplacemarket.org) is another West Coast waterfront legend with numerous claims to fame and reasons to visit. Founded in 1907 to connect farmers and producers with customers, this community-centric treasure maintains its long-running "Meet the Producer" program with the 80-plus Washington farmers who sell here. Part of the nine-acre Market Historic District, Pike Place is home to more than 500 independent butchers, fish markets, shops, bakeries, restaurants, and other small businesses. There are classes at the Atrium Kitchen, specialty foods from around the globe, and, in June 2015, the market broke ground on its first major enhancement in 40 years, converting a parking lot into mixed-use, multi-level Pike Place MarketFront.
Billed as the city's version of Pike Place, Portland, Oregon has announced plans for the indoor/outdoor James Beard Public Market (www.jamesbeardmarket.com), while San Diego is readying to open Liberty Public Market (www.libertypublicmarket.com) this fall.