We wandered the narrow, shaded streets of the Old Town, peeking into gated courtyards with soothing fountains, ferns, flowers, and stairs wind- ing up to balconies. We followed the signs saying Banys Arab to the Arab baths dating back to the tenth century, now in partial ruin. It amazed me to think that in this tranquil oasis generations of denizens had been taking the waters for over a millennium. After coffee at one of the many cafés, we visited Bellver Castle which as Europe's first circular fortification, built in 1311 C.E. and is now a museum and site for cultural events.
Since the day was warm (the hottest so far on the trip) we walked along the beach until we found a suitable place to take a dip. I wiggled out of my underwear and into my swimsuit and we plunged in. The water was chilly, but wonderfully bracing, getting a jump-start on summer.
That night, the captain invited us as dinner guests at the Captain's Table in Discoveries Restaurant, the Quest's more formal venue with white linens and crystal settings. Two couples from England and one from the US joined us, along with the affable Captain Carl Smith, hail- ing from the Isle of Man, who started his seagoing career in 1989 and has skippered the Quest for five years. Carl explained that Azamara is among the only lines with a full-time sustainability director, to make the cruise as environmentally friendly as possible.
While on board, Rob and I sampled the four other dining options as well.
We generally ate at Windows Café, offering a buffet spread three times daily. Breakfast had such treats as bagels and lox, custom-made omelets, fresh fruit, fresh juices spiked with ginger, and an array of freshly baked breads and pastries. Lunch and dinner typically revolved around a theme: Indian, Italian, Spanish, Mexican, Chinese, etc., but always included sushi and sashimi, a salad bar, and tempting dessert and gelato selections. For late lunch, we enjoyed fish kabobs, turkey burgers, fries, and salad at the Pool Grill.
Two formal restaurants are popular with guests who prefer to dress up and dine at a leisurely pace. These include Prime C, a classic steakhouse, and Aqualina, which serves contemporary American cuisine with a Mediterranean flair and offers fine dining with a more select menu at $25. With equal parts showmanship and smooth professionalism, the team of waiters presents each diner's entrée with a well-timed flourish. Each dish, as we later learned while on the galley tour, is cooked to order, rather than hurriedly snatched from a warming table. The restaurant staff, hailing from 42 countries, took personal care to greet each guest and remained professional and attentive throughout the cruise.
During the course of the trip, I became friendly with one crew mem- ber and asked what were the dumbest questions he'd ever heard passengers ask. He laughed and replied, "You would not believe how many ask 'What is the combination to my safe?' If I knew, it wouldn't be a safe. Another good one: 'Is that salt water in the toilets?' I usually reply: 'I wouldn't know, I've never tasted it.' A perennial complaint from novice travelers is: 'We booked a room with an ocean view, but there's a ship blocking our view.' And another one, especially on longer trips, 'None of the clothes I packed f it me anymore.' to which I usually reply, 'Hmm, yes, the humidity shrinks everything.'"
The next day in Valencia, we marveled at the streets and parks that were lined with its namesake orange trees, the scent of the heady blooms wafting through the town. Here, I was reunited with my friend Eduardo, a dancer I met 20 years ago in Cuba, who had moved to Spain and tracked me down through Facebook. In his car, we went directly to the Calatrava City of Arts and Sciences (www.arcspace.com), a civic and cultural complex with an opera house, science museum, sports stadium, Europe's largest oceanographic park, and a classic Santiago Calatrava harp bridge all situated on a former riverbed which was drained and rerouted after a catastrophic flood in 1957.
While the structures evoke futuristic science fiction flicks in their design, Eduardo explained that the complex has become a symbol of profligate spending and financial mismanagement. Valencia is now struggling under a massive debt burden. Within a year of completion, the astonishing white picassiette facing of the opera house is already heaving and chipping.
After another day at sea, we came to the jewel of Andalusia, the Alhambra (www.alhambra.org) constructed on a plateau overlooking Granada, the snow-capped peaks of the Sierra Nevada as a backdrop. The Quest docked in Motril, and we visited the property's most famous palaces and gardens. Spread out over two hills divided by a valley, it was originally constructed as a fortress in 889 C.E., then later converted into a palace by the Nasrid rulers, later occupied by Christian kings, and now is a UNESCO World Heritage site.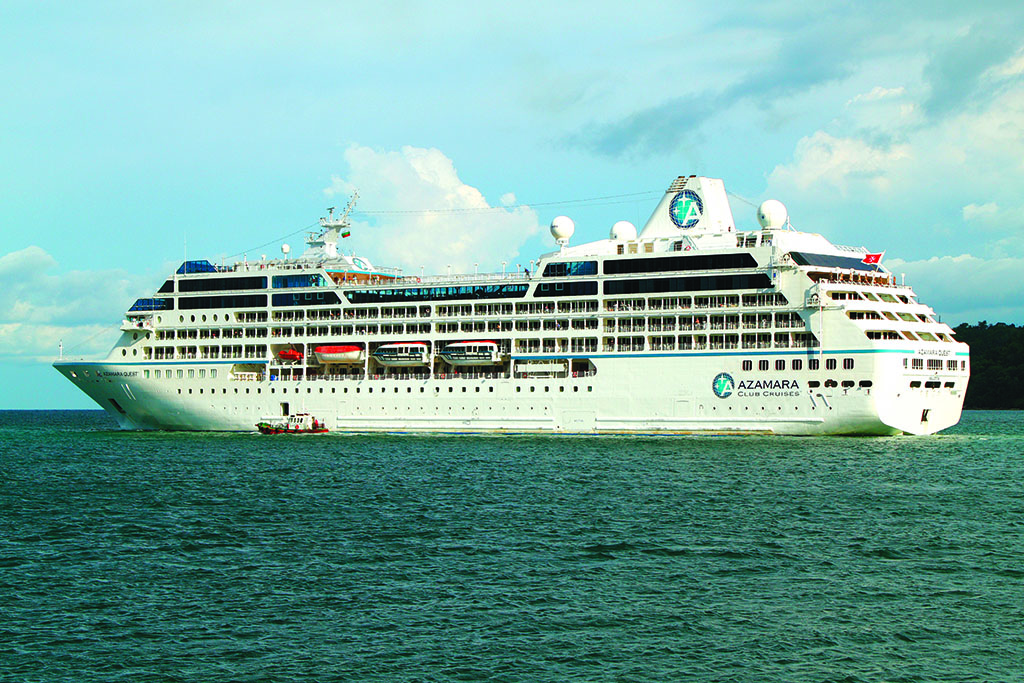 The Moorish portion of the Alhambra includes the Alcazaba, or citadel, which is the oldest part—only its massive outer walls, towers, and ramparts remain. The principal courtyards of the palace are the Court of the Myrtles and the Court of the Lions, named for the twelve white marble lions supporting an alabaster basin. Grand rooms open onto the courtyard and the Hall of Two Sisters with its outstanding example of Moorish stalactite work. The less opulent, but still lovely, daily living quarters are centered in the Generalife, with terraced gardens, pools, and endless fountains creating an enchanting atmosphere.
When Rob and I returned to Granada a week after the cruise, we were able to more fully explore the Alhambra, which you could devote most of a day to. After all the fountains and baths, we checked out Granada's best bathhouse, Hammam Al Andalus Arab Baths (www.hammamalandalus.com), a Moorish bathhouse restored for visitors to experience Alhambra-like opulence. Wallowing in the warm pools under intricately pillared ceilings, the light filtering through colored glass, we sipped mint tea and enjoyed this unique way to unwind after a long day on our feet.
That evening we located the colorful and cheery restaurant Botánico (www.botanicocafe.es), listed on the Gay Granada map and website (www.gaygranada.com) serving a mélange of international cuisine. Our waiter was cheeky in a friendly sort of way, and as we enjoyed our prawn Thai green curry and teriyaki tuna, six lesbians took the table next to us. Nearby, all in the town center, are a dozen other gay venues. We stopped for a drink at Six Colors, a friendly pub with studly bartenders. Just around the block is La Sal, mostly frequented by lesbians. Nearby, Restaurante LaGayedr is a gay establishment featuring drag cabaret between courses, and Tic Tac, a cruise bar with a back room.