With its glorious beaches and spectacular sunsets, Hawaii is the leader when it comes to romance. Couples fall in love with its amazing resorts, spacious suites, world-class and abundant activities. It's exotic, tropical and a convenient, safe destination escape.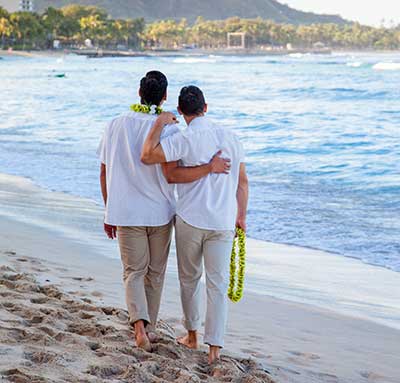 Thousands of couples choose to get married in the Islands annually, a trend that is expected to grow. According to Mark Young, senior manager of meetings and events at The St. Regis Princeville Resort on romantic Kauai, couples see a destination wedding as an opportunity to maximize their experience by combining the ceremony with a vacation, a honeymoon or a family reunion.
The Moana Surfrider, A Westin Resort & Spa began hosting weddings when it first opened back in 1901 . The ever-elegant "First Lady of Waikiki" has been perfecting them ever since; it hosted nearly 2,000 weddings in 2016. Among its secrets, the Moana Surfrider's highly acclaimed Moana Lani Spa – the only beachfront spa in Waikiki and one of the only facilities to offer private massage and treatment rooms exclusively for couples.
At The Westin Maui Resort & Spa, couples can arrange to have their names in lights atop the hotel. At The Royal Hawaiian, a Luxury Collection Resort, the wedding team offers bespoke wedding experiences that include spectacular beachfront dinners.
In Hawaii, world-renowned SPG brands Sheraton, Westin, St. Regis and The Luxury Collection now offer a Honeymoon Gift Registry, where couples can pre-plan activities for their honeymoon or destination wedding. Couples create personal websites, use the social media share tools, send announcement cards, and share the registry with family and friends: https://starwoodhi.honeymoonwishes.com/. Loved ones can select and purchase from an array of gift items, including rooms, dining, tours, activities, spa and more.
"Starwood's "Ocean Promotion" offers savings of up to 30% and daily breakfast for two at 12 stunning resorts on Oahu, Maui, Kauai and Hawaii Island."
For more information or to start planning a dream destination wedding, vow renewal or honeymoon in paradise, visit starwoodhotelshawaii.com/romance or call (866) 716-8140.