There something about Miami Beach that seduces everyone the moment they arrive. For me it's the first sight of a majestic palm tree reaching up to a clear blue sky, cruise ships welcome passengers in the harbor, lush, vibrant tropical foliage surrounding beach houses overlooking, Biscayne Bay, and stunning modern hotels that evoke the Art Deco glamour that is an integral part of Miami Beach culture.
During a recent visit, we check into the Miami Beach EDITION (2901 Collins Avenue, Miami Beach. Tel: 786-257-4500. www.editionhotels.com/miami-beach) an amazing oceanfront hotel created by Ian Schrager in partnership with Marriott International. According to Schrager, "It's a new kind of place—it's the next-generation urban resort, and the next-generation business and lifestyle hotel. There's nothing else like it on the beach or anywhere else."
The moment we enter the lobby the Mise en scène of white marble floors and polished white pearl Venetian walls, highlighted with tones of gold and the soothing green of palm trees transports us to a time and place where time stands still and man and nature are one.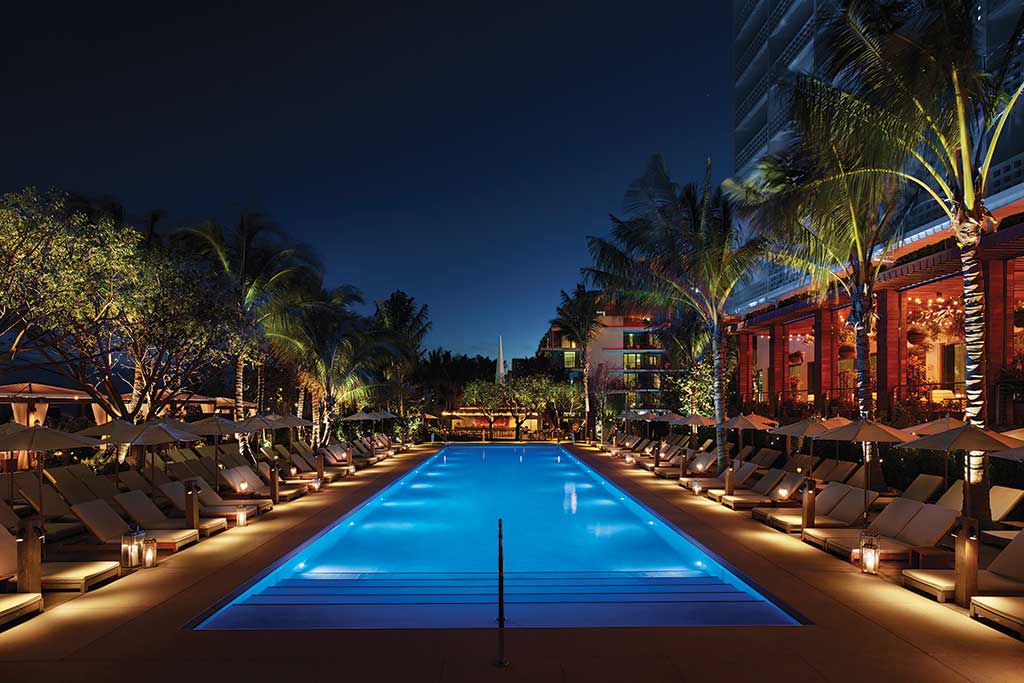 According to Arne M. Sorenson, President and CEO, Marriott International, "The sophisticated approach to modern luxury through design, culinary and entertainment elements so unique to Ian Schrager, combined with Marriott's well-known service and operational culture, is what makes EDITION one of the most intriguing brands in the industry."
When it comes to The Miami Beach Edition, the combined talents and objectives of Schrager and Marriott have created a resort that provides numerous culinary, entertainment, and lifestyle options for both leisure and business travelers.
Traveling as a gay couple, my partner and I always try to chose a hotel that gives us an opportunity to relax together as well as the amenities we need to do business with clients while out of the office.
"We're rethinking the relationship between a resort and a businessperson," says Schrager, "and we're saying, you'll be able to come here for your business, and why shouldn't you be able to have fun, and enjoy life while doing business."
During this trip, however, we try to keep business to a minimum! As soon as we unpack in our oceanfront room, we head downstairs to Tropicale. This original landmarked Sundial restaurant and bar, now restored, serves cocktails and light cuisine in a lush beach setting. Taking in the beautiful ocean views, we toast each other with a smile and say: "Here's to new and good."
One of the greatest pleasures for us is being able to enjoy cocktails and dinner al fresco, and The Miami Beach EDITION offers many opportunities to do just that. Before leaving New York, we made reservation for dinner at The Matador Room, where Chef Jean-Georges Vongerichten creates modern interpretation of Latin cuisine influenced by Spanish, Caribbean, and South American flavors. "Sharing tropical flavors I love through a modern Miami Beach lens is exciting for me," he says. "Florida also produces some of the most vibrant produce and fish in the world, and I've been thrilled to incorporate them into creative plates that reflect South Florida's Latin character and international flavor."
For dinner that night we are happy to explore his culinary creations. With a prime table for two on the terrace overlooking the pool, we settle in for one of the best meals we've had in a long time. The setting is both romantic, and social, and our server make us feel as if we are dining with friends. We begin with Ketel One martinis (shaken, not stirred), while perusing the menu for some exciting new taste sensations. Our starters of sweet pea guacamole with warm, crunchy tortillas, and the local arugula and fennel Salad with radish, Parmesan, and lemon vinaigrette are the perfect way to begin our meal. There are many other great choices as well, including wild gulf shrimp with sizzling garlic and chili oil, but we delay any unnecessary indulgences for later and move on to the entrées. Being from New England, I am usually disappointed when I order fresh fish when traveling, but the grilled Maine lobster with drawn butter and smoked chilies is as good as I remember growing up. Fresh and tender, the flavor of the lobster is perfectly matched with the spices. My partner, meanwhile, is grinning ear to ear as he devours his roasted free-range turkey Cuban sandwich, with ham, aged cheddar and Gruyere Cheese, and house made pickles.
It is approaching midnight and people are still arriving for dinner. At the table across from us, John Stamos is entertaining a few friends and happily posing for selfies with some attractive admirers (both men and women).
Knowing that instant gratification is sometimes not a good thing, we order another vodka martini, while we contemplate trying the almond cake with guava Sorbet, or the warm vanilla fritters with Mexican chocolate. After about 10 minutes, we give in to our sweet desires.