Swilling Pinot in a chic tasting room overlooking vine blanketed hillsides, enjoying farm-to-table dinners featuring the bounty of the day, and forging new friendships around a communal firepit at a tucked away retreat, what could be better than that when visiting Southern California.
We love a good wine country weekend, and the Golden State is blessed with around a dozen unique wine regions, including several within striking distance of Los Angeles. Here's how to queer up the countryside with a SoCal wine weekend. Though the wine taster's rule of thumb is to spit and not swallow, we know LGBTQ travelers will surely do the opposite!
TEMECULA VALLEY
Wine snobs used to regard Temecula Valley, an inland region about 55 miles northeast of downtown San Diego, as an inferior place to sip and swill, but it's time they took the cork out to appreciate what this destination has to offer. The area boasts nearly 50 wineries, including numerous award-winning vintners, and takes itself far less seriously than its NorCal counterparts. Anchored by a historic downtown boasting Old West vibes and featuring rolling hills and mist-filled valleys in every direction (plus close proximity to San Diego and its beaches), Temecula is the perfect place to getaway for wine weekend.
EAT: Packing a picnic? Head to E.A.T. Marketplace (28410 Old Town Front St, Tel: 951-694-3663. EatMarketplace.com) in Old Town and stock up on victuals sourced from local ranchers and organic farm producers or stop by for breakfast or lunch at their all-day café. Want to impress your travel companion? Devilicious Eatery & Tap Room (28693 Old Town Front St, Tel: 951-506-4024. DeviliciousEatery.com) offers elevated comfort food like bacon wrapped mac 'n' cheese and pesto caprese grilled cheese sandos. The part that impresses is its Apparition Room, a craft cocktail bar and speakeasy hidden within the restaurant. Shhh! Don't tell anyone.
SIP: We love BOTTAIA Winery (35601 Rancho California Rd, Tel: 951-365-3388. BottaiaWinery.com). An architectural stunner, BOTTAIA is chic and modern, and we weren't the least bit surprised to see other gays during our visit. Boasting seated charcuterie and wine pairing experiences and an all-ages seasonal swimming pool overlooking the vineyard, BOTTAIA is the region's coolest hangout. Other faves include Altisima Winery (37440 De Portola Rd, Tel: 951-422-2525. AltisimaWinery.com), a low-key charmer with Spanish roots, and Akash Winery/Akash Brewing (39730 Calle Contento, Tel: 951-888-1393. AkashWinery.com), a two-in-one winemaker and brewery where visitors can enjoy wood-fired pizzas on weekends.
STAY: Housed in a gorgeous, mission-style building, PonteVineyard Inn (35001 Rancho California Rd, Tel: 951-587-6688. PonteVineyardInn.com) offers top-notch accommodations set around a lovely courtyard garden with a gurgling fountain as its centerpiece, plus a swimming pool, hot tub, and onsite restaurant. All rooms boast either a balcony or covered patio and vineyard views practically surround you no matter where you are on property. The romance factor is high so definitely bring your significant other (or others).
PLAY: Temecula, a drag town? You may just think so after a visit to Public House (41971 Main St, Tel: 951-491-1772), a restaurant purchased in 2022 by out owners and couple Chad Riley and Anthony Aglio (who plan to rename the venue The Hatch and Hideaway). Public House is the permanent home to Bacon and Leggs Drag Brunch right in the heart of Old Town Temecula.
SANTA BARBARA
Hugged on one side by the Pacific Ocean and on the other by the Santa Ynez Mountains, and boasting Spanish Colonial buildings draped in flowing bougainvillea, Santa Barbara hardly needs wine to add to its sunny, year-round appeal. And yet its near-perfect climate and walkable downtown make it one of the best wine country weekends in California. Skip the countryside and instead stroll the hip Funk Zone where tasting rooms abound.
EAT: Heads or tails… Lucky Penny (127 Anacapa St, Tel: 805-284-0358. LuckyPennySB.com) is one of the city's best bets. This all-day eatery is famous for its perfectly cooked wood-fired pizzas, sprawling outdoor patio, and prime Funk Zone location. Santo Mezcal (119 State St, Tel: 805-883-3593. SantoMezcalSB.com) is another Funk Zone gem offering elevated and artfully presented Mexican food alongside more traditional cantina favorites. The canopied and vine-covered patio at La Paloma Café (702 Anacapa St, Tel: 805-966-7029. LaPalomaSB.com) just off pedestrian-friendly State Street, offers a bit of tucked-away privacy for a casual romantic dinner. The California fare is excellent and the stacks of blankets for chilly nights is a nice touch.
SIP: While most tasting rooms revel in vineyard views, Deep Sea Tasting Room (217 Stearns Wharf, Tel: 805-618-1185. ConwayFamilyWines.com) instead offers rolling waves. Perched at the very end of Stearns Wharf, this off shoot of Conway Family Wines boasts the best views in town, an LGBTQ following, and delicious vino. Melville Winery Tasting Room (120 State St, Tel: 805-770-7952. MelvilleWinery.com) is a Funk Town favorite offering cold climate varietals, charcuterie plates, and a space that feels like a chic SoCal living room.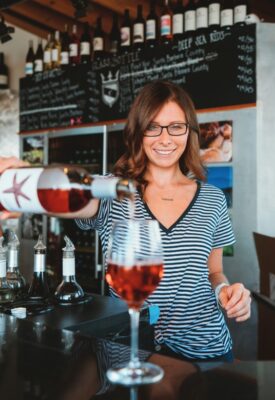 STAY: An off-the-beaten path charmer, The Hideaway (420 W Montecito St,Tel: 805-965-2333. HideawaySantaBarbara.com) offers a dollop of low-key romance paired with California coastal style just several blocks from the beach and about a 15-minute walk from downtown. The hotel only has about a dozen rooms so a stay here feels really private and special. Book a room on the second floor for mountain views.
PLAY: Santa Barbara has no full-time queer bars, though the Wildcat Lounge (15 W Ortega St, Tel: 805-962-7990. WildCatLounge.com) is popular with the LGBTQ community. Sunday is the official gay night (and can get packed), though karaoke nights and occasional drag shows have helped cement its reputation as a homo hangout. Meanwhile, More Mesa (1095 Mockingbird Lane; park along Vieja Drive) about a 10-minute drive north of downtown is one of the dreamiest and low-key nude beaches in Southern California. Parking is easy and the hike is a cinch. Gay men congregate in a lovely cove-like area at the north end of the beach.
SANTA YNEZ VALLEY
Tiny Buellton has long lured California motorists traveling Highway 101 with the promise of split pea soup at kitschy Andersen's, a town staple since 1924. But the siren's call these days is as a wine destination thanks to its appearance in the 2004 Oscar-nominated film Sideways. Bereft of a postcard-perfect downtown, Buellton is nevertheless the hub community for the vaunted Santa Ynez Valley (which boasts more than 120 wineries) and includes several small towns worth visiting like Los Alamos and Solvang, a tourist hub steeped in Danish heritage.
EAT: Each of the tiny towns around the Santa Ynez Valley has been endowed with an excellent restaurant or two. The queues arrive fast and furious each weekend morning at Bob's Well Bread and Bakery (550 Bell St, Los Alamos, Tel: 805-344-3000. BobsWellBread.com), an all-day café and bakery famous for the sandos crafted from its house made breads. Tucked away Industrial Eats (181 Industrial Way, Buellton, Tel: 805-688-8807. IndustrialEats.com) in Buellton is a restaurant and craft butcher turning out shockingly good wood-fired pizzas, sandwiches, and specials like an outstanding miso cod. No visit to the region is complete, however, without a visit to the LGBTQ-friendly Hitching Post (406 E Hwy 246, Buellton, Tel: 805-688-0676. HitchingPost2.com), also made famous in the oenophile flick Sideways and specializing in Santa Maria-style BBQ (meats grilled over and open fire of red oak wood) and hilltop views.
SIP: Our favorite vintner in the region is breathtaking Presqu'ile Winery (5391 Presquile Dr, Santa Maria, Tel: 805-937-8110. PresquileWine.com). We've been coming here for years in part because they specialize in Pinot Noirs, our favorite varietal. Perched on a hilltop offering mist-filled vineyard views, Presqu'ile manages to meld country charm with sleek and modern. But the secret is out so best to plan your visit in advance. In Buellton, head to the weekend-only tasting room TerraY Sol (140 Industrial Way, Buellton, Tel: 805-325-9817. TierraYSol.com) a laid-back charmer helmed by Andre Ibarra, one of the few Latino vintners in the region.
STAY: Rare is the chain hotel that offers a swimming pool and hot tub with sweeping hillside views, but the backyard at The Hampton Inn & Suites Buellton/Santa Ynez Valley (600 McMurray Rd, Buellton, Tel: 805-686-1555. Hilton.com) is among the loveliest in town. Come prepared to stroll the immaculate grounds and spend daily sunsets during harvest season around the outdoor fire pit, glass of wine in hand of course. Skyview Los Alamos (9150 HWY 101, Los Alamos, Tel: 805-344-0104. SkyviewLosAlamos.com) is a roadside motel turned luxury boutique hangout attracting hipsters from Los Angeles and San Francisco in droves.
PLAY: Just before HWY 101 bolts north toward Buellton, there's Gaviota State Park, home to off-radar San Onofre Beach (Take the Mariposa Reina exit and a mile later park at the lot next to the train tracks; follow the trail to the large rock marking the beginning of the clothing optional section, which is nudist and popular with gay men though you may have this slice of paradise all to yourself. If park rangers show up, put the Speedo back on. Absolutely don't miss Ostrichland USA (610 E HWY 246, Solvang, Tel: 805-686-9696. OstrichlandUSA.com), a working farm just a few miles from downtown Buellton and the most fun you can have for $7. Grab a dustpan piled high with birdseed, have your iPhone ready, and watch as these prehistoric and overstuffed birds engage in fowl play by snatching every last drop of food from your pan.
PASO ROBLES
Once a pass-through city on HWY 101, Paso Robles has emerged as the crown jewel of the Central Coast wine circuit. Only 30 minutes north of San Luis Obispo, the town boast more than 200 mostly family-owned wineries, a town square straight out of a Norman Rockwell painting, and arguably the most Instagrammable art installation in California. Plan on booking both hotel and dinner reservations plenty in advance; this wine country town is booming!
EAT: A pandemic-era success story, The Paso Market Walk (1803 Spring St, Tel: 805-720-1255. PasoMarketWalk.com) opened in 2020 and offers a half dozen food stalls (a pizzeria, ramen shop, and craft brewery among them) plus gift shops, and an e-bike rental company. Civic life in Paso revolves around Downtown City Park which is Pringed by numerous winsome shops and restaurants. Among them are wildly popular Fish Gaucho (1244 Park St, Tel: 805-239-3333. FishGaucho.com), a modern Mexican cantina, and The Alchemists' Garden (1144 Pine St, Tel: 805-369-2444. AlchemistsGarden.com), where fancy craft cocktails are paired with upscale bar eats Special occasion restaurant Les Petite Canailles (1215 Spring St, Tel: 805-296-3754. LPCRestaurant.com) offers superb French classics, an amazing wine
list, and lovely service.
SIP: You're spoiled for choice when it comes to wine tasting. Start at Tin City (450 MarquitaAve,Tel: 805-800-4366. TinCityPasoRobles.com), an urban industrial gathering place several miles south of downtown featuring craft breweries, tasting rooms, live music, picnic tables, and Michelin-starred Six Test Kitchen (sixtestkitchen.com) the hardest reservation to snag in the entire Central Coast. Family-owned Eberle Winery (3810 CA-46, Tel: 805-238-9607. EberleWinery.com) is a Paso institution, don't miss a walkthrough of the 16,700-square foot subterranean Eberle caves. At Niner Wine Estates (2400 CA-46, Tel: 805-239-2233. NinerWine.com), have your camera ready to snap a picture of Heart Hill, a grove of trees that naturally form the shape of a heart.
STAY: Though not named after the Queen of Pop, it's easy to get into the groove at the kitschy Madonna Inn (100 Madonna Rd, San Luis Obispo, Tel; 805-543-3000. MadonnaInn.com), a Central Coast icon since 1958 that offers 110 themed rooms, a swimming pool, day spa, and ambience soaked in bubble gum pink. If nothing else, swing by for a gift shop visit and have breakfast at the Copper Café. The Stables Inn (730 Spring St, Tel: 805-296-3636. StablesInnPaso.com), meanwhile, offers playful western vibes right in the heart of Paso Robles.
PLAY: One of our favorite nude beaches in California, Pirate's Cove (Cave Landing Road, Avila Beach) in Avila Beach offers a divine, south-facing cove and Mediterranean blue waters less than 15 minutes from downtown San Luis Obispo. The gay presence at the beach is small, but steadfast. At sunset, book a reservation for Field of Light at Sensorio (4380 CA-46, Tel: 805-226-4287. SensorioPaso.com), an enchanting and romantic multi-acre walkthrough installation from artist Bruce Monro, which turns the rolling hills on the outskirts of Paso into a nighttime wonderland of twinkling lights. Don't miss it, and don't expect to be the only visitor.
---
You may also enjoy