Relax, get close, and experience something new and beautiful together at Rancho La Puerta. A morning mountain hike, trail run, or walk becomes a moment to remember forever. Fitness classes, afternoon swims, and inspirational lectures bring high energy. Spa treatments— including couples' massage in your room—help you sink into the most relaxed state. Meals are a time to make new friends, or enjoy dining together, just the two of you, to candlelight. Each night, with a crackling fire in the fireplace of your private casita, you say goodbye to the day and hello to a night of quality time together.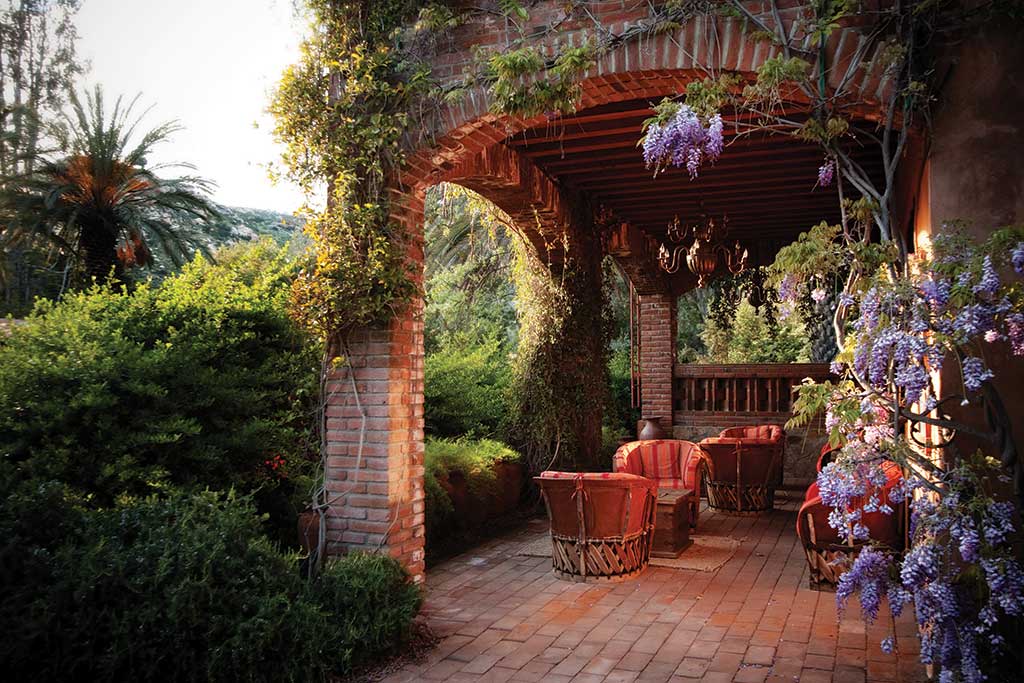 Wherever you go amidst Rancho La Puerta's 4,000 acres of landscaped gardens, oak groves, wild meadows and mountainsides, the broad granite shoulders of Mt. Kuchumaa are a steady and welcoming presence. Kuchumaa means "exalted high place" to the Kumeyaay native Americans. It stands as a mystical, spiritual backdrop for the spa long known as the "World's Friendliest." The summit crowns spectacular views as you walk the resort's garden paths
that wind between pools and fitness gyms and back to your casita.
"A place of welcome, new beginnings and discoveries"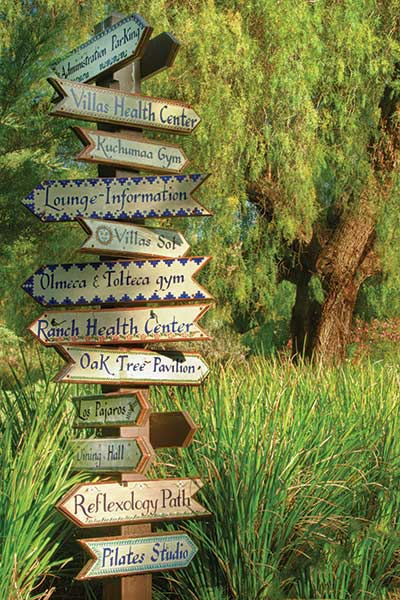 Beneath the rocky shoulders of Mt. Kuchumaa, and nestled in the heart of a private six-acre organic garden, is La Cocina Que Canta ("The Kitchen That Sings!"). Classes here celebrate the magical results of cooking with just-picked organic ingredients. The colors, aromas, and tastes that emanate from La Cocina are nothing short of amazing. Your sensory experience combines with the camaraderie and energy that occurs when you cook side-by-side with extraordinary visiting chefs from all over the world. Working together, each class creates and dines on a delightful meal—an unforgettable culinary memory.
Romance blossoms in the gardens of the resort's organic farm and cooking school, where many couples have joyfully said, "I do!" Whether you're ready to tie the knot or renew your vows, La Cocina Que Canta offers a unique wedding venue of unparalleled natural beauty, serenity, and magic.
The 77-year-old fitness resort and spa—located in mountains only an hour's drive from downtown San Diego in Baja California, Mexico— is true to its name: la puerta or "the door," a place of welcome, new beginnings and discoveries. It's a place readers and editors of top magazines such as Condé Nast Traveler and Travel+Leisure have honored many times as "World's Best". Perhaps most important, The Ranch's natural setting is a place of peace, birdsongs, and a balmy year-round Mediterranean climate that celebrates the beauty of romance.
For more information on planning your stay, visit rancholapuerta.com/passport and call 800-443-7565.