At the heart of Union Square, San Francisco's tourist center, Hotel Nikko San Francisco (222 Mason St. Tel: 415-394-1111. www.hotelnikkosf.com) may have over 500 rooms, but it feels like a boutique hotel. As its only location in the Americas, this worldwide Japanese-run chain offers a cozy feeling to the Nikko that makes it seem less like a member of a global chain than a San Francisco–centric, eager-to-please spot. Enter the lobby—up a floor from the hotel entrance—to a vision of stairs and marble. Orchids and palms scattered throughout give a feeling of elegance, though the amiable staff returns you again to the world of "boutique." At one end of the lobby you'll see Anzu Restaurant and Feinstein's Night-club (more on those later), but for now, check in at the counter made of marble ("India called," quipped one local, "and they'd like their marble back"). There's a traditional sort of elegance here that's modernized by such touches as a number you can use to text the front desk if you should need anything.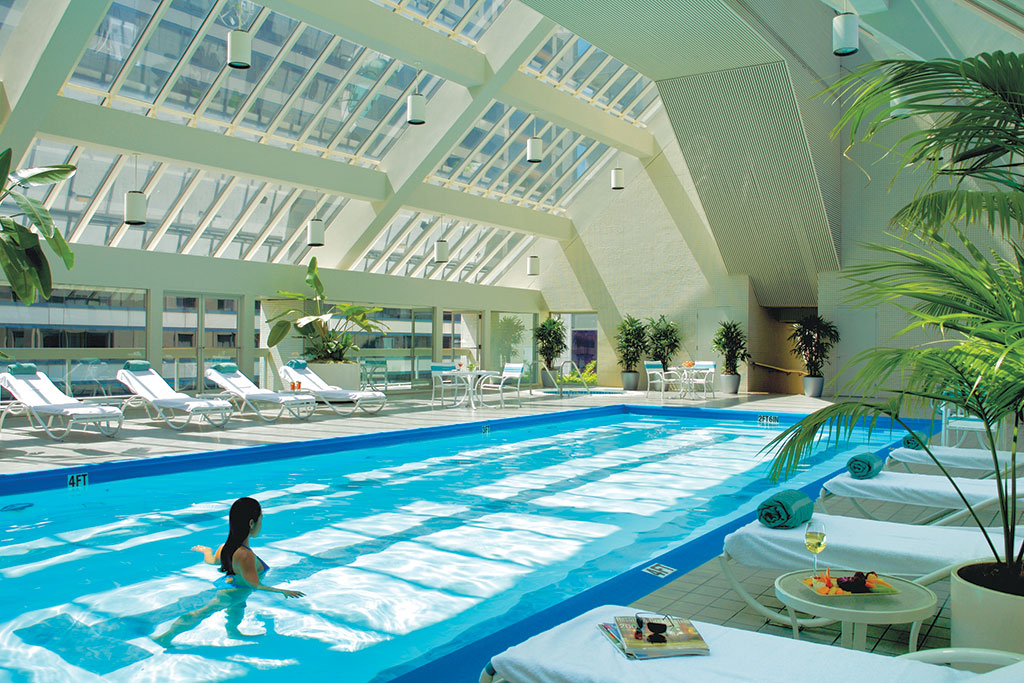 Coolly designed rooms are done in earth tones, with the most comfortable beds in the history of hotel beds, and some of the best views imaginable in this very picturesque city. Sit and look out your window. It feels like all of San Francisco is at your fingertips, which it pretty much is. One of the major advantages of the Nikko: location, location, location. While Union Square, honestly, is probably not the most fascinating neighborhood for experienced San Fran- cisco travelers, the Nikko's positioning, just a stone's throw from Market Street and a block from the Powell Street cable-car lines, makes it a perfect base for exploring the city.
Hop on an "F" streetcar down Market Street, and within a few minutes you're in the Castro. As many times as you've vis- ited San Francisco, there's still an "I'm home" feeling when you see that Castro Theater sign, or the huge rainbow flag soaring over the Market/Castro intersection, where the streetcar drops you off. Take the "F" in the other direction, and you're at the Ferry Building, home to one of the most amazing farmers markets in the world. Hop the nearby cable car to Fisherman's Wharf or North Beach. The club scene in SOMA (South of Market) is just six or eight blocks away (again, the "F" line is your friend), and if you want to party the night away, you might have to take a taxi back, but it's a short ride. Want to make a day trip to Sonoma County or Napa Valley? Beverly Hills car rental is right in the lobby, as are a branch of Star- bucks and a UPS store. If you're not leaving the city, we'd suggest not even bothering with a car, as you can literally get anywhere you'd want to go on public transit. Save yourself the frustration of parking and driving in the city (and the $50 per night parking fee) and just hoof it. Trust us, you'll be glad you did.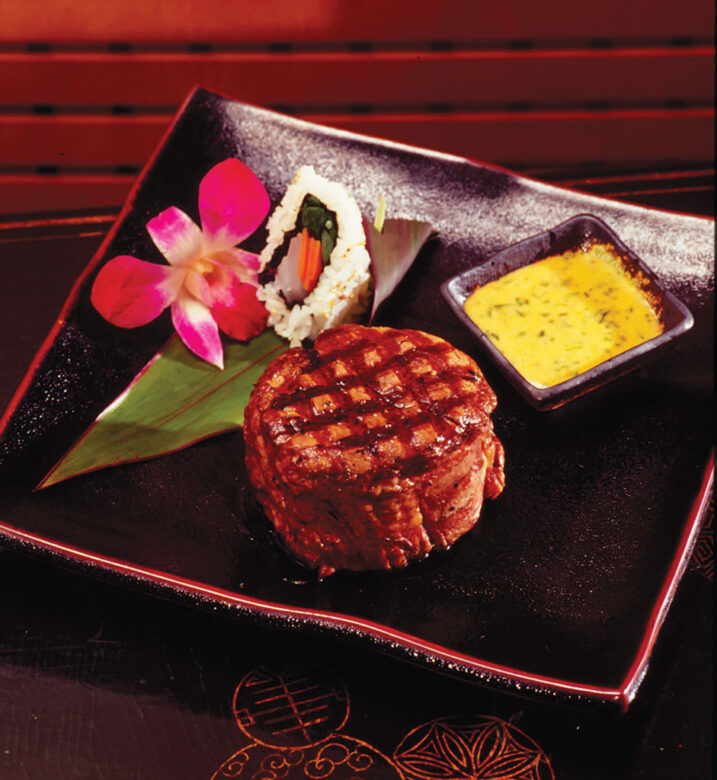 While all of San Francisco is easily accessible, you will want to spend some time in Union Square itself, which despite its touristy reputation has a lot to offer. Check out the free concerts offered many evenings in the square, which might range from jazz to pop. Experience such eateries as Bluestem Brasserie (1 Yerba Buena Lane. Tel: 415-547-1111. www.bluestembrasserie.com), where you'll enjoy favorites like duck breast with pickled cherries or butter-poached filet mignon with Meyer lemon hollandaise in this coolly designed little spot. Next door is another great choice, Amber India (25 Yerba Buena Lane. Tel: 415-777-0500. www.amber-india.com), with wonderful modern Indian cuisine from fig and orange chicken tikka masala to tandoor lobster (try their amazing chile and thyme or pesto naan). Both are a five-minute walk from the Nikko, as is Leatherneck Steak-house (609 Sutter St. Tel: 663-6672. www.marineclub.com/dining.php), at the top of the Marines' Memorial Club. This is an insiders' gem where you're likely to be the youngest diners in the room, and the views of the city—not to mention the traditional menu of steaks, seafood, and chicken—are prime.
You might, however, decide to spend a day without leaving the Nikko, and it might just be as good a vacation as you'll ever have. A full-service gym is amazingly well equipped, looking more like an independent facility than a hotel gym. The pool's atrium setting makes you feel outdoors without the vagaries of San Francisco weather.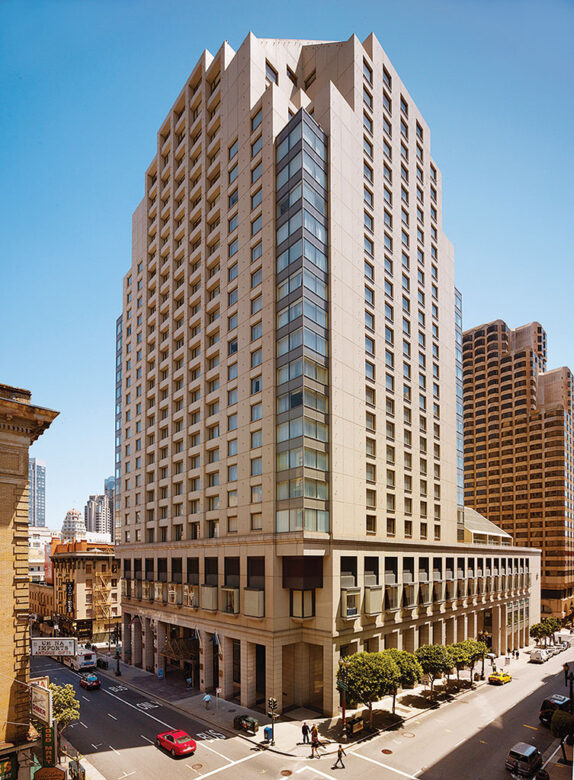 Feinstein's Nightclub (Tel: 1-866-636-4556), named after legendary performer/composer Michael Feinstein, is quickly developing a reputation among locals, who flock there to see an eclectic range of performers from Faith Prince and Christine Ebersole to Keiko Matsui, Barbara Cook, and, of course, Feinstein himself. When the house lights come down and the entertainment starts, you might just forget that on the other side of the door is a hotel lobby, so completely does the world of Fein- stein's envelop you.
The same is true of Chef Philippe Striffeler's Anzu Restaurant (Tel: 415-394-1100), whose contemporary gray and white design and amazing Asian-inspired cuisine are so far beyond "hotel dining" that you could forget entirely you're in the Nikko as you venture into Striffeler's world of culinary amazements. Start with a duo of tuna and hamachi, the little roll of bright-red tuna at the center of the plate surrounded by cubes of hamachi, their melt-in-your-mouth tenderness and mellowness offset by the tang of little squares of compressed Asian pears, and rice avocado mousse. The Wagyu beef sizzles on a Japanese river stone. Entrées infuse the freshest of ingredients with an Asian flair, like the salmon crusted in macadamia nuts with Balinese black rice and wasabi buerre blanc, or black cod so rich and succulent it could almost be dessert. Speaking of dessert: a plate with a cone of dark chocolate filled with bananas sits on a bed of rock salt that sends waves of fog across your table that rival the fog rolling in from San Francisco Bay, combining spectacle with a majorly fabulous flavor and texture combination (the dish, not surprisingly, is called "The Fog"). Even if you didn't listen to us and book a room at the Nikko, you're going to want to visit Anzu (but when you see the breakfast buffet there, the counters groaning with everything from fresh fruit, pastries, cheese boards, and cured meats to Japanese pickles, miso soup, and fish cakes, you'll be glad you followed our advice and made yourself a guest).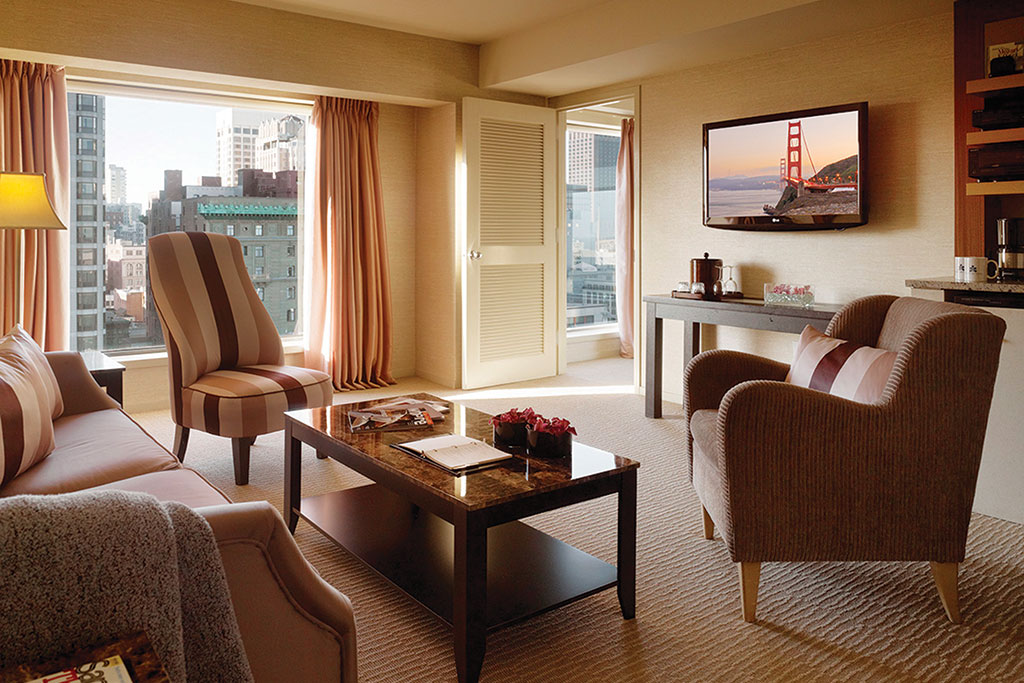 When you return to your room after your Anzu dinner and an evening of music and drinks at Feinsteins, the lights have come on throughout the city that surround your windows in its at-the-heart-of-it-all splendor. The city feels like it's at your fingertips (mainly because it is), beckoning you in with its beauty and its lights and its unique combination of laid-back and glorious. This could also be a description of Hotel Nikko, where you're simultaneously at the center of the action and in your own, slightly detached, world of pleasure.
You May Also Like: