Less, by Andrew Sean Greer, is a rib-tickling fictional spin on the Elizabeth Gilbert model of world travel as a cure for middle-age heartbreak (Lee Boudreaux Books, $26. www.andrewseangreer.com). Upon being invited to the wedding of his much younger recent ex-boyfriend, protagonist Arthur Less, a modestly successful novelist, accepts an odd international handful of other invitations in order to give himself an excuse not to attend and generally distract himself in the angsty months surrounding his impending 50th birthday. Less schedules himself on a globetrotting itinerary from a literary conference in Mexico, to an awards ceremony in Italy, to a teaching gig in Germany, and so on through France, India, Japan, and Morocco before finally heading home to San Francisco. The novel's travelogue structure keeps the action moving and constantly refreshes the opportunity for culture-specific humor (awkward dinner party in Paris, awkward camel ride in the Sahara, awkward deference in Japan), but all the while, Greer sneaks in matters of emotional import: the experience of aging as a gay man, the perils of cross-generational dating, the measurement of self-worth. Yes, one could gripe that Arthur Less suffers from dreaded First World problems, but Greer never asks readers to pity him, just to identify with him and laugh at themselves.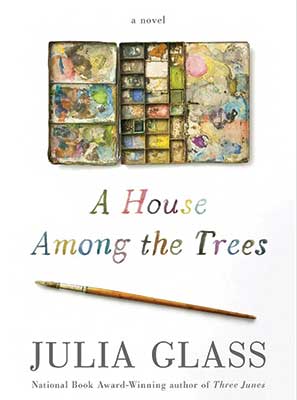 A very different sort of gay writer is central to the engrossing new novel by National Book Award–winner Julia Glass. A House Among the Trees (Pantheon, $27.95. www.facebook.com/AuthorJuliaGlass) revolves around the life and accidental death of Mort Lear, a world-renowned children's book author/illustrator whose passing leaves behind a complicated estate and a past imbued with mysteries. Glass weaves a remarkable number of narrative strands into the book: there's the story of Tommasina, Lear's former-girl Friday who is surprised to find herself named the executor of his will and even more stunned to realize that, while attending to her employer's every need, she's failed to build a life of her own. Then there's Nick, the charismatic but self-doubting Oscar winner set to play Lear in an upcoming biopic. And Meredith, the recently divorced museum curator whose career hinges on attaining Lear's archives for her museum, despite the deceased's last-minute change of directive. There are also flashbacks to Lear's past, including a volatile years-long relationship with a young social climber who is ultimately lost to complications from AIDS. Impressively, Glass makes it simple to follow all of these threads (and more). She also refuses to reduce any character to hero or villain status. This is an immersively humane, curl-up-by-the-fire read.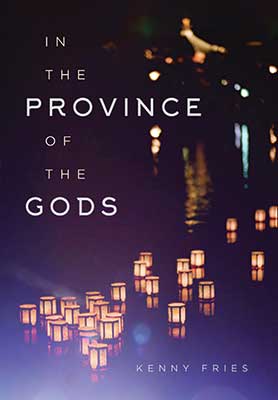 So often on our travels, we learn as much about ourselves as the places we visit. Such is the case for Kenny Fries, whose latest book chronicles two trips to Japan, and a journey to the depths of his soul. In the Province of the Gods (University of Wisconsin Press, $26.95. www.kennyfries.com) is a deeply resonant memoir that inspires gratitude in both writer and reader. Fries, disabled from birth, requires complex custom orthopedic footwear, and, on his first trip, he explores Japanese attitudes toward disability; from certain Buddhist points of view, conditions like his own are the result of having done something wrong in a previous life. But Fries discovers a more empathetic culture than he'd expected, keenly attuned to the natural world and its inherent fragility. These societal empathies become all the more meaningful when Fries returns for a second stay after having been diagnosed with HIV and finds that integrating aspects of a Japanese worldview allows him to discover new perspectives on his own life.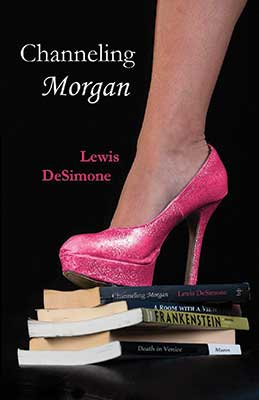 Channeling Morgan, a comic novel by Lewis DeSimone (Beautiful Dreamer Press, $13.95. www.lewisdesimone.com) is the literary equivalent of a crisp martini clinked against a fizzy flute of Champagne. It's a little Noël Coward, a little RuPaul. There's a bustling, farcical plot involving a ghost writer, a movie star, a drag queen, and a cult, but what will really keep readers riveted is DeSimone's anthropological attention to detail. His elegantly articulated observations of gay social mores are spot on—"If butchness in the American heterosexual is simply the absence of affectation, in the gay world it is its epitome"—and his precise ear for language yields some beautifully metered zingers—"The brooding boy revealed a Southern drawl, which he tried to harness with shortened vowels. The result was a garbled response that might have been 'I'm Scott from Birmingham' or 'I shat on a broom.'" Cheers, bitches!
A romantic couple for over 20 years and business partners for nearly as long, French architects Karl Fournier and Olivier Marty focus on the stark silhouettes and beckoning textures of eight major projects in Studio KO (Rizzoli, $75. www.studioko.fr) the first-ever published monograph of their work. After graduating from the école des beaux-arts in Paris, the pair took their first long vacation together, to Morocco. There, the fledgling creatives were imprinted by the rustic earthen structures, hard light, and surprising beauty they found in the country's austere landscapes. "It was love at first sight," says Marty in the book's introduction, noting that even today "We don't like sleek. We prefer things that show that they've been crafted by someone's hands." While commissioned by some of Europe's wealthiest families, the seven French and Moroccan villas featured here are profoundly down-to-earth: Rough-hewn, naturally colored stone and cement exteriors lie tight to the ground, organically connected to their surroundings. The KO duo's pièce de rèsistance to date is the new Yves St. Laurent Museum in Marrakesh. Just opened in October, its near-windowless façade is ornamented in elaborate terracotta brickwork that suggests the warp and weft of fabric. Not just an architectural landmark, the museum is also a powerful tribute to gay artistic mentorship: In Studio KO's early years, Karl Fournier wrote an admiring letter to Pierre Bergé, St. Laurent's long-term partner, after meeting him at a dinner party. Fournier expressed admiration for the older couple's success maintaining a relationship that encompassed both their professional and personal lives, and he shared the hope that he and Olivier Marty could manage something similar. Thus began the friendship that ultimately led to Studio KO's design of the new museum, a building that is, in effect, doubly monumental.
While smartphone GPS and dashboard navigation systems have rendered the old Rand McNally road atlas effectively obsolete, the pit crew at Lonely Planet have put together a terrific new gift book for roadtrip-loving readers. Epic Drives of the World ($35. www.lonelyplanet.com) details 50 sensational car trips on six continents. There's just a single, simplified map offered for each drive (no need to print detailed driving directions anymore), but loads of evocative description and photographs that capture the essence of the adventures. Some, like a 92-mile rollercoastering loop through New Hampshire's White Mountains, can be done in a single day (with time for some spectacular hiking built into the journey); others, like the eye-popping, terrain-shifting 851-mile ride through New Zealand's Southern Alps merit a leisurely week or more. When making a return visit to a country you've visited previously, a road trip can offer a fresh sense of discovery: consider the Alsace wine route in France, with its easy-driving roads that pass medieval villages, restaurants mixing French and German culinary traditions, and lantern-lit cobblestone squares. Or Abruzzo, Italy's surprisingly rugged region of mountains and forests, just two hours north of Rome. Suggestions for places to stay, visit, and eat along each route are provided, along with ratings of "Easy," "Harder," and "Epic" that consider the trip length, driving difficulty, and relative remoteness from major population centers. There's also a heavily cross-referenced index, that offers thematic categorization of trips, such as "cultural drives," "historic drives" and "foodie drives" (including Germany's Black Forest Road and a surprising route through northwest Spain that crosses the borders of three distinct cuisines: Asturian, Cantabrian, and Basque).
Neither cars, planes, or even boats will be helpful in reaching the destinations featured in Scottish writer Malachy Tallack's The Un-Discovered Islands: An Archipelago of Myths and Mysteries, Phantoms and Fakes (Picador, $20. www.theundiscoveredislands.com). Beautifully illustrated with antiquated cartographic drawings and marginalia by Katie Scott, this fascinating compendium explores two dozen islands that gained a place in public consciousness without ever existing on earth. And we're not talking Never Never Land, Treasure Island, or other familiar fictions; these are places that people really believed existed. Tallack introduces readers to the likes of Onaseuse, a volcanic South Pacific island, boastfully invented by a sea captain and his crew in 1825, then recorded and accepted as reality for decades. And there's Sandy Island, alleged to be off the eastern coast of Australia since Captain Cook's 19th Century adventures. It was included on nautical charts and even Google Maps until 2012, when it was officially "un-discovered" on a surveying mission. In his own survey, Tallack employs a lively mix of geographic, navigational, historic, mythologic, and cultural knowledge, providing all the fuel you'll need to visit these fantasy islands.
Which of your travel photographs remain compelling years after the trips have been taken? The postcard-perfect images of checklist landmarks and landscapes? Or the shots with odd juxtapositions, discovered patterns and strange details that stir up powerful memories and free associations? Do your favorite pictures add up to a mosaic of places, or a reflection of yourself? In Blind Spot, Teju Cole, the photography critic for the New York Times Magazine, shares his sui generis point of view (Random House, $40. www.tejucole.com), assembling over 150 shots he's taken in over 30 countries, and writing a short poetic text to pair with each. It's a brainy, challenging volume, as much a puzzle as a book. "I am intrigued by the continuity of places," Cole writes, "by the singing line that connects them all." Though they have origins in far-flung geographical locations, Cole's words and images are unified by the vision of his singular mind's eye. His photograph of a rubbish-strewn yard in Lagos, Nigeria reminds him of paintings by the American artist Cy Twombly; his gridlike shot of a Beirut apartment block leads to musing on Emily Dickinson; some photos evoke memories of Cole's childhood; others, Greek myths. Moving through the pages, one feels an energizing tension between the world of Cole's mind and the world outside of it: He is both discovering meaning in his photographs and imposing it upon them. Cole will inspire readers to invent new lenses of their own.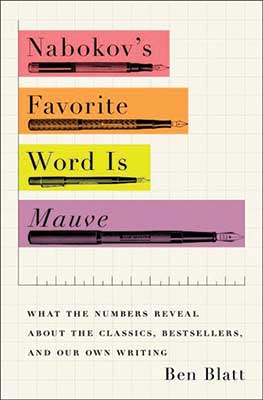 Suppose you were given two erotic stories and told one was written by an American, the other by a Brit. How could you tell which was which? In one of the many statistical experiments presented in Nabokov's Favorite Word is Mauve: What the Numbers Reveal About the Classics, Bestsellers, and Our Own Writing (Simon & Schuster, $25. www.bblatt.com), rascally analyst Ben Blatt downloads every single sex story by US and UK authors on literotica.com — "76 million words of pure filth"—and crunches the data: While it might not be surprising that the word "bloke" is 50 times more common in Britporn than Yanksmut, some other semantic kinks are unexpectedly intriguing. You'd have at least 2:1 odds betting on an American author if a story contained the word "refrigerator," "closet," or "cowboy", and a similarly large edge betting British if "squashed," "cope," or "corridor" was included. Digging deeper into the American canon, Blatt found that Texan pornographers were far more likely to mention "soldiers" than New Yorkers, who have a relative propensity for "popsicle" and "butthole." Addictively eccentric and packed with impractical factoids, this is a perfect "bathroom" book, or "loo" lit, as a wanker might say.
There's further linguistic tomfoolery afoot in Away With Words: An Irreverent Tour Through the World of Pun Competitions by Joe Berkowitz ($15.99, Harper Perennial. www.hc.com). Whether wordplay makes you groan in pain or moan with pleasure, you'll be surprised to discover the niche population of punthusiasts who use words as weapons in cultish battles from coast to coast; events like Brooklyn's Punderdome and Austin's annual O. Henry PunOff World Championship, which celebrated its 40th anniversary this year. In analyzing the appeal of punning, Berkowitz moves beyond the contests themselves, making forays into TV writers' rooms and academic conferences on humor ("If trying to explain a joke is like dissecting a frog…being here is like walking through an endless M.C. Escher house drenched in frog entrails"). Ultimately, while his reporting offers plenty of entertainment on its own terms, Berkowitz makes it clear that the tournaments themselves are "you had to be there" experiences. Bookmark this one with a ticket to one of these events.
Susan Sontag would not have taken kindly to being called a hot stocking stuffer. The same is surely true of fellow feminist literary icons Joan Didion, Hilary Mantel, and Barbara Ehrenreich. But the gorgeous new Picador Modern Classics editions of their respective nonfiction landmarks — Regarding the Pain of Others, Slouching Toward Bethlehem, Giving Up the Ghost, and Nickel and Dimed ($16 each)—are among the season's sexiest little literary gifts. Close-up portraits of the grand dames by illustrator Celia Carlstedt grace the textured, curve-cornered jackets of these pocket-sized volumes (it's as if they've already been gift wrapped). This just-released quartet of titles follows a previously issued fiction foursome, also strikingly designed are Denis Johnson's Jesus' Son, Marilyn Robinson's Housekeeping, Herman Hesse's Steppenwolf, and Jeffrey Eugenides' The Virgin Suicides. The full set of eight would make a smart statement hung as ornaments on a tree.