Saxophonist Dave Koz's (www.davekoz.com) name is synonymous with the smooth-jazz genre. He's one of the world's most famous saxophone players with multiple Grammy nominations, Billboard #1 platinum-selling albums, and collaborations with stars including Celine Dion, Barry Manilow, and U2 under his belt. When he publicly came out in 2004, he became one of the world's most famous openly gay musicians to boot.
At age 54, Koz is as prolific as ever with his 20th consecutive Christmas tour and an album to commemorate the occasion, Dave Koz & Friends 20th Anniversary Christmas, his annual "Dave Koz & Friends at Sea" cruise in May, a weekly contemporary jazz radio show on SiriusXM (Sundays 12-2 P .M. EST), a namesake line of wines that benefit Starlight Children's Foundation, and nonstop globetrotting calendar of performances.
Born and raised in LA's San Fernando Valley, Koz first tried his hand at the piano and drums as a child. By 13 he fell in love with the saxophone, and released a first solo album in 1990. In April 2004, Koz came out in the pages of The Advocate, and People magazine subsequently dubbed him one of the "50 Hottest Bachelors."
Still single and swingin' (we'll get to his Grindr exploits soon) and reveling in his natural, flattering grey-haired authentic self, we spoke with the refreshingly candid Koz about his career, friends like Barry Manilow (and his coming out this year), spots to visit for debauched or romantic vacations, and of course, why this "nice Jewish boy" loves Christmas so much.
Let's start on a light note, no pun intended. What's the best joke you ever heard about smooth jazz?
I was asked to be in the movie Wayne's World 2 a number of years ago, for a scene where one of the guys is getting drilled in a dentist chair, except they reveal that the agony was from me playing the saxophone. I thought, OK, it's a big Hollywood movie, they're totally taking the piss out of me for doing this. I opted to do it, and they couldn't have been nicer, and the scene ended up on the cutting room floor!
Since picking up the sax, have you considered playing other instruments, too?
After all, you did try piano and drums as a boy. Not really. I know the sax really well, but there's always more to know, and if you're intrigued by it, it's like an onion: you can keep peeling it and finding new layers. It's an interesting instrument to play and a powerful instrument, so I haven't felt the need to bring new instruments into the fold.
Where do you feel the smooth-jazz genre exists today in our culture? Are Millennials hip to it?
The term 'smooth jazz' is such a funny one, because that was used to describe a radio format, not a style of music, and it just sort of stuck. Dave Grohl released a record recently with Foo Fighters, Concrete and Gold, it's the country's number-one album, and I got to play on the track, 'La Dee Da.' Grohl is a longtime friend and this is the first time they had used saxophone on an album, and they made an animated video to talk about making it and he called me, 'the King of smooth jazz.' To hear those words come out of his mouth just legitimized our form of music in a very profound way on a very big, pop level. I'm sure many Foo Fighters fans had never heard the term smooth jazz before, let alone the music, so that was a big moment for me and our world. I believe there should be a place for instrumental music in everyone's library. Music is about creating moods. There's the time you want romance and should have some Luther Vandross going. Maybe fun with Britney Spears or an Adele mood. And times when you want that quiet, introspective sax thing like John Coltrane.
You've worked with many legends over the decades. Christopher Cross, Stevie Nicks, Stevie Wonder, Richard Marx, Johnny Mathis. Who is on your collaborations wishlist?
I'm a huge fan of Janelle Monae. She's so talented, but got the acting bug lately; so I'm not sure she's gonna make albums anymore. I love Bruno Mars and met him before. I think Frank Ocean is a great voice, not only for our community but modern R&B. I'd love to collaborate with him.
What about Taylor Swift or Arianna Grande?
I met Taylor a couple of times. She towered over me like an Amazon. I have so much respect for her, what she does and how she does it. She really embraced her authentic power, if you will, and ability to change the course of how things are done in the world. Arianna Grande, I think she's a great singer and the way she handled herself after the Manchester bombing was awesome. It's great to see these young artists bloom. You know who else I love and think is so talented? Justin Timberlake who, as a star and artist, makes very good choices and keep things interesting for himself and his fans.
This is your 20th annual Christmas tour and you've recorded multiple Christmas albums. Will we ever get a token Hanukah album?
I don't know about a whole album, because unlike Christmas music, the Hanukah repertoire is like two songs. This is, I think, the fifth Christmas album I've made and there are still a tremendous amount of songs I've not yet recorded. A nice Jewish boy, what's wrong with this picture? But I love Christmas and the music, and somewhere along the way I got associated with it, and I'm proud of that. Holiday songs in general are such emotional pieces, they're like musical comfort food. You have to be very careful, because you can't change these songs too much, yet you don't want to do the same old, same old. You have to walk that fine line to please people on an emotional level but not go too far out so they don't recognize them.
How do you feel about social media?
I'm in the discovery phase and learning every day. Sometimes I think, this is going to get a good reaction, and it just falls on its face. Nobody cares. And then something I post on Instagram as a throwaway all of a sudden just goes wild. I don't understand why certain things connect and others don't. But I understand social media is a very important tool to engage our fans with.
As a 54-year-old single gay man, how does your approach to love and relationships differ from when you were younger?
I think I've given myself permission to enjoy. I grew up like most gay kids a stranger in my own family. The world was telling you what you felt was wrong and, during the 80s, if you had sex you're gonna die as well. My response to that was to clam up. If the sax and music didn't present itself in my teens, I don't know whether I'd be here. It was bleak, actually, and discovering music gave me confidence and purpose. I basically put sex and sexuality in a little box and off to the side for years. Only since I turned 40 have I taken that box out, opened it up, and celebrated it and enjoyed myself. I do have a tendency to date younger guys. I feel more like in my early 30s than 50s in that department.
What do you think about apps like Grindr and Tinder?
I'm blown away. The fact these apps give people access to each other who otherwise would have never met, and whether you end up hooking up, dating, or having a relationship, the fact is, I've met really great people who became really great friends. And there's something for everybody. There are young guys interested in older guys.
Silverdaddies are all the rage now!
I've been grey since my 20s, but not had the balls to let it show, so I dyed it for almost 30 years. Earlier this year, I let it go and the strangest thing happened. I got compliments! It's one thing to come out as gay, it's another thing altogether to come out as grey. I have to say the second coming out has been an absolute pleasure. There's a big lesson in there for authenticity.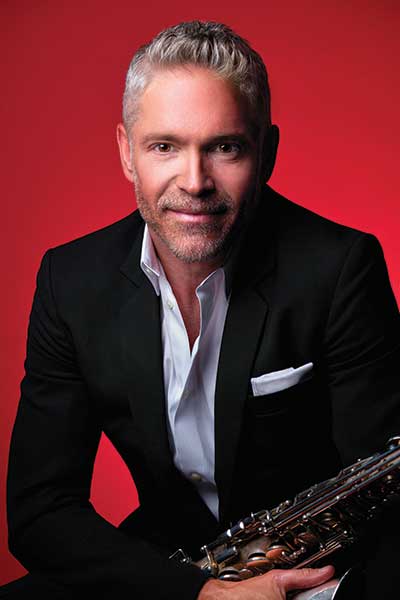 Do you have a Grindr anecdote to share?
I have many Grindr anecdotes (laughs). My favorite is some guy, when I did actually meet him, he was a completely different person. He looked nothing like the photos, and, fortunately for me, the person that showed up was so much better looking—I couldn't turn him away! He was actually really hot!
How did you feel when Barry Manilow came out in April this year?He sang 'Moon River' on your 2007 album At The Movies and 'I Hear Her Playing Music' on 2015's Collaborations.
I took it very personally, because when I did that coming-out interview in The Advocate, Barry, who I've known and been friends with for a long time, called and said, 'I want to congratulate you on what you did, which is something I will never do.' I was so appreciative of the call, but I thought to myself, how can he say that he's never going to do that? And I reminded him of that when he did come out formally this year. I was so proud and excited. When people ask me, do I encourage everyone to come out? Of course, but it's all about timing and the timing for one doesn't equate the timing for another. I was with him the night the story broke, and he was distraught and not sure what fans' reactions would be. We were in Arizona, and he walked out on stage and it was thunderous applause, even more than normal. He took that in and for the first time realized he can be who he really is in front of his fans. I was so happy for him.
Lets talk travel a bit. What are your favorite vacation spots for a slightly debauched gay time and a more romantic trip, respectively?
I think Rio de Janeiro, Brazil is both. It's got to be the sexiest city on the planet that I've been to. A friend of mine, Chris, said before I went, 'you're not gonna want to do this, but when you get there, put your bags down and go out for a walk, and you'll see people who look like they've just come from having the best sex in their lives.' Sure enough I did, and everybody had this blissed-out sexual energy going on. I think you can have very beautiful trips if you want to, and also very debauched trips like I've had. Without saying too much, I went back three months after the first time for another dose. That's how good it was. Or how bad it was, or how bad I was! Another place that's awesome is Barcelona, a fantastic and very gay city. Cape Town: you wouldn't necessarily think of it as a gay mecca, yet it is. London, Paris, Vancouver. I can go on and on. I just came back from Honolulu, and it's very gay-centric and fun with lots of great nightlife.
How is Koz Wine doing?
Great. It's been in existence for six-seven years, we sold a lot of wine and 100 percent of the proceeds go to Starlight Children's Foundation, my pet charity for about 20 years. Wine goes well with the music, too. Wine and jazz. The audience has really taken to it, so I think of it as win-win."
Do you have any favorite wine regions?
Where we make the wine is a great area, California's Central Coast, and we make a really delicious Edna Valley pinot noir. I'd mention South Africa and the wine lands outside Cape Town, in Stellenbosch and Franschoek, one of the most incredible wine regions in the world dating back to the 1600s and rivals the French Loire Valley. I've spent a lot of time there because we play in Cape Town every two-three years, and I like to tack on a few days extra for the wine farms, as they're known. I've done the Italian wine region. After our jazz cruise last year, my best friend and I rented a villa in Tuscany and every day went around and tried these Tuscan wines. That was a vacation. Of course, Napa Valley is amazing, synonymous with the California wine industry. We're spoiled here, we have amazing wines in this state.
Finally, what would your advice be to an aspiring young Dave Koz?
Get your music out there. Often times people ask how much should I practice. Practice is important, but music is not music until you actually make it with others for others. Even if it's just grabbing one other person and taking it to a coffeehouse or street corner, letting it live in the environment, and seeing what you've got, that's a very important thing. With online, you can beam your music out to the world at the flick of a switch, so even if you're just learning, let people see it and react to it. And most important, have fun and enjoy it. If you're not, find something else that makes your heart sing. That's where you'll find true happiness for your lifetime.